Introduction
We see our fair share of enthusiast hardware here at HEXUS HQ, but we'll be the first to admit that the bulk of sales take place much further down the ladder. Take the GeForce GTX 960 as an example; said GPU wasn't met with much fanfare from performance aficionados, but it remains an important part in the grand scheme of PC gaming.
It's up to system integrators, we feel, to realise the GTX 960's mid-range potential by cooking-up affordable builds that offer full-HD gaming credentials without breaking the bank. Cyberpower missed the mark with the £800 Infinity Hercules Pro, so we're intrigued to see if Vibox can hit the nail on the head with the Defcon 2, priced at a more agreeable £630.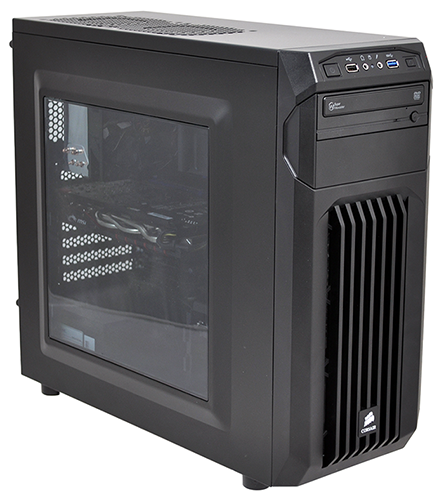 Founded 2009 and based in Stockport, Vibox is a relative newcomer to the system integrator space and hopes to make its mark by promising "the best value for money on the market."
So just how competitive is the Defcon 2? A quick scout of various retailers suggests that it would cost somewhere in the region of £680-£700 to build the PC yourself, so there's definitely a cost saving in buying built, though do be aware that the Defcon 2 isn't configurable as such. Users can choose to upgrade to Defcon 1 (overclocked i5-4690K) or downgrade to Defcon 3 (GTX 750 Ti), but the specification of each is set in stone.
All models use an entry-level Corsair Carbide Series Spec-01 chassis to give the system an aggressive look and feel that you'll either love or hate. This isn't a sophisticated-looking build, but then, what did you expect from a gaming PC called Defcon 2?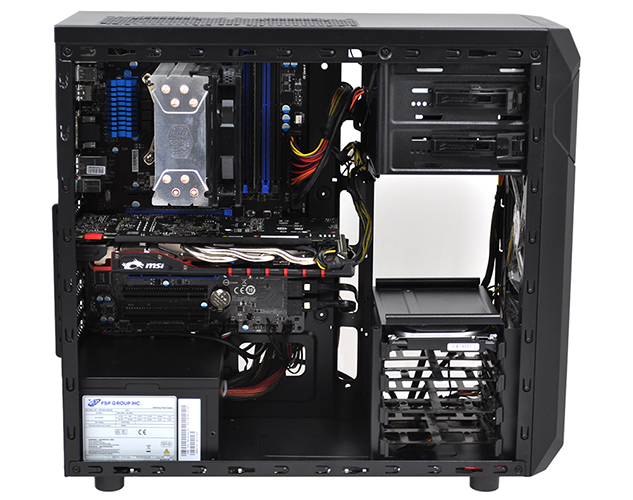 The component selection for a mid-range rig is always interesting, and we reckon Vibox has found a reasonable middle ground. At the heart of the system you'll find a stock-clocked Intel Core i5-4590 processor allied to an MSI GeForce GTX 960 Gaming 2G graphics card.
CPU cooling is provided by a well-regarded Cooler Master Hyper 212 Evo, and all the components sit atop an MSI Z97 PC Mate motherboard outfitted with 8GB (1x8GB) of Team Elite DDR3-1600 memory. Rounding off the edges, a basic 500W FSP power supply is installed, as is a DVD writer and a 1TB Seagate Barracuda hard disk.
Given the budget, Vibox's component selection is pretty much in line with what we would choose in a mid-range gaming rig of our own. Though, nitpicking somewhat, we'd be inclined to use dual-channel memory (2x4GB) and, as staunch advocates of solid-state storage, we'd favour a hybrid SSHD over a basic HDD.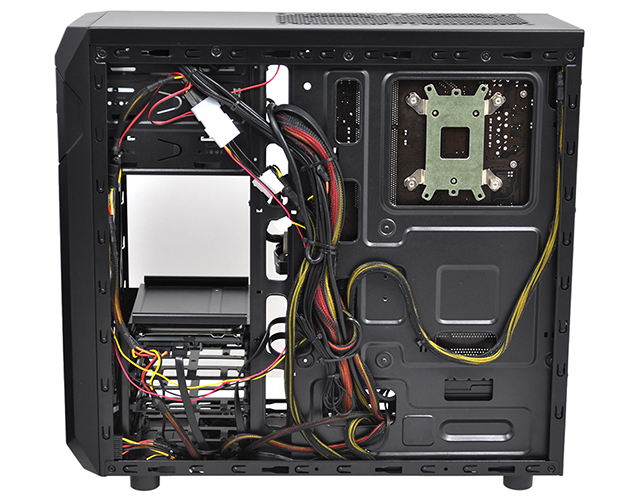 Vibox's component choices make sense, and for a limited time, a 64-bit, bloatware-free install of Microsoft's Windows 8.1 operating system is also being included as standard to further the rig's value credentials.
Cable management might have been neater, however, and on powering up we discovered that not enough attention has been paid to noise levels. The rig proved frustratingly loud - which is a surprise considering the quiet CPU and GPU combination - and further investigation revealed the cause. Vibox has added a second 120mm front intake (in addition to the pre-installed Corsair fan) that is Molex-powered and running at 100 per cent the whole time.
The chassis fans are unnecessarily vocal, and following our feedback, Vibox has confirmed that all Defcon 2 builds will now include higher-quality BitFenix Spectre PWM fans as standard and at no extra cost. Result, and if you like your PC illuminated, you'll appreciate the fact that internal lighting kits are also installed, in a choice of blue, green, orange of white colour schemes.
Elsewhere, UK delivery is free and the PC arrives well-packaged, though do be aware that the standard warranty period is just a single year, with a 90-day collect and return service applicable from the date of delivery.