Specifications and initial thoughts
The ultimate base unit? You decide.


System name
Vadim Fusion Cetus
Case
Lian Li PC-V2000 Tower
Processor
Intel Core 2 Duo E6700 @ 3.40GHz (340MHz FSB) (2.67Ghz, 4MiB L2 cache, LGA775 native speed)
Motherboard
ASUS P5W DH PCI-Express x16 (Intel i975X)
Memory
2GBytes (2x 1GByte) OCZ PC8000 EL Platinum XTC RAM @ 4-4-4-14 2T @ 1020MHz
Hard drive(s)
2 x 320GB Seagate Barracuda 7200.10 SATA2 16MB cache drives in RAID0
250GB Western Digital Caviar RE SATA2 16MB cache (storage)
Screen
None, optional extra
Graphics card
NVIDIA GeForce 7950 GX2 1GiB - overclocked (600/1600)
Optical drive #1
Sony DDU-1615 16x DVD-ROM (silver)
Optical drive #2
NEC ND-4570A DVD ReWriter (silver)
Sound
Creative SoundBlster X-Fi ExtremeMusic 7.1
Speakers
None, optional extra
Modem
None
Networking
Gigabit Ethernet from Marvell 88E8083 PCIe controller
Realtek (ASUS-branded) RTL8187L 802.11b/g WiFi - integrated into MB
Ports connectivity (usable)
6x USB2.0 (2x front, 4x rear I/O), 2x FireWire400, 1x RJ45 (Gigabit), audio, optical/coaxial S/PDIF-out, PS/2, eSATA, Serial, WiFi
Operating system
Windows XP Home SP2
Additional software
TBA
PSU
Enermax Liberty Modular 620W
Warranty
2 years BTB (Premium warranty)
Price
�2,499 excluding VAT (�2937.50 inc.)
Shipping
�59 ex. VAT - TNT Express Fragile
Other notables
Extreme overclocking, watercooled, express build time


Just take a moment to digest those specs., which include an overclocked Intel Core 2 Duo E6700, overclocked GeForce 7950 GX2, and super-fast RAM from OCZ. It's frighteningly fast on paper.





Housing this array of components and cooling, Vadim had to opt for a tower case. It chose Lian Li's V2000, an aluminium server-orientated chassis that has two distinct internal compartments. The chassis features the usual front-mounted ports and sockets, comprising of 2 USB2.0, 1394a, and audio. It's large enough to house 7 5.25" bays, with the first four taken up, as we look at it.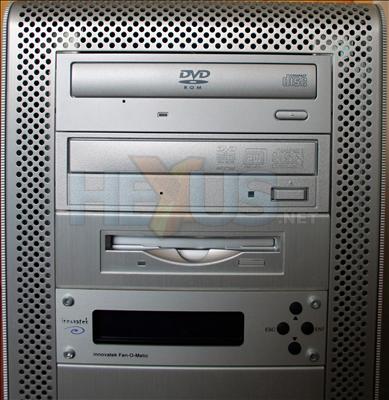 Keeping it all colour-coordinated, Vadim equips the Fusion Cetus with DVD-ROM and DVD ReWriter drives from Sony and NEC, respectively. It also adds a silver-coloured floppy drive, should you still wish to use this legacy component. Underneath, though, is where the fun starts. Controlling the system's 6 (yes, six) 120mm fans is Innovatek's Fan-O-Matic, which can toggle the voltage, and consequently speed, the fans run at. Voltages can be changed from 4V-12V, resulting in speeds of between 800RPM-2000RPM. By default, Vadim ships all connected fans to run at 7V, which equates to around 1200RPM.





Note the upside-down appearance at the back? That's down to the method by which you install components into the Lian Li case rather than a BTX form factor. The PSU resides at the bottom, in its own compartment, and is hooked up to the upside-down ASUS P5W DH (Digital Home) i975X chipset-based motherboard. That why, on the rear, you see integrated WiFi, along with eSATA (JMicron controller) and the usual mix of high-speed ports and legacy connections.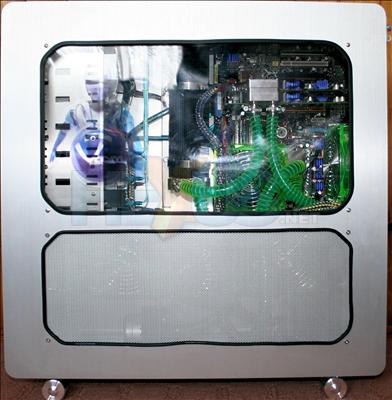 The Lian Li V2000 chassis has four wheels that make moving it around a simple affair; they're needed on a chassis of this size, we feel. With this pre-built SKU, the configuration adds in a well-cut side window, so you can peer into the guts of the system and be blinded by UV goodness.

Turn over to see how it all fits together and works.