System setup and notes
Hardware and Software
Test Platforms
| | | | | | |
| --- | --- | --- | --- | --- | --- |
| System | SCAN FX-62 AM2 System | Evesham FX-62 AM2 system | HEXUS FX-62 AM2 system | HEXUS FX-60 S939 system | HEXUS Intel Presler 965 system |
| Processor(s) | AMD Athlon 64 FX-62 AM2 (2.8GHz, 2MiB L2 cache, dual-core) | AMD Athlon 64 FX-62 AM2 (2.8GHz, 2MiB L2 cache, dual-core) | AMD Athlon 64 FX-62 AM2 (2.8GHz, 2MiB L2 cache, dual-core) | AMD Athlon 64 FX-60 (2.6GHz, 2MB L2 cache, dual-core) | Intel Pentium Extreme Edition 965 (3.73GHz, 4MB L2 cache, dual-core) |
| Mainboard | Foxconn C51XEM2AA nForce 590 SLI | Foxconn C51XEM2AA nForce 590 SLI | Foxconn C51XEM2AA nForce 590 SLI | ASUS A8N32-SLI Deluxe | ASUS P5WD2E-Premium |
| BIOS revision | 12/05/2006 - (612W1P18) | 12/05/2006 - (612W1P18) | 01/05/2006 - (612W1P12) | 1103 | 17/04/2006 - 0501 |
| Chipset driver | ForceWare 9.32 | ForceWare 9.32 | ForceWare 9.32 | ForceWare 9.32 | Intel INF Update Utility 7.2.2.1006 |
| Memory | 2GBytes (2x1024MByte) Corsair TWIN2X2048-8500C5 EPP DDR2 | 2GBytes (2x1024MByte) Crucial PC6400 | 2GBytes (4x512MByte) Crucial Ballistix PC8000 DDR2 | 1GByte (2x512MByte)Corsair XMS 3200PRO DDR | 1GByte (2x512MB) Corsair XMS2-5400UL DDR2 |
| Memory speed and timings | 5-5-5-15 2T @ 936MHz | 5-4-4-12 2T @ 800MHz | 4-3-3-8 2T @ 800MHz | 2-2-2-5 1T @ 400MHz (DDR) | 3-2-2-8 2T @ 667MHz |
| Graphics Card(s) | 2 x NVIDIA GeForce 7900 GTX 512MiB SLI | 2 x NVIDIA GeForce 7900 GTX 512MiB SLI | 2 x NVIDIA GeForce 7900 GTX 512MiB SLI | GeForce 7900 GTX 512MiB | GeForce 7900 GTX 512MiB |
| Graphics Card Driver | NVIDIA ForceWare 91.27 | NVIDIA ForceWare 91.27 | NVIDIA ForceWare 91.27 | NVIDIA ForceWare 91.27 | NVIDIA ForceWare 91.27 |
| Disk drive(s) | 2x WD 150GB Raptors (WD150ADFD) 10,000RPM, 16MB cache, in RAID0 | Western Digital 500GB 500KS 16MB cache SATA | Seagate ST3160812AS 160GB SATA | Seagate ST3160812AS 160GB SATA | Maxtor 300GB SATA (6V300F0) |
| Monitor (tested with) | Dell 3007WFP Widescreen (2560x1600) | Dell 3007WFP Widescreen (2560x1600) | Dell 2405FPW Widescreen (1920x1200) | Dell 2405FPW Widescreen (1920x1200) | Dell 3007WFP Widescreen (2560x1600) |
| Operating system | Windows XP Pro SP2 | Windows XP MCE 2005 | Windows XP Pro SP2 | Windows XP Pro SP2 | Windows XP Pro SP2 |
Benchmark Software
ScienceMark 2.0 (21st March 2005)
HEXUS Pifast Benchmark
HEXUS.in-house MP3 Encoding Benchmark using LAME 3.97a (Intel HT compiler) - 701MB WAV
HEXUS.in-house DivX encode using DivX 6.01 and VirtualDub on 416MB DV file CINEBENCH 2003 multi-CPU render
KribiBench v1.1

Splinter Cell: Chaos Theory v1.05 - HEXUS custom benchmark
Quake 4 v1.04 HEXUS Custom Benchmark
Far Cry v1.33 - HEXUS custom benchmark
Notes
If you've been reading HEXUS today, you'll know that we have a plethora of AM2 coverage. We've also taken a look at a system from Evesham that's broadly equivalent and we'll be referencing it in the benchmarks that follow. We've also added in our own self-built Athlon 64 FX-62 system, as well as a unit based on the fastest Intel desktop CPU you can currently buy, the Pentium Extreme Edition 965.


EPP?
We alluded to Corsair's EPP memory earlier.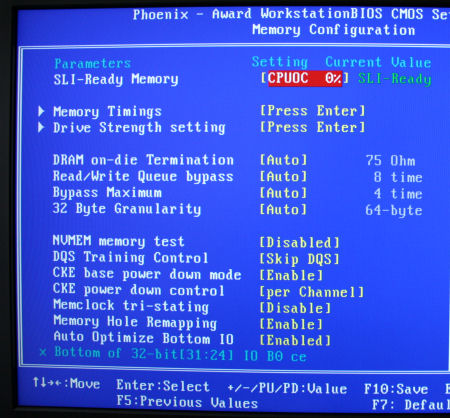 Here's how it's manifested in the Foxconn nForce 590's BIOS. Note the SLI-Ready certification in green (well, it wouldn't be red, would it ;). Corsair and NVIDIA have jointly development memory that's designed for easy overclocking on an nForce 590 SLI motherboard. With the CPUOC set to 0%, meaning a 2.8GHz clockspeed, the PC8500-rated modules tell the system to drop the multiplier and raise the HTT clock, giving an overall memory speed of ~936MHz, above the 800MHz offically supported.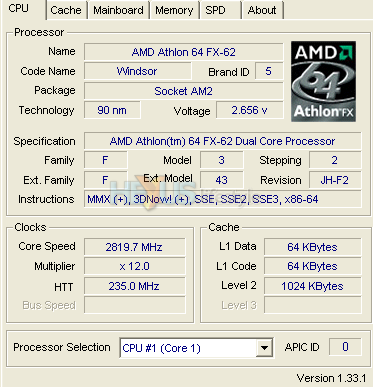 Et voila! The CPU's HTT clock is increased to 235MHz, which, with the CPU/6 ratio, gives an overall speed of........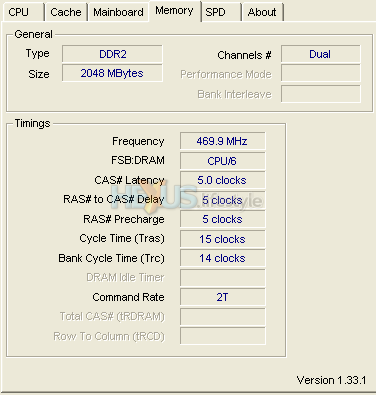 In order to realise the memory's native speed, the motherboard needs to be set to CPUMAX, which then pushes the HTT clock to 266MHz and memory, consequently to ~1066MHz speeds. The current implementation keeps a 12x multiplier, such that an overall 3.2GHz clockspeed is required.

Corsair's EPP-supporting DDR2 SDRAM offers extra performance with automated adjustments.

The system wasn't quite stable at an overclocked 3.2GHz, but may well be with better cooling.

Let's crack on to the benchmarks.