Specifications and initial thoughts
Trotting out the spec. table, as usual.


| | |
| --- | --- |
| System name | Evesham FX-62 AM2 |
| Processor | AMD Athlon 64 FX-62 (2.8GHz, 2MiB L2 cache, AM2) |
| Motherboard | Foxconn nForce 590 SLI - C51XEM2AA |
| Memory | 2GBytes (2x 1GByte) Crucial Ballistix PC6400 @ 5-4-4-12 2T @ 800MHz |
| Hard Drives | Western Digital 500GB 16MB cache SATA - (WD5000KS) |
| Screen | Viewsonic VX2025 20.1-inch widescreen - 1680x1050 resolution |
| Graphics card | 2 x NVIDIA GeForce 7900 GTX in SLI |
| Optical drive #1 | Sony DW-Q30A DVD ReWriter |
| Optical drive #2 | Sony DDU-1612 DVD-ROM |
| Soundcard | Creative SoundBlaster X-Fi Fatal1ty FPS |
| Speakers | Creative Inspire T7900 |
| Modem | None |
| Networking | 2 x Gigabit Ethernet from nForce 590 SLI |
| Operating system | Windows XP MCE 2005 |
| Case | Evesham |
| PSU | Seasonic SS-600 HT - 600W |
| Warranty | 3 years (2 years onsite, 3rd year BTB) |
| Price | £2,999 inc. VAT (£2,599 without monitor) |
| Shipping | Included in price |
| Other notables | Cardreader, AM2 support, Microsoft cordless keyboard and optical tilt mouse |


It's also worth noting that Evesham offers a far cheaper - and generally less well-spec'd - AM2-based system, the Denver 5000. This goes out for just £1,399 all up and centres on an AMD Athlon 64 X2 5000+ AM2 sitting in an MSI K9N SLI MS-7250 Nforce 5 570 mainboard. There's 1GB of DDR2-800 memory from a 2x512MB kit, plus a 256MB SLI-ready NVIDIA GeForce 7900 GT 256MB graphics card.

Also different from the FX-62 system are the HDD, which is a single Western Digital WD3200JD; the monitor, a Viewsonic VA1912W 19in widescreen job (system price is £1,549 if opting for a 20in Viewsonic VX2025); and the sound card, the PC using the mainboard-integrated 7.1 Realtek system.

Speakers are the Creative Labs I-Trigue 2.1 3220; and the warranty is three-year onsite - reinforcing our view that the more expensive system needs a comparable guarantee. Evesham hasn't yet provided us with details of the case that the Denver 5000 uses - we'll update you when we know.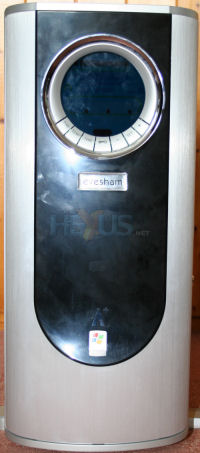 This flash-ridden shot shows the front of the Evesham AM2-based box. The case has a circular LCD display that reports all manner of data. You can manually toggle through the settings to highlight temperatures and fan speeds.

The chassis' top and sides are made out of aluminium, yet the front is entirely plastic. The full-length door, which is lockable, swings away to show you the optical drives. The top carries a couple of USB2.0 ports, a single FireWire port, and audio/mic sockets.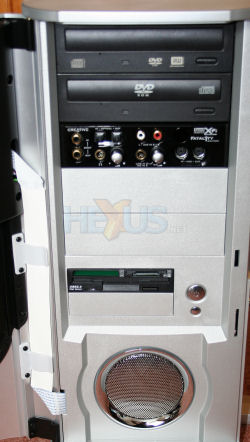 Evesham uses a couple of Sony optical drives in its top-of-the-line AM2 system. The upper drive is a multi-format DVD ReWriter and the lower drive a regular, speedy DVD-ROM. Evesham gets credit for specifying a front-mounted Creative X-Fi Fatal1ty box (inc. remote) and a multicard reader beneath.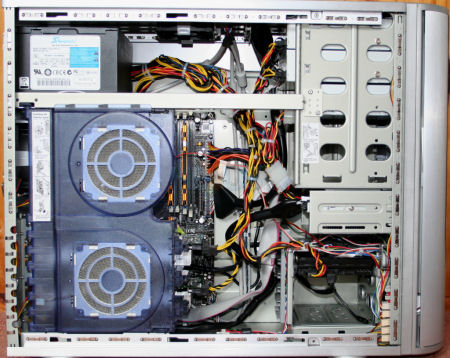 Whipping off the side is a simple matter of removing two thumbscrews and pulling away.

After seeing the build quality of the SilverStone Temjim case used by Scan for its FX-62 base unit, we're largely unimpressed with the overall quality of the Evesham chassis. After all, we'll do well to remember that this is a £3,000 system, and, given that kind of outlay, the consumer should be bowled-over with a high-quality offering in every respect.

Evesham specifies a single 500GB Western Digital SATA hard drive that's connected up to one of the Foxconn C51XEM2AA nForce 590 SLI's six SATA2 ports. The drive is mounted on rails, making it easy to remove, and the holding cage has space for a further two drives, although we'd recommend extra ventilation if the number of drives is increased.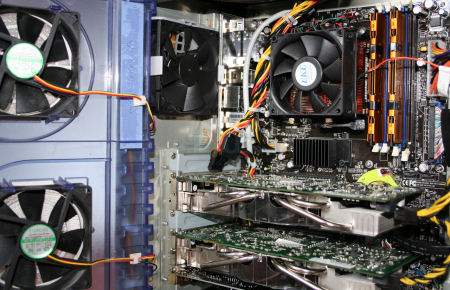 A swingaway door holds two 92mm Evercool intake fans that blow over the two XFX-branded GeForce 7900 GTX cards which are pre-configured for SLI running. The range-topping AMD Athlon 64 FX-62 processor, now presented in an AM2 form-factor, has a TDP of around 125W. We're a little surprised that Evesham has opted to specify a copper-bottomed (non-heatpipe) cooler with an 80mm fan that spins at 2,500RPM+ and produces the most discernable noise out of the system's four cooling fans. We would recommend a heatsink along the lines specified in the SCAN system, which uses a massive aluminium heatsink with a slow-spinning 92mm fan, snd Evesham will be using a quiter cooler with production models. However, Evesham is responsible enough to include an intake fan that blows over the cooler.

Keeping the power-hungry system chugging along is a Seasonic 600W PSU that ran reliably through a weekend of testing. Evesham further adds in a 2GByte pack of Crucial PC6400 DDR2 RAM (that's right, AMD's 90nm AM2 CPUs use DDR2 memory controllers).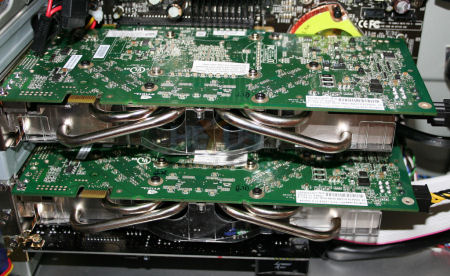 Two GeForce 7900 GTX cards in SLI configuration makes this a system that'll play the latest games with ease. Interestingly, Evesham has opted not to use the nForce 590 SLI's decent HD audio and spec'd a Creative SoundBlaster X-Fi Fatal1ty FPS instead. We saw the front-mounted control module at the top of the page, and kudos to Evesham on this count.


General observations and summary
There's little wrong with Evesham's choice of components for its AM2 FX-62-based system, yet we'd urge it to reconsider the choice of chassis. We expect to see it housing a, say, £750 system, and not a top-end rig that, in effect, is showcasing all that's good about Evesham.

We'd also consider changing the CPU cooler for one with a slower-spinning fan. The rest of the powerful system's noise is drowned out by the higher-pitched sound from the CPU fan, and it makes the Evesham FX-62 noticeably louder than it should be. We must note, though, that the motherboard reported a load temperature of just 39C, suggesting that it does work well.