The little PC with a big heart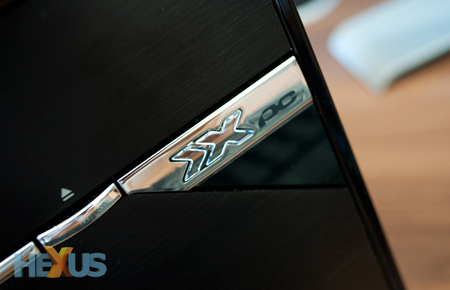 Ah, the good ol' Shuttle PC. First launched almost a decade ago in the form of the SV24, the now-familiar form factor continues to offer today's latest technologies in an all-round smaller desktop package.
The latest iteration - the XPC Barebone SX58J3 - follows that trend and becomes the most powerful air-cooled Shuttle XPC to date.
Sold as a barebones unit, the £440 SX58J3 is essentially just a chassis fitted with a power supply and a motherboard, but what's interesting here is that Shuttle offers official support for Intel's latest desktop processors - including the wicked-fast Core i7 980X - and there's room for a high-end graphics card...or two.
Hexa-core processing and a proper gaming GPU on Intel's extreme X58 chipset, all in a 330mm x 215mm x 190mm form factor? Sounds like a space-saving powerhouse or the ultimate LAN-going gaming rig.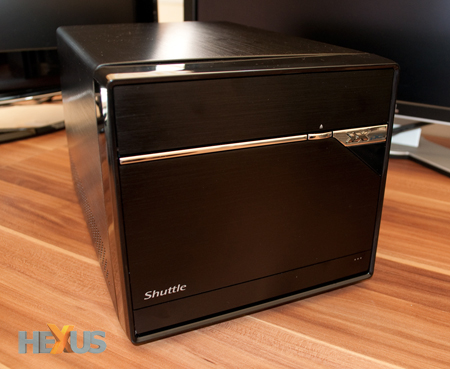 Arriving with a new J3 Series chassis, the SX58J3 is Shuttle's first barebone system to sport the new XPC logo - which lights up subtly when powered on.
The design is said to "signify the evolution of the XPC product line", and this is clearly a case of evolution as opposed to revolution.
Upon seeing a Shuttle PC in years gone by, you might have thought "wow, that's small". Unboxing the 2010 SX58J3, we actually thought "you know, it's not as small as we'd imagined". The form factor still has its merits, but we'd love to see a little more in terms of innovation. Aside from a new logo that lights up and a few tweaks here and there, there's little to choose between today's Shuttle chassis and one from 2006.
On the other hand, if the Shuttle form factor is everything you've been dreaming of, the SX58J3 is certain to fit the bill. The brushed black aluminium chassis and silver accents create a modern look, with clean lines offering a sense of sophistication rarely found in gaming rigs.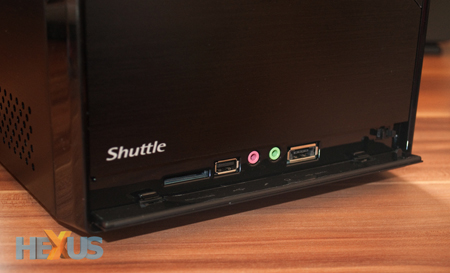 In keeping with the clean finish, there's little to break up the smooth front face. An eject button for the optical drive blends nicely into the silver trim, the power button is disguised as the XPC logo, a hard-drive activity LED shines through a small triangular window, and the front I/O panel hides behind a flip-down panel.
It's all nicely done, and you'll find easy access to a multi-card reader (MMC/SD/MS), a USB 2.0 port, audio jacks and a combo USB 2.0/eSATA port. A useful selection, but we'd liked to have seen support for the nascent USB 3.0 standard, too.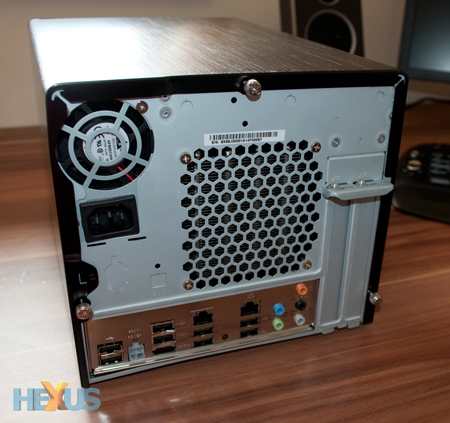 Round the other side, aesthetics become an afterthought and you're left with a back panel straight out of the '90s.
It isn't the finish we'd have hoped for on a £440 barebones unit, but you do get ample connectivity options on the rear I/O, including; eight USB 2.0 ports, dual Gigabit Ethernet with support for load-balancing and failover, eSATA, a power connector for eSATA hard disks, eight-channel audio out (courtesy of a Realtek ALC888 chip) and a clear CMOS button. There isn't, however, a dedicated PSU power switch.
Almost everything you'd expect externally, but the real XPC magic is what Shuttle allows you to do on the inside.