Introduction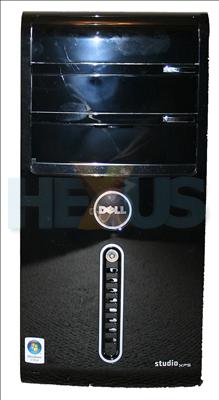 Intel launched its next-generation of desktop microprocessors, Core i7, a couple of weeks ago to general acclaim, heralding benchmark-busting performance from an architecture that maximised on incumbent Core 2's potential.

The triumvirate of processors - Core i7 920, i7 940, and i7 965 Extreme Edition, priced at £240, £475, and £850, respectively - require a new supporting motherboard, X58, and obligatory DDR3 memory, however.

X58 boards currently start at around £200 and even a 3GB of DDR3 memory sets you back around £85. The barrier to Core i7 entry, starting a-fresh, is around £530, and that's with the relatively cheap Core i7 920 (2.67GHz) CPU in situ.

This is why the first influx of Core i7-equipped systems, built by enthusiast-oriented system integrators, cost well over £1,000 - Core i7 ain't cheap.

Intel knows that whilst Core i7 is damn good, gaining traction requires a tier-one box-shifter to sell systems at well under £1,000, and this is where Dell comes in.

Shipping the new technology in a mini-tower box, under the recently-released Studio XPS brand, Dell is currently etailing a full system, albeit base unit, for a staggering £699, including VAT and delivery.

Massive corner-cutting or incredible value for a new technology? Read on to find out....