Inside the Beast
There's a sense of playfulness as you peel away the layers, but the process isn't always elegant and in a way doesn't feel like a final retail product. Cabling could be tidier, there are visible pieces of silver steel, and you get the impression Intel's engineering team had fun putting it together but probably didn't envisage selling large numbers. The shortage of overall polish is probably best reflected in the wireless antennas, which attach to the Compute Element and then run through the brackets of the top exhaust fans. Good for maximising signal strength, sure, but such fragile cables on a hinged panel are asking for trouble.
Don't expect console levels of refinement, but in a way the DIY nature of the NUC 11 Extreme is part of the appeal. Our Core i9 sample, preconfigured for the purpose of this review, includes a Gigabyte GeForce RTX 3070 Eagle OC 8GB graphics card, a 500GB Sabrent Rocket 4.0 M.2 SSD and 16GB (2x8GB) of SO-DIMM DDR4-3200 memory. A 650W, Gold-rated SFX supply from FSP provides the power, and with an angled 8-pin plus two 6+2-pin connectors, there appears to be good provision for a choice of graphics cards.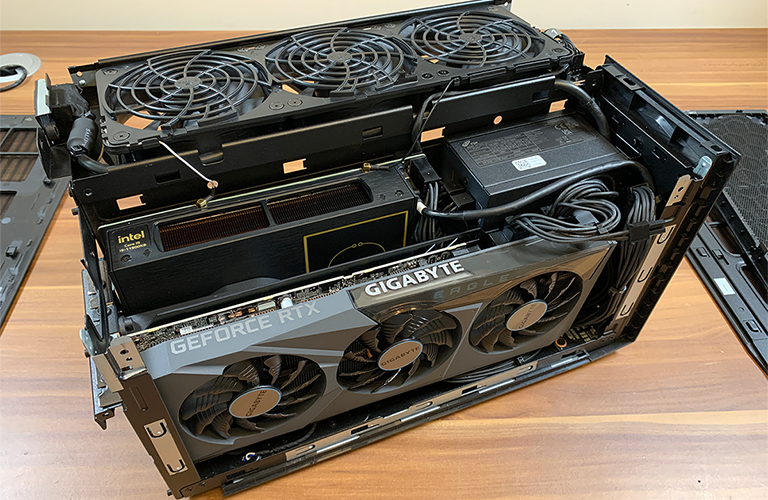 There are caveats to that, however, as while 300mm of length is ample, graphics cards are strictly limited to a dual-slot form factor. That alone rules out a whole host of high-end models, and it is worth pointing out that Nvidia's official system requirements suggest a 750W supply when using an RTX 3070 Ti or above. Truth be told in a system such as this even an RTX 3080 Ti ought to fall within the remit of the standard 650W supply, but we're surprised Intel didn't opt for a higher-capacity unit if only to take away any uncertainty.
Sandwiched between graphics card and Compute Element is a single-slot plastic air guide, used to draw cool air directly onto the CPU fan. With the guide removed, you finally get to the Compute Element itself, in this case a NUC11DBBi9. Users don't technically have to remove the whole card to carry out upgrades - the front cover can be unscrewed while in situ - but if you do need to take it out, a gap in the rear panel provides convenient access to the PCIe release tab.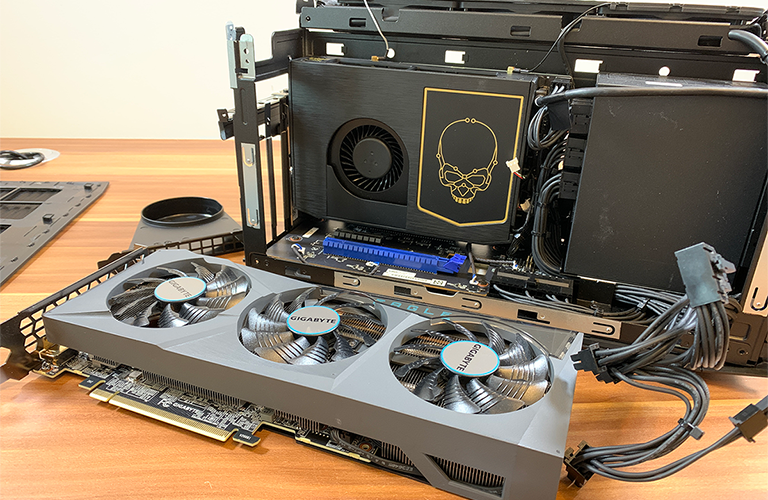 On the inside Intel's computer-on-a-card is well laid out, with two SO-DIMM slots supporting up to 64GB of DDR4-3200, and three M.2 slots. The 2280 slot nearest the RAM is fed from the CPU at PCIe x4 Gen4, while the two further left are attached to the chipset and offer PCIe x4 Gen3 NVMe or SATA3 speeds, as well as support for RAID modes 0 and 1.
There's also a fourth M.2 slot on the baseboard, accessed by removing a panel on the chassis' underside, that offers Intel Optane compatibility and supports a 2242/80/110 M.2 drive at PCIe x4 Gen 4 speeds. For a PC of this size you won't be left wanting in the storage department.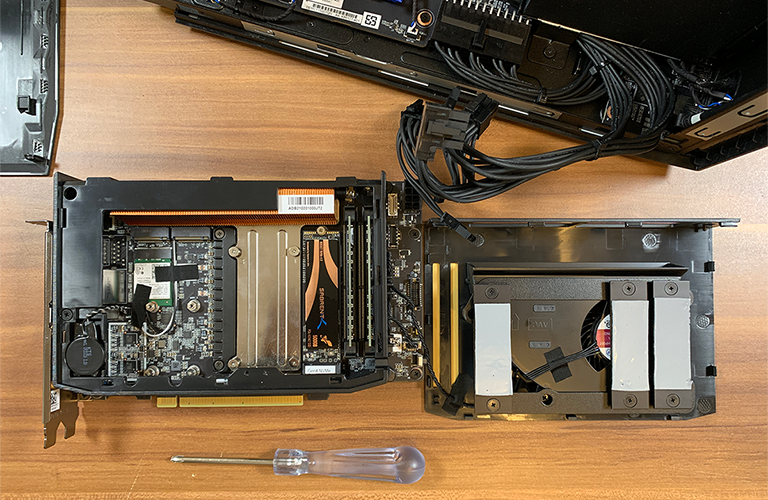 We've somehow managed to come this far in an Intel review without specifying the CPU. The chip in question, soldered beneath the metal clamp and alongside the chipset, is a Core i9-11900KB. Hewn from the 10nm Tiger Lake stable, Intel's 65W chip carries an eight-core, 16-thread configuration and can turbo up to 4.9GHz.
There's clearly enough firepower here to drive high-quality, high-resolution gaming, but we don't imagine the CPU will maintain top speeds at all times. Intel's best chips have developed a habit of throttling when shoehorned into tight confines, and we suspect the centrifugal fan will have its work cut out pushing air up and through the top stack of cooling fins. Core i9 and RTX 3070 in an eight-litre box should nonetheless deliver a significant performance punch, so let's get to the benchmarks.