Introduction
There have been plenty of impressive CPUs launched in recent months, ranging from Ryzen right the way through to Threadripper and Core i9, but we reckon today's arrival of the Core i7-8700K is what will convince the greatest number of high-end users to part with their hard-earned cash.
Intel's eighth-generation chip, priced at around £350, is arguably the most natural path of progression for users still rocking an older Core i7 CPU, and this time around the upgrade offers clear-cut advantages. The number of cores has finally increased from four to six, overall platform costs aren't as exorbitant as Threadripper or Core i9, and high shipping frequencies ensure that the Core i7-8700K fits the bill for both work and play.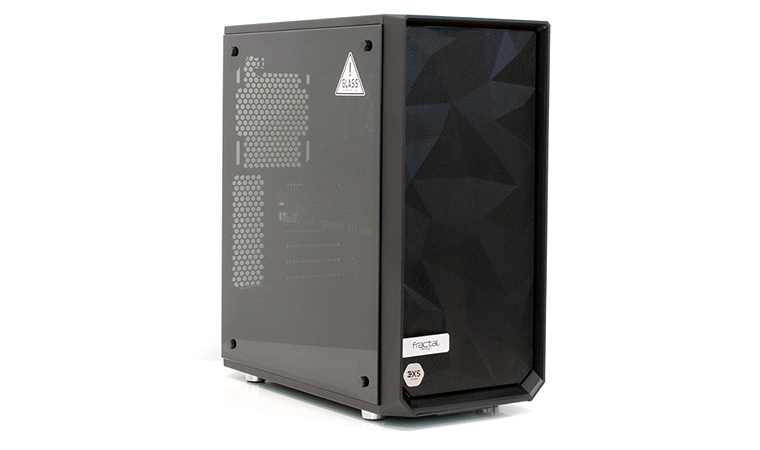 System integrators are eager to capitalise, and our conversations with key players in the market reveal that they all expect Coffee Lake machines to fly from the shelves. Scan Computers is leading the charge with one of the first Core i7-8700K base units in the form of the 3XS Z370 Vengeance Ti.
Effectively a like-for-like replacement for last year's Vengeance Ti, today's refreshed rig takes advantage of Intel's latest Z370 platform and opts for an updated aesthetic courtesy of a Fractal Design Meshify C chassis. The external aesthetics aren't everyone's cup of tea, but we like the fact that it's reasonably compact, fun-looking and outfitted with a large tempered-glass side panel.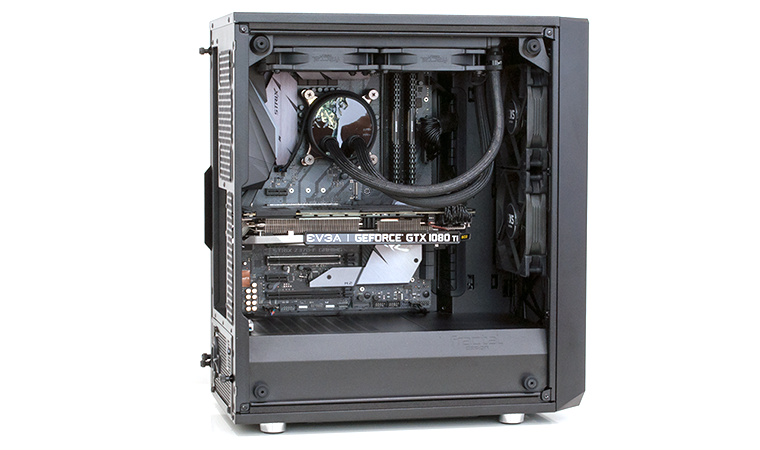 The chassis doesn't offer front-facing USB Type-C, sadly, yet it's what's on the inside that's going to entice would-be buyers. Scan has settled on an Asus ROG Strix Z370-F Gaming motherboard as the foundation on which to build an Intel Core i7-8700K processor and 16GB of dual-channel Corsair Vengeance DDR4 memory operating at 3,000MHz. High-end gaming potential is supplied by an EVGA GeForce GTX 1080 Ti SC2 iCX graphics card, storage is taken care of by a 500GB Samsung 960 Evo M.2 SSD and a 2TB Seagate Barracuda hard disk, while power is sourced from a 650W Corsair RMx supply.
Said hardware looks lovely and neat inside the Fractal case, and Scan offers a selection of performance enhancements. Firstly, the CPU is strapped to a Fractal Design Celsius S24 liquid cooler, allowing Scan's engineers to ship the system with an appealing 5GHz overclock across all six cores. Secondly, the GPU, while air-cooled, is also notched higher than EVGA's already-overclocked speeds, with Scan adding an extra 70MHz to the core and 400MHz to the 11GB frame buffer.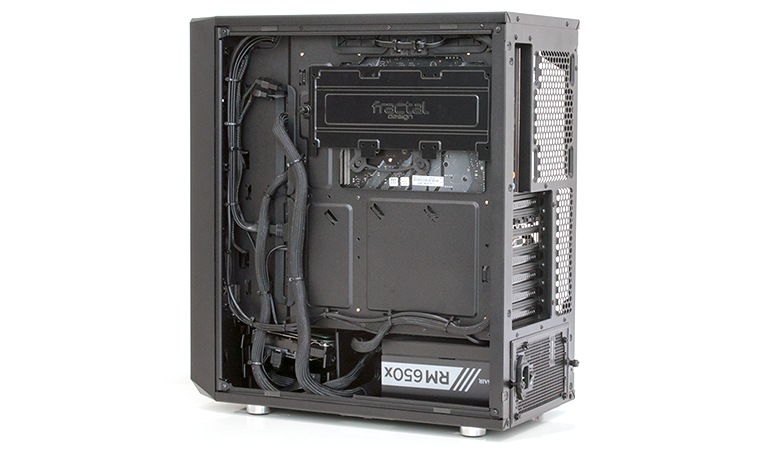 An array of component choices will be available via the online configurator, but it is testament to Scan's default selection that there isn't anything obvious we'd want to change. You could argue that an Asus graphics card would tie-in better in terms of RGB illumination, but implementation on the whole is very tidy, and we like the fact that Z370 Vengeance Ti has been designed for minimal noise. The default case fans have been swapped for a pair of quieter Fractal Venturi HP-12 front intakes, and an Aquacomputer temperature sensor added to the liquid loop works in tandem with a custom BIOS profile to prevent overzealous fan acceleration.
This is almost exactly how we'd imagine a well-rounded Core i7-8700K base unit to be, but there is the small matter of the £2,300 price tag. That's £200 more than last year's Vengeance Ti, yet Z370 remains comfortably cheaper than extreme X299 offerings, and the 10 per cent increase in cost is of course offset by a 50 per cent increase in cores.