Introduction
Smaller PCs that pack a punch are very much in favour in 2017. We've been impressed by an array of small-form-factor systems in recent months, including one that doubles as a speaker, another that fits beneath the TV, a downsized gaming rig and a miniscule machine that almost fits in your pocket.
All good stuff, but Asus is hoping to go one better with the ROG G20CI. Designed to offer "the performance of a full desktop gaming PC" in a smaller package, this eye-catching machine looks the part and promises to perform well.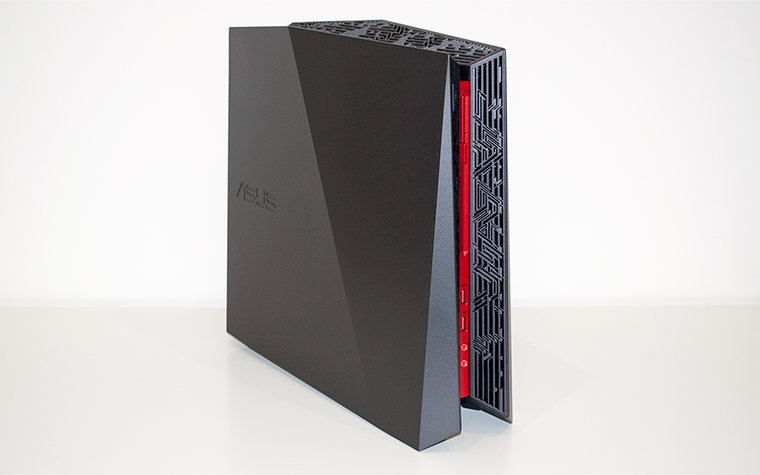 And so it should, as the £2,100 price tag is eye-watering. This isn't a PC for the faint-hearted, yet if you're looking to clear up some space on your desk or purchase a rig that can travel from one LAN party to the next, the ROG G20CI ticks the right boxes.
Dimensions of 104mm x 340mm x 358mm make the system significantly smaller than your average tower, and though it has a distinct gaming look-and-feel, we quite like the external aesthetic. This isn't the first time Asus has used this particular chassis, and we can see why there's a temptation to repurpose this familiar design - it's good-looking, has a neat Mayan-inspired trim, and there are multiple RGB LEDs that tie-in with Aura Sync.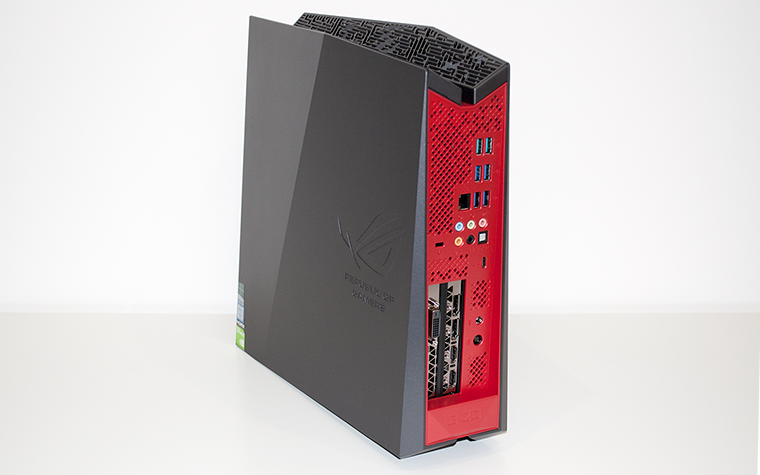 Connectivity options are ample for a machine of this size, with the front of the unit providing a slim DVD drive, two USB 3.1 Type-A ports and a pair of audio jacks. Around back there are four USB 3.1 Gen-1 Type-A, two USB 3.1 Gen-2 Type-A, USB 3.1 Gen-2 Type C, Gigabit Ethernet and a selection of audio jacks. Display outputs, provided by the internal graphics card, include dual DisplayPort 1.4, a pair of HDMI 2.0 and dual-link DVI. Everything we'd expect is present and accounted for, but there are typically provisos attached to small-form-factor machines and the ROG G20CI has a few.
Firstly, there's no room to squeeze a power supply inside the chassis, and given the requirements of the underlying hardware, which we'll come to in due course, Asus has resorted to its usual method of placing two power bricks (230W and 180W) into an external caddy. We're surprised a company with such resources hasn't managed to come up with a better solution, as the dual-supplies are large and inelegant while requiring two mains power sockets. Secondly, the G20CI doesn't offer a choice of horizontal or vertical orientation - it's designed to stand-up at all times, which is a shame as the ability to lay it down would increase its appeal.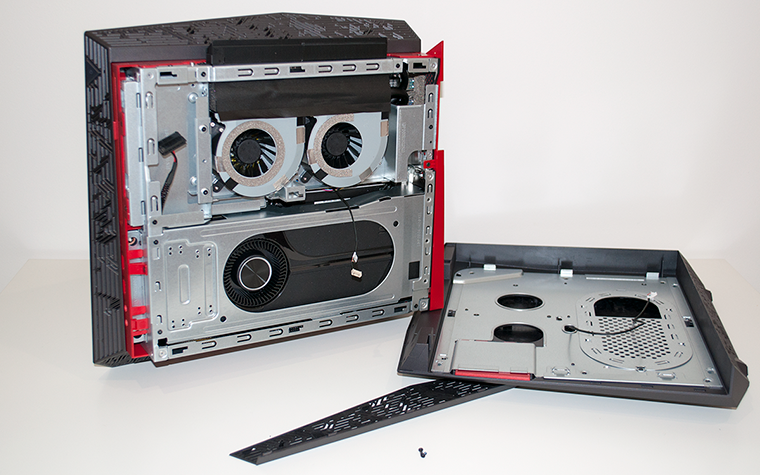 The third and perhaps most pressing caveat is that future upgrades are going to be severely limited. This shouldn't come as a huge surprise on a small system as tightly knitted together as this, yet it's something to bear in mind, and so too is the basic one-year warranty (unless buying from John Lewis) that is void if you venture inside the machine.
It's a case of what you see is what you get, but the good news for performance enthusiasts is you do get a fair amount. Asus equips the G20CI with a latest-generation Intel Core i7-7700 processor, 16GB of DDR4-2400 memory, an Nvidia GeForce GTX 1080 8GB graphics card and two storage devices; a 512GB SanDisk X400 SSD, plus a 2TB Seagate hard disk. There's also built-in Wireless AC connectivity, and the only obvious peculiarity is the memory configuration - Asus has single 16GB stick of RAM, resulting in a single-channel setup that unnecessarily limits performance.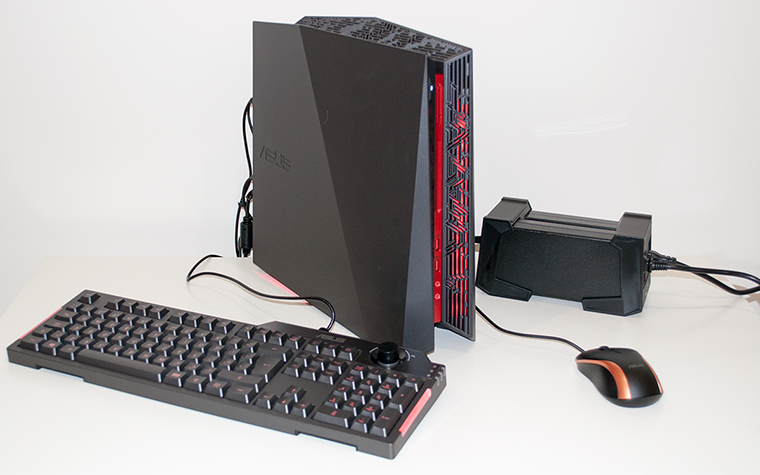 A smaller profile inevitably attracts a premium, and the bulky external power supply is a bugbear, yet the G20CI is a neat-looking piece of kit and one that should handle demanding workloads and high-quality gaming. And if you're eyeing it up as a gift for the special gamer in your life, there's the added benefit of a bundled keyboard and mouse.
Everything the budding PC gamer needs? Perhaps, but the real challenge for small-form-factor gaming rigs is in delivering full performance while keeping noise and temperature down to a comfortable level. Let's find out if the latest Asus ROG can make that happen.