Introduction
PC enthusiasts with cash on the hip have a new graphics card to covet: Nvidia's GeForce GTX 1080 Ti is here and stands unchallenged as the finest consumer GPU to date. The natural companion for a high-end gaming build is Intel's latest-generation Core i7-7700K and we expect to see every top-tier system integrator putting forth this dynamic duo in a range of premium rigs. Never one to hold back, Scan Computers is quick off the mark with the 3XS Vengeance Ti.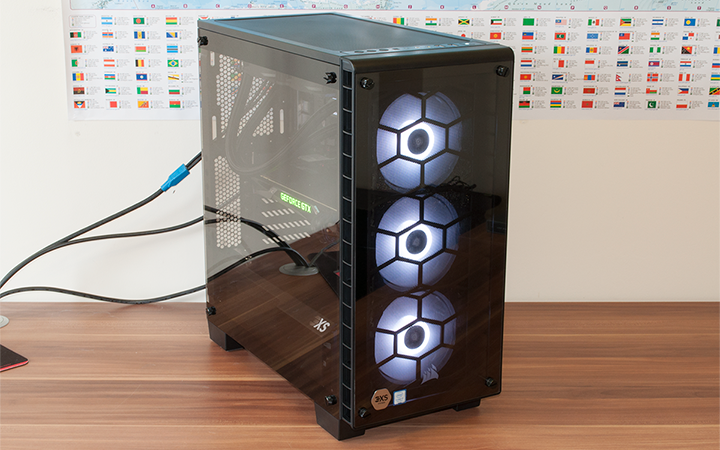 Priced at £2,100 and described as "ideal for high resolution and VR gaming," the Vengeance Ti is an early showcase of what the GeForce GTX 1080 Ti Founders Edition can do in an overclocked machine geared for enthusiasts. It's a good-looking piece of kit, with Scan opting to use Corsair's glass-laden Crystal Series 460X RGB chassis as the foundation, and all the core components you'd expect to find on the inside are present and accounted for.
The Intel CPU gets ramped-up to a guaranteed 4.8GHz and is cooled by a Corsair Hydro Series H100i liquid cooler. 16GB of memory is provided by dual 8GB sticks Corsair Vengeance DDR4-3000 on top of an underlying Asus RoG Strix Z270H Gaming motherboard, and storage is twofold; a 512GB Intel 600p Series SSD for the system drive; a 2TB Seagate Barracuda for anything else.
Scan's implementation, as you'd expect, is very neat and tidy throughout, with the engineers doing a particularly good job of managing the 460X RGB's excess cabling. Yet, while it's an impressive-looking machine, there are a few potential question marks at this price point. The chassis makes no attempt at sound-dampening, the default power supply is a 550W Corsair unit rated as only 80 Plus Bronze, and there's a surprising lack of internal RGB lights. Discotheque builds aren't for everyone, but given that this is an RGB chassis designed to show off lighting, we had expected a little more illumination.
What's interesting from an industry point of view is the complete absence of anything AMD. The other chip manufacturer's Zen architecture has arrived to reasonable acclaim, yet we've seen no urgency from system integrators to send in a Ryzen-based machine. Most are waiting to see if gaming performance improves and it is telling that Scan doesn't offer a single AMD chip (CPU nor GPU) as an option on the 3XS Vengeance Ti's configuration page.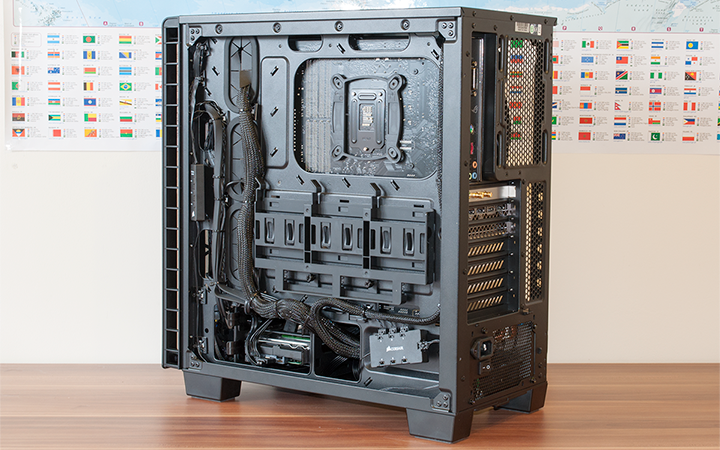 Amid the available customisations, we'd be inclined to swap the chassis for something quieter and if you're going to be using a wired Internet connection, feel free to drop the Asus PCE-N15 wireless adapter whose bare, green PCB isn't in keeping with the rest of the build. There's an option to upgrade to a 650W fully-modular Corsair RMx power supply at a cost of £30, and for a further £30 the GPU can be overclocked as standard. We're not convinced the latter is worth considering on the hot-running Founders Edition, but we imagine a choice of custom-cooled partner cards will soon be added to the roster.
Building a similar PC using off-the-shelf components is likely to cost somewhere in the region of £1,900, so Scan is adding a 10 per cent premium in exchange for a tidy turnkey solution that is backed by a three-year warranty from a reputable UK-based company.