Introduction
Is PC gaming becoming a more refined experience? The massive towers of yesteryear are fading into memory, software has been streamlined, and both manufacturers and system integrators are starting to turn a blind eye to costly technologies that appeal only to niche audiences willing to spend big for minimal gains.
It's a trend that makes sense for a lot of gamers wanting to taste the power of the PC without spending absurd amounts, and Scan Computers reckons it has a new Intel Kaby Lake rig that fits the bill. It's called the 3XS Gamer Aura and, in contrast to what we usually see from the Bolton-based outfit, there's no CPU overclock, only a single GPU, and power is sourced from a mere 450W supply.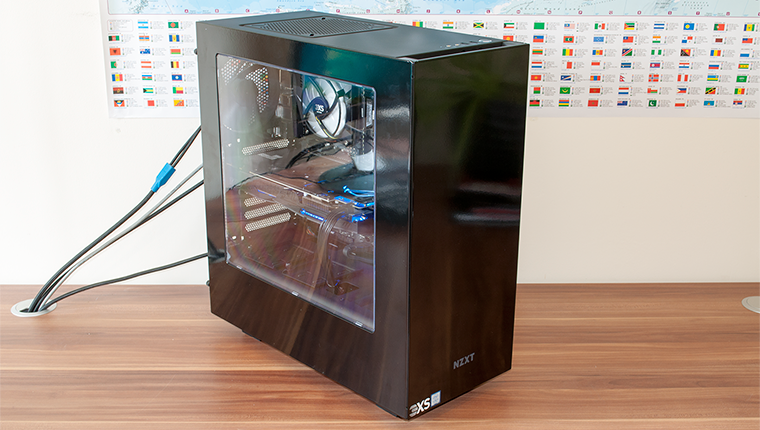 Pricing starts at around £1,100 for a GeForce GTX 1060-based build, though our GTX 1070-equipped review sample fetches £1,300 and is designed, in part, to flaunt Asus's Aura lighting effects. With illumination very much in mind, the chosen NZXT S340 chassis has a good-sized window and serves as a sensible choice for a machine of this ilk.
Scan tells us "the Gamer Aura has been designed to deliver maximum frames per second at a much more affordable price point," and the internal components have thus been selected accordingly. At the heart of the rig is a Core i5-7500 processor - a solid mid-range choice from Intel's latest-generation stable - sat atop an Asus RoG Strix B250F Gaming motherboard. Both the CPU and chipset fit the bill, though it's curious that Scan chose to install 16GB of DDR4-3000 memory as standard. The memory will only run at 2,400MHz due to a chipset limitation, but we suspect the price difference is negligible to the extent that faster RAM offers an element of future proofing at no additional cost.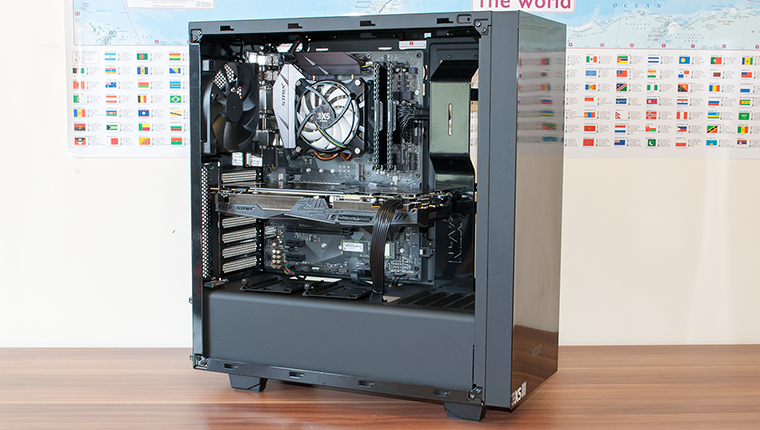 One of the best things about a relatively simple build is that the hardware can be kept neat and tidy. The NZXT chassis hides the Corsair CX450M power supply and secondary 1TB WD hard disk, while the primary storage device - a 256GB Intel 600p Series SSD - is stowed in the motherboard's available M.2 slot. It's a good-looking setup, though the default CPU cooler could be deemed a missed opportunity. Arctic's Freezer 11 LP will do the job, but it doesn't look particularly impressive and we'd be tempted to upgrade to the more imposing be quiet! Pure Rock for an additional £16.
What's perhaps more surprising is the somewhat minimal use of lighting. The motherboard and graphics card - an Asus GeForce GTX 1070 Strix Gaming 8GB - are the only two parts offering synchronised Aura effects, and neither offers a great deal of illumination. Case lights aren't high on my own list of priorities, yet if I were to purchase a rig designed to showcase Aura effects, the 3XS Gamer Aura would leave me wanting more. At the very least, something needs to be added to the motherboard's available RGB header to give the interior a little more jazz.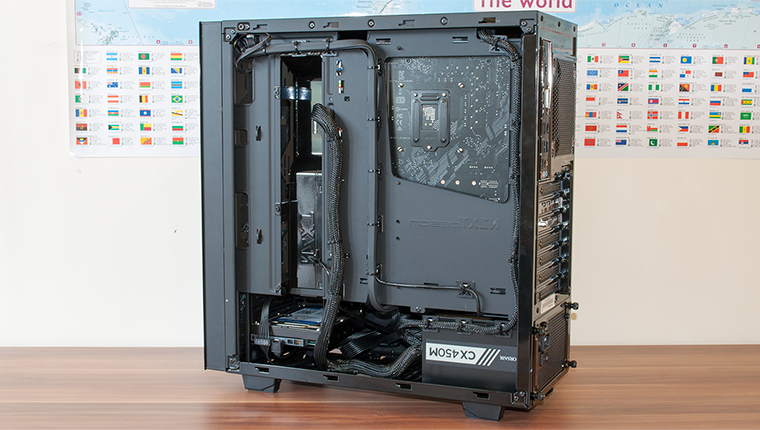 Modifications are kept to a minimum, though there is an interesting tweak in the fan configuration. Given the stock-clocked CPU, Scan has opted to remove the chassis' top 120mm fan in order to reduce noise output. This change leaves the S340 enclosure with only a single 120mm fan serving as a rear exhaust. We don't imagine cooling will be a problem, but if reducing noise is the goal, we'd be inclined to upgrade from the NZXT S340 to a Fractal Design Define C. There's a £15 cost but in return you'll get sound-dampened panels and there shouldn't be any need to remove supplied fans.
Cable management, as you'd expect on a straightforward build, is excellent throughout, and though you could build a similar PC for, say, £150 less using off-the-shelf components, Scan's turnkey solution comes with the benefit of a three-year warranty as standard. The 3XS Gamer Aura is a competent, streamlined-looking piece of kit, but £1,300 isn't pocket change so it needs to excel at high-quality gaming. Let's load-up the benchmarks.