Introduction
We liked the idea of Qnap's living-room-friendly NAS, the HS-251+, when it went under the review microscope last year, but the product was by no means perfect. A lack of native multimedia apps for the likes of Netflix and Amazon Video detracted from the overall package, and the thought of NAS storage without active cooling seemed somewhat counterintuitive.
The HS-251+'s other ingredients made a lot of sense, mind, so wouldn't it be nice if the same combination was available in a more traditional form factor? You're in luck, because that's exactly what's on offer from the new TS-251+.
Measuring 170mm (H) x 102mm (W) x 225mm (D) in size, the TS-251+ conforms to our expectations of a dual-bay storage server and is small enough to be tucked away on a bookshelf. NAS units need not be designed to look pretty, but Qnap makes a bit of effort and the black enclosure, with glossy trim, gives it a more upmarket look and feel.
We'd expect nothing less, as prices start at £235 for the standard 2GB model, or £350 for an 8GB variant dubbed the TS-251+-8G. Remember, those are barebone units excluding drives, and while the 2GB unit should be sufficient for most users, the 8GB will come into its own should you be planning more exotic usage scenarios such as virtualisation.
Perusing the exterior reveals that Qnap has included a good array of features in this high-end model. The front of the unit is home to a column of status LEDs, power and one-touch copy buttons, as well as a convenient USB 3.0 port. The two plastic drive bays pull-out with ease, but they are relatively basic as neither is numbered, lockable nor tool-free.
The bulk of the activity takes place around back, where Qnap provides a connector for the small external power supply, a further USB 3.0 port, two USB 2.0 ports, dual Gigabit Ethernet supporting link aggregation and failover, as well as HDMI out and a quiet, dedicated fan for cooling.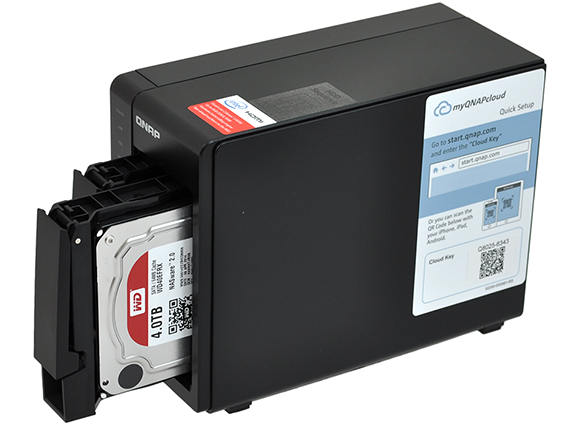 What use is HDMI output on a NAS? Users seeking reliable storage and backup probably won't use it, but it can be a real boon for multimedia types. As was the case with the HS-251+, a small IR remote control is included in the bundle, making the HDMI connection a useful option for Kodi enthusiasts.
Hook-up the NAS to a big-screen TV and Qnap's HybridDesk Station app proves to be a capable means of managing multimedia content. There's still no sign of native Netflix support, sadly, however the likes of Kodi and Plex offer genuine value to anyone with a vast library of video content.
Regardless of how you intend on deploying the TS-251+, you shouldn't be left wanting in terms of performance. On the inside, the 2GB/8GB of RAM is partnered to a quad-core Intel Celeron J1900 - a nippy 10W solution clocked at 2GHz and able to boost to 2.42GHz.
HDMI output and a quad-core CPU are, of course, but two of the TS-251+'s numerous party tricks. We'd be here all week trying to cover every available feature, but there's more than enough to keep even prosumers occupied.
File sharing is supported across Windows, Mac and Linux environments, while backup choices include NetBack Replicator, Apple Time Machine, real-time remote replication (RTRR) and a wide range of cloud services. Qsync offers convenient file synchronisation across devices, there's an IP-cam surveillance system (cameras are optional) and all the usual servers - FTP, printer and multimedia, with the later touting DLNA compatibility and real-time video transcoding. Heck, with Virtualization Station it's even possible to run Windows, Linux or Android, making the NAS a mini-PC of sorts.
We'd encourage would-be buyers to examine the official product page to pore over every available function, and NAS newcomers shouldn't be daunted by the TS-251+'s dazzling number of uses. Setup is simple and straightforward, and Qnap's QTS 4.2 operating system is among the best in the business. It could be argued that QTS is second-to-none in terms of available functions, though we would give Synology's competing DSM an edge in terms of presentation and overall polish.
A live demo at Qnap.com is a great way of getting a feel for the QTS interface, and on the face of things, the TS-251+ is a comprehensive dual-bay solution. One potential stumbling block is the pricing of the 8GB variant, which at £350 seems particularly steep compared to the 2GB model at £235. With that in mind, it's worth noting that the Qnap chassis is easy to open, revealing convenient access to the two SO-DIMM slots - so it wouldn't take much effort to install a cheap 8GB kit of your own.