You can't touch this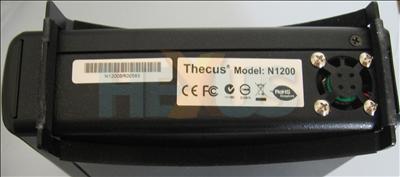 Stop! NAS time.
What better way to kick off another HEXUS storage review than with a tribute to the mighty Hammer, eh? It was a toss-up between the man with a crazy dance who you can't touch, and the chilly bloke with strange yellow hair (yeah, Vanilla Ice, baby).
And it's with extreme tenuity that I craft, nay, forge a link between this surreal introduction and the product on test. For you see, dear reader, today we're reviewing a product through which one might enjoy the delights of Hammer, Vanilla Ice, Kate Bush, and if I dare raise the level of class just little bit, Avril Lavigne. In fact, one could even enjoy a bit of Vin Diesel or Jack Bauer with this here product, if you're hard enough.
So what kind of NAS is this? Well, it's a Thecus N1200, and it features a DLNA (Digital Living Network Alliance) Mediabolic (not media bollo...careful --Ed) server.
Have we got you sufficiently confused? Great! Let's go make some sense of it all...