Hitch specification
Specifications
Allow us to introduce you to Hitch.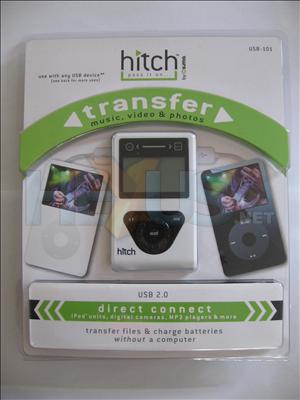 The Hitch is a new product from Sima intended to, as we've already discussed, allow file transfer between USB devices without the need for a PC. The model we have here is the Hitch USB-101, the first of the Hitches, if you will. Here's a run-down on its official features and specification, as taken from gethitch.com.
Hitch at a glance
Works with all major USB devices – iPod and other Digital Media Players, Digital Cameras, Thumb Drives, Video Cameras, and more
Speedy scroll wheel for easy navigation
No computer needed
USB 2.0 Compliant Device
Upgradeable, LINUX based Operating System
Reads MP3 Tag info and digital camera PTP Databases
Bright, backlit LCD screen
Charges USB Devices
Rechargeable Battery
Technical specifications
Supports Mass Storage (MS) devices including FAT 8/16/32
Supports USB Picture Transfer Protocol (PTP) – Hitch will recognize a connected camera automatically
LED file transfer indicator lights
Supports MP3 ID3 file identification for title and artist file information
Supports USB 2.0 and USB 1.1 Standards
2.5 monochrome LCD screen with backlight
Provides up to 500mA at 5V to both ports simultaneously
Provides file copy and deletion functionality to choice of destination folder
LINUX based Operating System
Firmware Upgradeable through simaproducts.com
4.3" x 2.6" x 0.9", 8 oz weight (including battery)
Includes AC Charging Adaptor
To summarise Hitch's specification, it can connect two USB devices together, providing they use the FAT filesystem or the Picture Transfer Protocol. The vast majority of USB devices that operate with a mass storage driver have a FAT-formatted filesystem. This includes thumb drives, memory cards (via a USB card reader), external hard drives and many cameras. Some cameras, while still operating on the FAT filesystem, interface with the host device using the Picture Transfer Protocol, rather than a mass storage driver, hence the PTP support.
USB 2.0 support suggests that we'll get nippy transfers from Hitch and seeing as 'up to 500mA at 5V' can be provided to each port, we shouldn't have any trouble with any device that draws power over USB, given that 500mA is also the current limit on a PC's USB implementation.
Enough talking around the specifications. Let's see what Hitch is really made of.