Introduction
Second-generation LSI SandForce SSDs have had an interesting ride. They arrived on the scene with blistering speeds that left many an enthusiast queueing up to buy, that initial explosion was soon followed by an unfortunate spate of bugs and firmware issues - all of which appear to have been ironed out - and today, with prices plummeting, they're a high-speed upgrade that's available to everyone.
But the popular SF-2281 processor is no longer the obvious choice when choosing that sought-after solid-state upgrade. Users wanting to squeeze every last drop of bandwidth from a SATA 6Gbps interface now have a selection of drives and processors to ponder; in addition to LSI SandForce, Marvell has made a name for itself with popular drives such as the Crucial M4, and the likes of Indilinx and Link_A_Media are very much in the game.
Competition is fierce, so it's up to the manufacturers to produce an LSI SandForce drive that truly stands out. We've seen a number of manufacturers use various flavours of NAND in an effort to differentiate their drives, but ADATA is going one step further with a new, top-of-the-range model dubbed the XPG SX910.
What makes the SX910 a little different to the rest is the fact that it's one of the first to take advantage of LSI SandForce's relaxed over-provisioning rules. Whereas most drives based around the SF-2281 controller have shipped in 120GB, 240GB and 480GB capacities, ADATA's SX910 has landed in stores with capacities of 128GB, 256GB and 512GB.
This increase in usable space is achieved by reducing the amount of over-provisioning - a process through which a percentage of NAND memory is set aside to increase performance and drive longevity. The result is a drive capacity that's in line with what's on offer from many competing solutions, and though the knock-on effect should be reduced performance and increased wear, ADATA appears to have circumvented any such issues through a custom firmware and the use of meticulously-screened Intel 25nm synchronous MLC NAND memory chips (model 29F16B08CCME2).
ADATA has 16 NAND memory chips lining the drive's PCB, each weighing in at 16GB apiece, and the company is clearly confident in the capabilities of the cherry-picked NAND and the custom firmware; the SX910's official specification quotes sequential read and write speeds of up to 550MB/s and 530MB/s, respectively, while random-write performance is rated at up to 85,000 input/output operations per second (IOPs).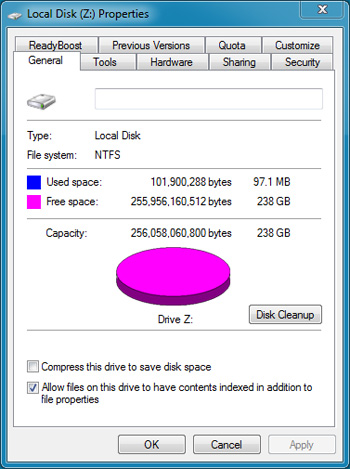 The reduction in over-provisioning doesn't appear to have had an impact on drive performance, and ADATA's equally bullish about drive longevity - it ships the SX910 with a standard five-year warranty, as opposed to the basic three-year cover on its previous solutions.
Even the bundle is better-than-average. In addition to the 2.5in drive, ADATA includes a 3.5in mounting bracket and a license key for Acronis True Image HD - a software package that makes it easier to transition from a hard-disk to a solid-state drive without having to reinstall your operating system.
In Windows the 256GB SX910 SSD has a formatted capacity of 238GB (pictured right), providing an extra 15GB to play with over your typical SandForce drive.
An increase in capacity, top-notch performance, bundled migration software and an extensive five-year warranty make the SX910 one of the most attractive SandForce solutions to date, but there's a catch; the drive's pricey. Our 256GB review sample is currently retailing at a lofty £260, and that's asking a lot when you consider that a 240GB SanDisk Extreme can be had for just £125.
ADATA needs to take a large axe to pricing in order for the SX910 to make sense for the average consumer - the 256GB model needs to be under £200, at the very least - but let's take a look at performance to find out if the change in drive make-up has any impact on benchmark performance.