Introduction
With SSD prices continuing to tumble, there's never been a better time to consider making that sought-after solid-state upgrade.
No moving parts, no noise, low heat output, near-instant access and super-fast speeds; all the advantages of solid-state storage are well known, but with quality drives now available for under 60p-per-gigabyte, these benefits are within reach of the average consumer.
And SSD manufacturers have caught on to the fact that pricing has become the key factor. Following years of reliability concerns and a race to hit new heights in sequential read and write speeds, manufacturers are now attempting to streamline their SSD solutions to include drives that are cheaper, backed by a decent warranty and every bit as potent.
A prime example would be Kingston's HyperX 3K. Introduced as a solution for "budget-minded gamers and enthusiasts," the 3K drive is a follow-up to last year's award-winning HyperX and aims to offer all of the speed at a lower price.
Sounds like a recipe for success, but how has Kingston managed to retain performance and lower the MSRP at the same time? The answer's quite simple, it has lowered the quality of the drive's internal NAND flash memory devices.
In the original HyperX drive, Kingston made use of a high-speed SandForce SF-2281 controller paired with premium 25nm MLC NAND memory from Intel that was rated at 5,000 program/erase cycles. The newer HyperX 3K is armed with the same controller, but the memory has been swapped for a cheaper variety of Intel 25nm MLC NAND that's rated at 3,000 program/erase cycles. Hence the name HyperX 3K.
What does this really mean? Well, flash memory has a finite number of program/erase cycles and will eventually deteriorate; so in theory, the higher the rating, the longer the drive will last. There's no denying the fact that the original HyperX is the better drive - it's built from finer materials that will last longer - but such high levels of endurance are better suited to enterprise environments, where write-intensive workloads are the norm. It's impossible to judge exactly how long these drives will last - write-amplification technologies and varying workloads make it a guessing game - but for the average home user we'd expect the HyperX 3K to last for 10 years or more, so longevity shouldn't be a concern.
Other than the change in NAND, there's not a lot to separate the HyperX drives. The original comes in blue and the 3K model's only available in black, but both drives are available in capacities ranging up to 480GB in size, both variants are backed by a three-year warranty, and if you pay a little extra, both can be purchased with Kingston's ever-useful Upgrade Bundle. The latter makes the process of upgrading from an existing drive a whole lot easier by including Acronis True Image HD migration software, a 2.5in to 3.5in desktop mounting plate, a USB external drive bay, and a SATA data cable.
Kingston's 3K drive is sounding good, but in order to make sense it needs an attractive price tag.
120GB HyperX

£132

£125

£144

120GB HyperX 3K

£102

£105

£103

240GB HyperX

£280

£275

£280

240GB HyperX 3K

£202

£195

£200

*UK-based HEXUS community members are eligible for free delivery and priority customer service through the SCAN.care@HEXUS forum.
Perusing the virtual shelves of various UK retailers, we can see that on average the HyperX 3K is 25 per cent cheaper than the premium HyperX. That's a healthy saving and one that instantly makes this breed of solid-state drive more appealing to the home user.
But are the savings enough? It wasn't long ago that a 120GB SandForce SATA 6Gbps drive for around £100 would have felt like a great deal, but in today's market competing drives like the Crucial M4 and Samsung 830 offer a 128GB capacity for under £80. Kingston needs to get aggressive on pricing for the HyperX 3K to really stand out, and a few more retailer-led promotions could be the answer; Scan Computers was recently selling the 120GB HyperX 3K for just £64.99.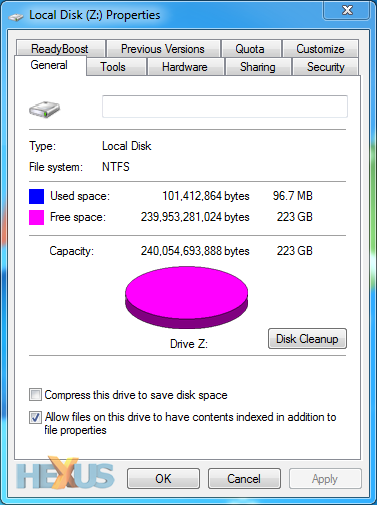 It's the price tag that makes a good SSD a compelling one, but performance plays a part so let's find out how a 240GB HyperX 3K drive fares in our benchmark suite.