Your gran could use it
Widespread motherboard adoption of USB 3.0 paves the way for a multitude of external docks and caddies touting the super-speedy interface. With a theoretical throughput of 5Gbps tempered by a real-world transfer speed of a still-excellent 400MB/s, USB 3.0's intrinsic bandwidth should enable external storage to function much like a SATA-connected drive.
Grab a caddy, throw in a mechanical or solid-state disc, and the innate throughput of the drive should be the bottleneck, not the interface. That's the theory, anyway. Thermaltake has an array of USB 3.0-armed caddies and perhaps the simplest to use is the open-top BlacX 5G, currently retailing for around £35.
Now, though, Thermaltake extends the usefulness of that dock by incorporating a model with a second drive-bay. Prosaically titled the BlacX Duet 5G, the £50 caddy enables USB 3.0-connected access to two drives at the same time.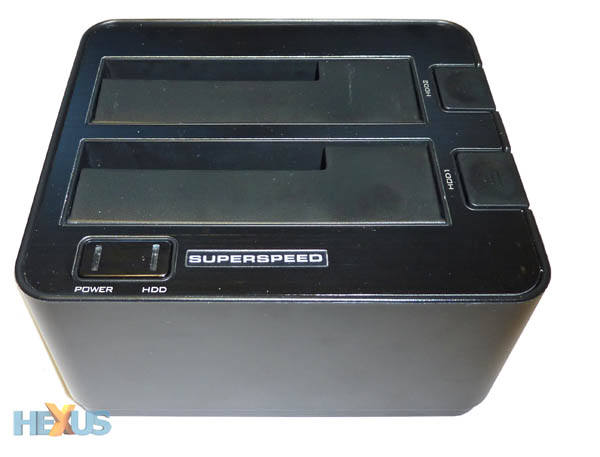 Aside from the obvious inclusion of a second bay there's not much changed here. The plastic dock now has a revised power/activity button that lights up blue when there's power and access. The subtle lighting is carried over to the superspeed name. Underneath the two covers - where you simply push the drive(s) into - are standard SATA power and data connectors, and the cover cutout is designed for 2.5in drives. Inside, a SATA-to-USB 3.0 bridge-chip does the necessary conversion duties, though Thermaltake wouldn't divulge the ASIC manufacturer.
Supporting all regular SATA-equipped drives - SATA I/II/III, 2.5in and 3.5in - in all capacities, the unit feels well-built despite the over-reliance of plastic. Heavier 3.5in mechanical drives fit in snugly and Thermaltake includes two eject buttons on the right-hand side - picking up the unit with a 3.5in drive in situ lifts it clear off the desk, hence the need for an eject button.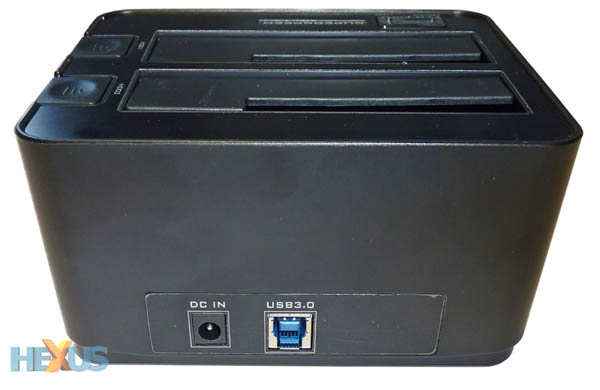 Included in the package is an uprated power adapter, now capable of delivering 36W, and a metre-long USB 3.0 cable, which is backward-compatible with USB 2.0 ports for older PCs.
The BlacX Duet 5G features drive hot-swapping, meaning you can chop and change drives while still connected to the host PC - on Mac and Windows - and having two in one enclosure is tidier than running two sets of power and USB cables.
Here's the enclosure stuffed with an SSD and 3.5in drive. Thermaltake also adds 2.5in and 3.5in 'silicon jackets'' but we can't see the long-term benefit if you're changing drives regularly.