Introduction
"Which SSD should I buy" is a question that the HEXUS editorial team is being asked on an increasingly regular basis, and more often than not we'll give the same answer: Kingston's 96GB SSDNow V+100.
The drive, reviewed back in May, is now available for as little as £87 for a standalone unit or £100 as part of a useful upgrade kit. On a drive-only basis, that's less than £1-per-GB for all of the thrills an SSD can offer - including dramatic improvements to system responsiveness, silent operation and, for laptop users, potential gains in battery life.
The 96GB SSDNow V+100's blend of price, performance and capacity is hard to match, and it's a combination that's going to appease most users' needs. But not everyone will succumb to the drive's charm, for while most will marvel at speeds of around 200MB/s, there are those who'll steer clear of anything incapable of hitting at least 500MB/s. This brand of user demands more - more speed, more capacity, often at any cost - and it's this user that Kingston has neglected... until now.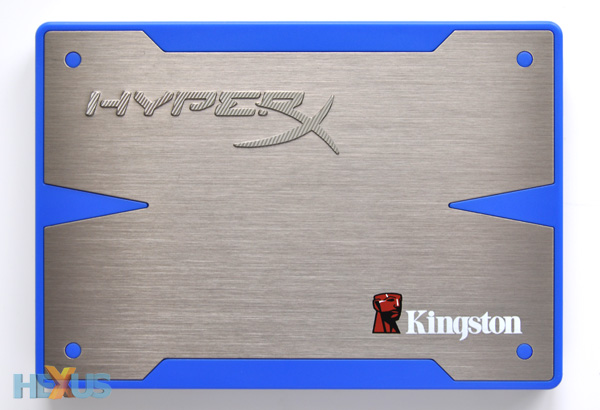 Enter the HyperX, a new breed of Kingston SSD that, in keeping with the nature of the brand, has been specifically engineered for enthusiasts, gamers and performance users.
If the HyperX branding doesn't tell you everything you need to know about the target market, perhaps the price tag will. At launch, the HyperX SSD will be available in 120GB and 240GB capacities, priced from £210 and £400, respectively.
That's a fair amount of cash for 2.5 inches of storage, so what are you getting for your money? Like so many manufacturers, Kingston has turned to SandForce for its high-end solution, and the second-generation SF-2281 controller already in use by the likes of Corsair, Patriot and OCZ is also the centrepiece of the HyperX range. The controller is joined by premium multi-level cell Intel 25nm Compute NAND memory devices (rated at 5,000 program/erase cycles), and Kingston is keen to add that "in order to bring a stable and high performing product to market", the drive has undergone the same "extended rigorous testing and qualifications" as all of its products.
On the performance front, hook the HyperX SSD up to a SATA 6Gbps interface and you can expect sequential read and write speeds of up to 555MB/s and 510MB/s, respectively, while the maximum number of input/output operations per second (IOPs) is rated at a massive 95,000 - the highest we've seen thus far from a 2.5in SSD.
So how has Kingston managed to eke out that extra ounce of performance? We've a suspicion it has something to do with the drive's firmware, as this is the first SandForce-powered drive to pass through our labs with software version 320ABBF0 - a fully qualified, mass production level firmware that we suspect will soon be made available to competing drives.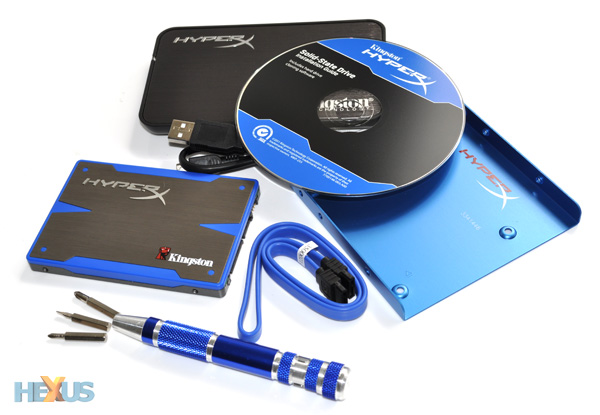 The HyperX SSD is going to be fast, and a combination of the brushed aluminium front and blue accents make it particularly easy on the eye. It's one of the best-looking SSDs we've seen, and spending an extra £10 makes it available as part of a bundle that includes Acronis True Image HD migration software, a 2.5in to 3.5in desktop mounting plate, a USB external drive bay, a multi-head screwdriver and a SATA data cable.
As evidenced by the similarly-equipped V+100, the kit simplifies the process of upgrading from a hard-disk to a solid-state drive, and Kingston has this time gone the extra yard by providing customised HyperX accessories. The blue drive-bay mount is a particularly nice touch, and it's a component that's included with the standalone drive, too.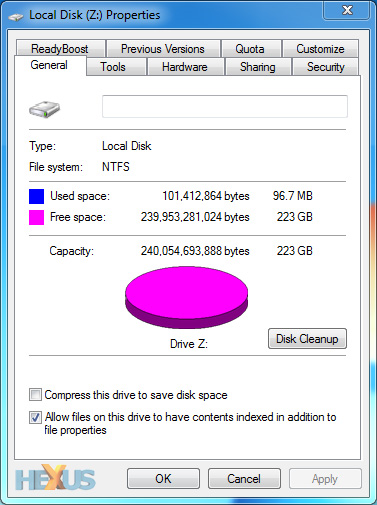 Kingston has sent us the 240GB model to have a play with, so let's fire it up, shall we?