Box of tricks
Box o' tricks
Technology convergence are two buzzwords that permeate the technology industry. Convergence is good, we're told, because it will make our lives simpler and easier.
Dutch-based media specialist A. C. Ryan also believes in convergence. Focussing on bringing all your multimedia needs together in one box that lives in the lounge, it has introduced the PlayOn!DVR HD - a dual-tuner digital video recorder and full-HD network media player.
Able to handle practically all the media files you can throw at it, the DVR HD extends the usefulness of the PlayOn!HD by including dual digital TV tuners - for both MPEG2 and H.264 DVB-T broadcasts - and a built-in 1TB hard-drive as storage back-up.
The premise behind the £200 PlayOn!DVR HD 1TB, then, is to record, play and store all your digital content.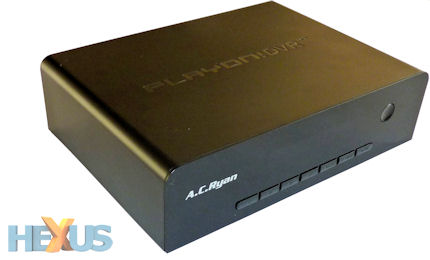 The sleek unit is the same size as the PlayOn!HD, measuring in at 227mm x 165mm x 60mm (W x D x H), and it fits in well with A/V gear. Build quality is solid and the box feels nice to the touch.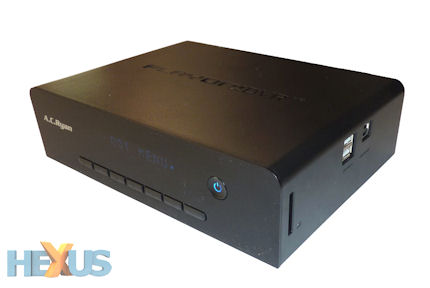 The DVR's design is different from the 'HD's, insofar as it adds a central LCD display that details what's playing. Brighter than the picture would suggest, it's easily readable from, say, six feet away.
Seven buttons that control the box's functions are underneath. We're not quite sure why A.C Ryan would feel the need to include them, because the remote control duplicates features, but they don't spoil the aesthetic.
Looking to the side, the unit has support for SD/SDHC/MMC.MS/MS Pro memory cards, as well as two type-A USB 2.0 ports and a single (slave) type-B. What this means in plain English is that external storage can be plugged in for easy-as-pie playback.
File systems are as flexible as the supported CODECs; the DVR HD can play files from FAT/FAT32/NTFS/EXT/HFS+-formatted media.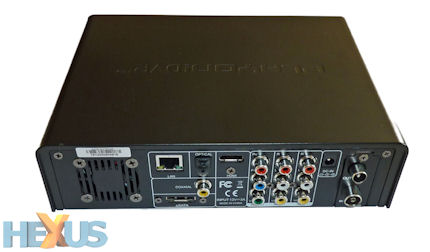 Connections ahoy
The gaggle of ports and sockets on the back of the regular PlayOn!HD pale in comparison to those found here. Media can be outputted by HDMI (v1.3); composite video/audio; component video, and both optical and coaxial S/PDIF. Dolby
True HD and DTS Master Audio are both supported over HDMI, too.
Appreciating that the PlayOn!DVR HD is a storage device, A.C Ryan also provides inputs (pass-through) for composite audio and video. While better than nothing, we'd like to see HDMI/component inputs. If the internal drive isn't large enough for your needs and you want faster transfers than USB 2.0 allows, storage can further be expanded by hooking-up an eSATA-connected drive.
Network-wise, the 10/100 Ethernet chip really should be upgraded by A.C Ryan to a Gigabit. There's no built-in wireless, though users can purchase the optional Wireless-N 300Mbps USB adapter for around £20.
With a 1TB hard-drive the device can act as a NAS box, once on a network. It can also perform as an FTP server and Bittorent client - handy if you want to fill all that hard-drive space with high-definition video of dubious provenance.
Dual TV tuners
But the main focus here revolves around the TV tuners, shown on the right. The twin DVB-T tuners enable you to record one Freeview channel while watching another, and such is the modular nature of the DVR HD, the tuner card can be upgraded to a Freeview HD-totin' DVB-T2 model, when available. The idealist in us would like to see the T2 card specified as standard, which would fit in well with the HD-centric device.
As it is, PlayOn! offers five recording modes that range from high quality to super-long play. Based on the 1TB drive, recording time spans from 230 hours (HQ) to a stupendous 1,235 hours in SLP mode.
HD video and audio
The DVR HD can play a disarming number of video and audio codecs. Armed with the Realtek 1283DD+ chip, it outputs to 1080p24 through both HDMI and component. Firmware updates ensure that the unit is kept up-to-date with improvements, and A. C. Ryan has added features such as Yet Another Movie Jukebox (YAMJ) over time.
The Realtek chip does very well with video. It's crisp and clear from high-definition sources when displayed on a 46in TV. Sure, it's no Faroudja DCDi, but few, we think, would argue at the quality on offer from the sub-£200 barebone model.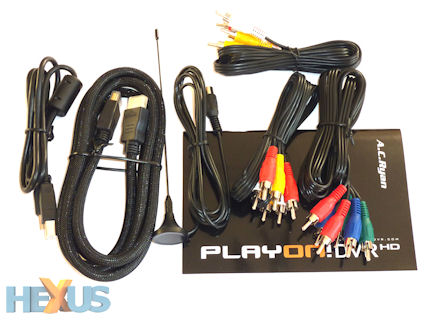 Shipping with more cables than Curry's, the PlayOn! DVR HD has all the connections covered.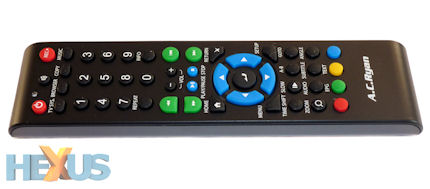 The remote is a slight upgrade on the non-DTV HD unit, but is rather too garish for our liking.