Introduction
With December edging near, analysts the world over will be putting their heads together to predict the biggest trends in technology for the coming year. But you probably don't need an analyst to tell you that USB 3.0 will be one of them.
The latest revision of the Universal Serial Bus (USB) interface, armed with a SuperSpeed bus, is capable of providing data transfer speeds of up to 400MB/s under ideal conditions. That's more than a tenfold increase over the real-world speeds available to the incumbent USB 2.0, and given that yesterday's megabytes are today's gigabytes, USB 3.0 is here to ease the process of backing up and transferring large amounts of date to external storage devices.
The interface should, in theory, be a match made in heaven when paired with super-quick NAND flash memory, and that's exactly the combination used in Kingston's first USB 3.0-certified external SSD, the HyperX MAX 3.0.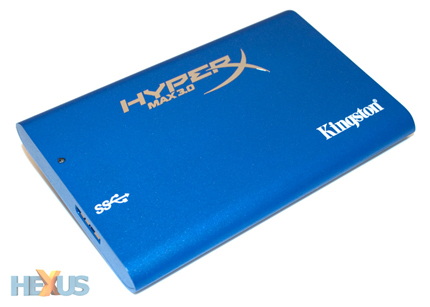 Available in 64GB, 128GB and 256GB capacities, the ultra-slim drive is essentially a Kingston SSDNow V+ solid-state drive repackaged in an aluminium enclosure with USB 3.0 connectivity.
And that's no bad thing, as the drive's internal flash memory is said to be capable of hitting read and write speeds of up to 195MB/s and 160MB/s, respectively, via a USB 3.0 interface. Putting that into context, Kingston's HyperX MAX 3.0 should theoretically be at least five times quicker than USB 2.0 - an interface limited to around 30MB/s.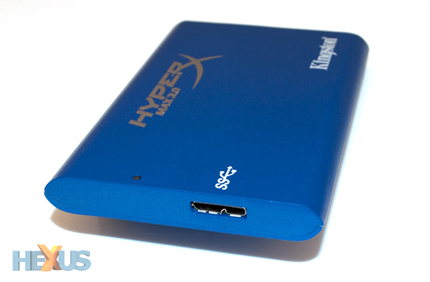 It's important to remember that the improved speeds are only available when the drive's mini USB 3.0 connector is paired with a PC or laptop equipped with a USB 3.0 controller. But the HyperX MAX 3.0 is backward compatible, and to help illustrate the connection being used, the drive's single LED will glow blue when hooked up to a USB 3.0 port, or green when connected to a slower USB 2.0 interface.
The drive's performance credentials are impressive, but the HyperX MAX 3.0 isn't only about speed. By utilising NAND flash memory, the drive is able to remain thin and light - measuring 73.49mm x 118.60mm x 12.00mm and weighing just 118g. It's ideal for slipping into a pocket, and with no moving parts, it's shock resistant and practically silent in use.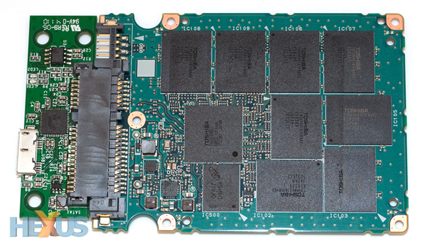 Inside the tough aluminium shell, we get a look at the two key ingredients; a Genesys Logic GL3310 USB 3.0 SATA bridge controller and the guts of an SSD. The latter, in keeping with Kingston's SSDNow V+ line, consists of a Micron DRAM cache, a TRIM-supporting Toshiba T6UG1XBG controller and Toshiba MLC NAND chips.
The drive is plug-and-play, and it's USB-powered so there's no need for an external power supply. On paper, it's an excellent mobile storage solution, but when you hear the terms USB 3.0 and SSD in the same sentence, you know you're looking at a premium product. At launch, Kingston expects the 64GB, 128GB and 256GB models to be priced at £125, £220 and £440, respectively. In comparison, a traditional 2.5in 250GB external hard-disk drive can be had for under £50. Is the proposed performance leap worth the outlay? Only one way to find out.