Introduction
We've reviewed a range of 256GB, 120GB and 80GB solid-state drives (SSDs) in recent months, but whilst they've all impressed, we're willing to bet that the days of spending hundreds of pounds on PC upgrades are long gone for many readers.
Fortunately, if you're looking to adopt premium SSD technology, all hope isn't lost. In a widespread effort to appease the budget of the modern-day consumer, a range of 40GB drives have recently flooded the market.
Although limited in overall capacity, the cut-down drives tout super-quick solid-state performance for under £100 and are marketed as the ideal system drive for performance users.
Sounds like a logical approach, so we've decided to take a look at a pair of high-end 40GB solutions in the form of two G.Skill Phoenix Pros.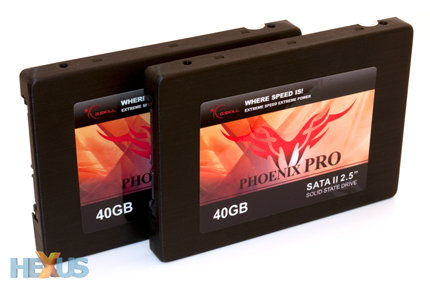 Priced at £80 apiece, the compact 2.5in drives command a hefty £2-per-gigabyte premium, but the up front costs should be offset by impressive performance.
Based on the ever-popular SandForce SF-1200 controller, each 40GB drive touts TRIM support, maximum read and write speeds of 280MB/s and 270MB/s, respectively, and 4K random write performance rated at an impressive 50,000 IOPs. In English, what that means is G.Skill's drive has the pedigree to provide blazing-fast performance.
And if you're new to the SSD scene, there's more to solid-state storage than just read and write speeds. Access times are dramatically reduced when compared to traditional hard disks - you'll see the difference in our benchmarks later in the review - and with no moving parts, SSDs are quieter, cooler and considerably less prone to failure. Such is the advancement that SSD drives have quickly become one of the most sought after computer upgrades.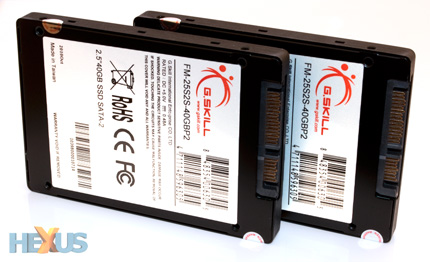 Backward compatibility isn't a problem, either. Featuring a standard SATA II data connector and a SATA power connector, G.Skill's SSD will slot easily into most existing systems.
Making use of a 2.5in form factor may make it incompatible with your chassis' current drive bays, but G.Skill overcomes that potential hurdle by bundling a 3.5in mounting bracket with every drive. A nice touch, as is the brushed aluminium finish on the drive itself.
We know the internal SandForce controller is quick, but whilst performance should be excellent, the limited 40GB capacity might be off putting and you're probably asking yourself this; is a 40GB SSD large enough to run Windows 7?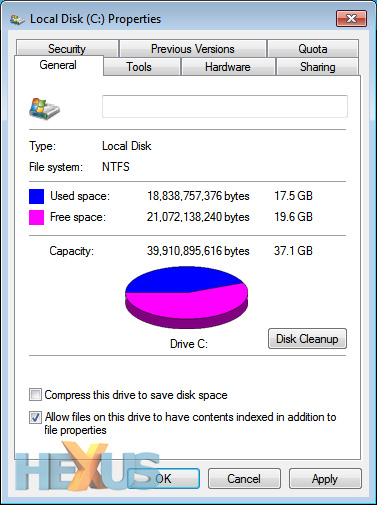 Well, G.Skill's drive formats to 37.1GB in Windows 7 Ultimate, and a 64-bit clean install of Microsoft's top-end operating system eats up a 17.5GB chunk. That leaves the user with around 19.6GB to play with - ample for most, but install a couple of modern games and that remaining space will soon disappear. With a drive of this size, the increasingly-common formula is to install just the operating system and other core applications on the primary SSD, whilst games, music and video - all of which require vast amounts of storage - can be kept on a low-cost secondary hard disk (a standard 1TB HDD can today be had for under £45).
That begs the question, if a hard disk offers 25x the capacity at almost half the price, is the SSD worth it? The answer for performance users tends to be a resounding yes, but let's see if the 40GB Phoenix Pro is able to maintain the standards set by the SandForce formula.