DiskStation Manager 3.0
Ask us which is our preferred NAS operating system, and our first response would probably be Synology's DiskStation Manager 2.3.
The firmware, launched back in March 2010, arguably doesn't provide as many features as rival offerings, but it's very user friendly and carries a level of polish that enhances the overall user experience.
So you can imagine our surprise when Synology revealed that it would go back to the drawing board and invent something new for the next major release; DiskStation Manager 3.0.
The old adage "if it ain't broke" comes to mind, but Synology has put any such fears to bed with a beta release that shows off what DSM 3.0 has in store.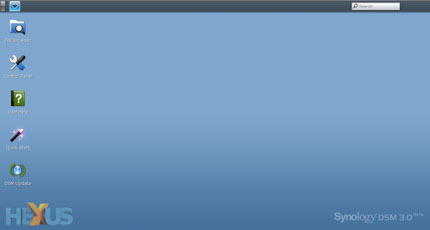 Install the new operating system, and the first major change - a revamped web user interface - becomes immediately apparent.
Doing away with the old menu-on-the-left, options-on-the-right approach, DSM 3.0 takes on the style of a traditional desktop operating system and is designed to offer similar functionality.
Like your Windows machine, the desktop can be customised through colour schemes and background wallpapers, and you see a set of desktop shortcuts to commonly-used functions such as file browser, control panel, help and quick start.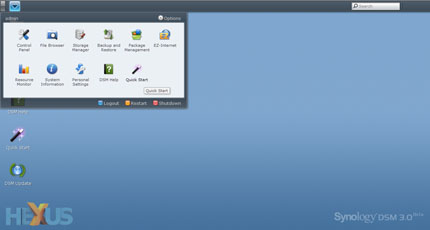 There's a start menu, a show-desktop tab and a taskbar - complete with built-in search and the ability to pin items - and a clear resemblance to an operating system such as Windows 7. You even get pop-up notifications.
And, like Windows 7, DSM 3.0 touts full support for multi-tasking, with open Windows floating freely on the web-based desktop.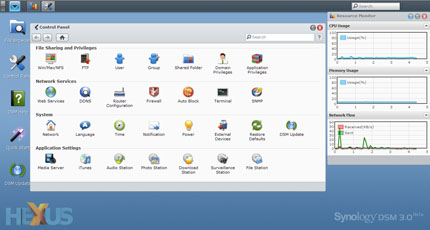 For basic users, real-world implications are likely to be minimal and the new-look interface may prove to be nothing other than a visual distraction.
But for power users and administrators, the immediate benefits are obvious; you can open multiple windows without having to use numerous browser tabs.
Want the resource monitor in view whilst you configure your drive volumes? Not a problem. Need to minimise the backup and restore app whilst you format your external drives through Control Panel? That's fine too.
For the most part, it looks and functions exactly how you'd expect a desktop would. You can add shortcuts to your frequently-used applications by simply dragging and dropping items from the start menu to the desktop. Windows can be moved, resized, minimised or maximised, and the taskbar's in-built search ensures you'll always find what you're looking for.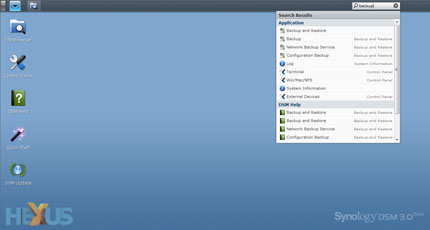 As an idea, the desktop-like UI is excellent, and it seems to be a logical step forward for a NAS interface. Synology has laid the foundations, but whilst its surprisingly good at this early beta stage, it isn't quite perfect.
At present, it isn't possible to move desktop shortcuts around, and DSM 3.0 doesn't remember window positions or sizes. Log out and back in, and you're back where you started.
There's also a matter of browser support. At present, Internet Explorer versions 7 and 8 don't cater for Synology's complete multi-tasking experience. Poor JavaScript performance appears to be the culprit, but IE users should note that there are a few current limitations; you can't run multiple file browser windows, and dedicated apps - such as audio station and download station - will open in a new browser tab as opposed to a new window on the DSM 3.0 desktop.
Despite the IE quirks, however, users of Apple's Safari, Google's Chrome and Mozilla's Firefox will be able to make the most of the multi-tasking experience.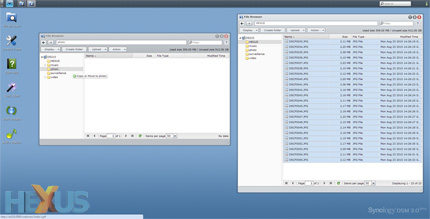 Arranging and sorting content has never been so easy. Using Google Chrome, it's possible to open up to three file browsers and drag-and-drop your data as you would on your desktop PC.
And, more importantly, the entire interface feels quick and responsive. After just hours of use, DSM 3.0 feels snappier and more intuitive than Synology's previous efforts.
The desktop-like approach is a welcome step in the right direction, and it's certainly a visual treat, but is there much more in terms of new functionality beneath DSM 3.0's fancy skin?
Turns out there is. The new firmware introduces support for the EXT4 file system, Windows Access Control Lists and Web-based Distribution Authoring and Versioning (WebDAV). There's also a new surveillance application - Surveillance Station 5 - and three new apps for Android smartphones; DS photo+, DS audio and DS cam.
Not bad for a beta release. A complete list of new features can be found at Synology.com, and there's also a live demo for those itching to give DSM 3.0 a try.