Introduction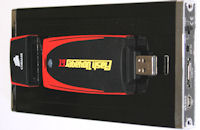 If you excuse the poor pun, removable storage has become key in recent times. Led by the readily-available USB pen-drives, there's little reason why Joe Average can't have a 16GB stick for less than £30 - large enough to store an entire operating system.

At the cutting-edge of removable storage reside pen-drives with 128GB-plus capacities, and we took a look at a 128GB USB pen-drive from Patriot just over two weeks ago. Clearly large on capacity and finished in a cool aluminium casing, we felt that the asking price of £300 put it too close to the speedier alternative of eSATA-connected SSDs.

Corsair now steps up to the plate with a 128GB pen-drive that boasts faster speeds. Read on to find out if the Flash Voyager GT 128 is right for you.