Introduction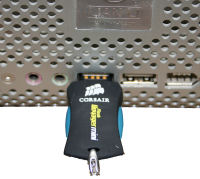 A USB stick is a USB stick is a USB stick, right? That's pretty much true because they use the same interface. Now, though, manufacturers are looking at ever-more-inventive ways of differentiating their wares from the competition.

You can, for example, opt for 64GB model with enough space to store 10,000 mp3s. Perhaps adding some media content on a drive would tempt you, the consumer?

Corsair is of the opinion that a cool differentiating factor would be a reduced-size USB drive - and that's how the Flash Voyager Mini has come about.

Available in 4GB and 8GB capacities and small enough to lose in a pocket, we take a look at the larger-capacity model and see if it's worth £20 of your money.