Introduction
What is it that makes rugged items so appealing? I don't tend to go walking in the rain, yet I do like a good pair of Gore-Tex boots, and though I won't be climbing Everest anytime soon, I do want a jacket that can withstand hurricane-force winds.
Understanding that this fascination exists among consumers, hardware manufacturers are keen to put forth robust products that can withstand a fair bit of abuse. One category that frequently undergoes a rugged makeover is storage, and Adata has bolstered its portfolio with the SD600 External SSD.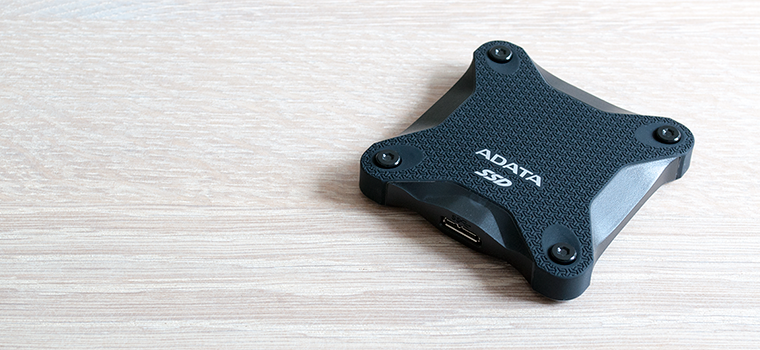 Available with a 256GB (£115) or 512GB (£170) capacity, this compact USB 3.1 SSD arrives in red or black livery and promises speeds of up to 440MB/s in a ruggedised form factor. There are, however, many different levels of ruggedness and while some drives in Adata's stable are tested for dust and water resistance to military specification, the SD600 takes a far more simplistic approach.
Indeed, the drive isn't advertised as dust or water resistant in any shape, way or form, and Adata's only reference to durability is that the SD600 is designed to be "highly shock and drop resistance." Sturdy construction and "impact-dampening silicone" are said to be key features, but this here drive clearly isn't bulletproof. On the contrary, it can be viewed as the SC660H in a more 'sporty' shape that's reasonably well put together but not rock solid - this remains a lightweight solution with a plastic shell that will flex in the centre if enough pressure is applied.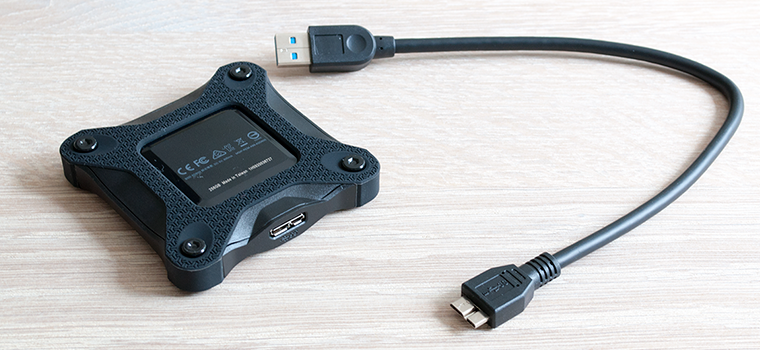 Measuring 80mm x 80mm x 15mm and weighing just 90g, the drive is easy to carry and even simpler to use. The USB 3.1 port is positioned along the bottom edge, and the supplied Type-A cable is all that's required for both power and data. There's no USB Type-C cable included in the box, nor is there any additional software, but the drive is backed by a three-year warranty as standard.
Offering all of the benefits of solid-state storage, the SD600 is fast, quiet, power efficient and more durable than a traditional hard disk, but there is a small price premium attached to this silicone-dampened makeover. Users who don't anticipate dropping their drive from time to time should note that the standard SC660H is currently available for roughly £15 less.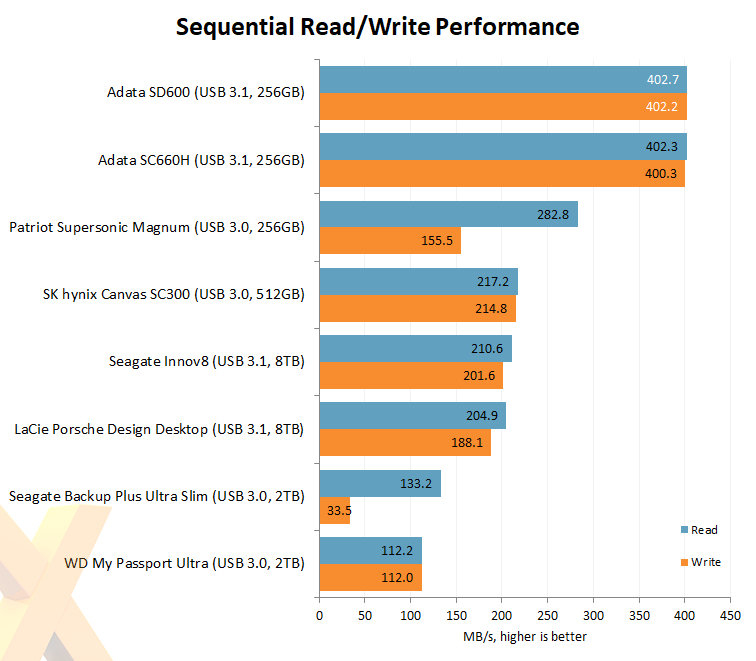 On the performance front, it's no surprise to find that Adata is using the tried-and-trusted 3D TLC Flash that is present in many of the company's existing SSDs. A simple test of sequential read and write throughput reveals that the SD600 is indeed capable of hitting speeds in excess of 400MB/s. Very handy if you routinely transfer large quantities of data.