Introduction
There's no shortage of choice when it comes to network-attached storage (NAS), yet given the multimedia requirements of the modern user it is no surprise to find that refreshed models are being launched at regular intervals.
Wanting to make use of the most current processor technologies, top-tier NAS manufacturers are quick off the mark in providing upgrades and it is common to see existing models refreshed with new internal components. That's exactly what Qnap is doing with the TS-453Bmini, a four-bay unit that takes over the mantle from 2015's TS-453mini.
What's new to the 'B' model? At first glance it doesn't appear as though a lot has changed. Qnap is using the same vertical layout, whereby the drives are loaded from the top to create a space-saving form factor that can live elegantly in any room in the home or small office.
Dimensions remain at 210mm (H) x 151mm (W) x 200mm (D) and the front of the unit goes unchanged with a series of status LEDs (these can be dimmed or turned off) above a USB 3.0 port with one-touch copy and a dedicated power button. The rest of the connectivity options are kept around back, where you'll find a further three USB 3.0 ports, USB 2.0, dual Gigabit Ethernet with support for failover and trunking, HDMI output and a connector for the external 90W power supply.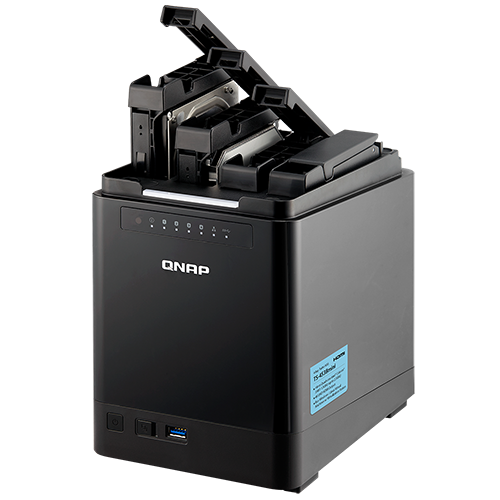 As before, the top plastic lid is magnetically secured and lifts off with ease, revealing four tool-free drive trays. Insert your hard disk, secure using the provided plastic brackets, and lower the tray into place. Loading the device with drives is about as user friendly as can be, though do note that the tool-free mechanism only works with 3.5in disks - SSDs would need to be secured to the trays using the provided screws.
What sets the TS-453Bmini apart from its predecessor is the use of a 14nm Intel Celeron J3455 processor. The quad-core, 10W chip offers speeds of up to 2.3GHz and introduces AES-NI hardware encryption and integrated HD 500 graphics. Joining the CPU is 4GB of DDR3 memory (double that of the TS-453mini), and this can be upgraded to 8GB as Qnap has provided quick access to the DIMM slots via a removable panel on the underside of the device.
The hardware upgrades are evolutionary rather than revolutionary, and the downside for mainstream users is that the price has ballooned to £460 for a diskless unit. A hefty fee, and though the TS-453Bmini is a four-bay unit capable of transcoding 4K multimedia do be aware that the HDMI 1.4 port is limited to 30Hz at 3,840x2,160 when paired directly to a 4K display.
We'll have to wait a bit longer for modern standards such as USB Type-C and HDMI 2.0 to become available, and given the capacity of today's 3.5in hard disks, we wonder if a four-bay NAS can now be considered overkill for any home user. Plenty of food for thought, yet what Qnap does have in its favour is its intuitive QTS software, which over the years has evolved to become one of the most feature-packed NAS operating systems. Everything from simple file sharing to full-scale virtualisation is included, and you can get a feel for the software's capabilities via a live online demo.