Background, Intro & Scores
James Morris takes a long hard look at 3D Edit, a genuinely unique video editing program that harnesses the power of a PC's graphics card in a way that no other editor does


System requirements
1GHz CPU, 256MByte RAM, 150MByte hard disk, Windows XP SP2, DirectX 9 graphics card, FireWire or WDM capture device

Test system
Windows XP Pro (SP2); dual Xeon CPUs running at 3.06GHz with 1MByte L3 cache (Koolance Exos water cooling); Asus PC-DL Deluxe motherboard with Intel 875P chipset; 2Byte GeIL PC3200 DDR SDRAM; Sapphire Radeon X800 XT 256MByte graphics card; Adaptec 39160 64-bit Ultra160 Scsi controller; 73GByte/15,000rpm Seagate Scsi system and program disk; 180GByte/10,000rpm Seagate Scsi AV drive; 400GByte/7,200rpm IBM Sata AV drive; Plextor PX-708A Atapi DVD+/-RW burner; onboard AD1985 AC97 sound card; Matrox RT.X100 Xtreme real-time editing card; Iiyama 20.1in TFT monitor; Sony Wega 14in TV set for external monitoring

Features
Capture from DV or WDM device; timeline editing; import video for Windows and Windows Media Video; DirectX 9 3D rendering engine; 3D transitions; DirectX 9 Shader-based filters; eight video tracks; five audio tracks; DV AVI output

Tenomichi, Tenomichi.com



Description: Video editing software
How much? Silver Pass, £40, Gold Pass - £64, Free trial also available


DVdoctor.award : Innovation
DVdoctor.ratings (each out of 10)


Tenomichi 3D Edit

Features

8

Performance

9

Ease of use

6

Ease of installation

9

Value for money

8

Overall rating

80%

Introduction

Now that processors are powerful enough to decode more than one stream of video at once, and 3D graphics cards can render games with film-like reality, proprietary accelerated video editing hardware is starting to look outmoded. Enter Tenomichi's 3D Edit, a video editing program that works in a revolutionary way.

In the prosumer video editing sector, the overall video-editing market leader, Pinnacle, has renounced the idea of accelerated video editing hardware. The breakout box supplied with its latest hardware/software combination Liquid Edition 6 Pro is nothing more than an input/output device, and the software relies on the PC's processor and graphics card to do all the work.

The real-time mixing abilities of Canopus's editing program Edius also show the way forward, and also what's already possible with a streamlined software-only approach.

At the low end, video editors have had to make do with low-resolution previews rather than full-frame real-time rendering. But a newcomer to the editing software arena, UK-based Tenomichi, claims to have the answer in its revolutionary 3D Edit.

Like Pinnacle Liquid Edition, Tenomichi's software harnesses the power of the system's 3D graphics accelerator. But it does so at a much more fundamental level. In particular, it takes advantage of the power of DirectX 9 Shaders. These are algorithms that use the pixel-shader units in the graphics processors in modern graphics cards - designed to accelerate image processing. The latest graphics chips from ATI and Nvidia have 16 of these units, so it's theoretically possible to render a lot of video effects at once.

But Tenomichi has gone one step further. Not only is DirectX 9 3D acceleration used to power the rendering of effects, it's also used for the interface itself. The entire 3D Edit program has been created in Direct3D, the API used by most PC games titles. It's even necessary to turn on anti-aliasing in the graphics card drivers to smooth the on-screen elements of the interface. So not only does 3D Edit have some revolutionary effects technology under the surface – it looks pretty revolutionary as well.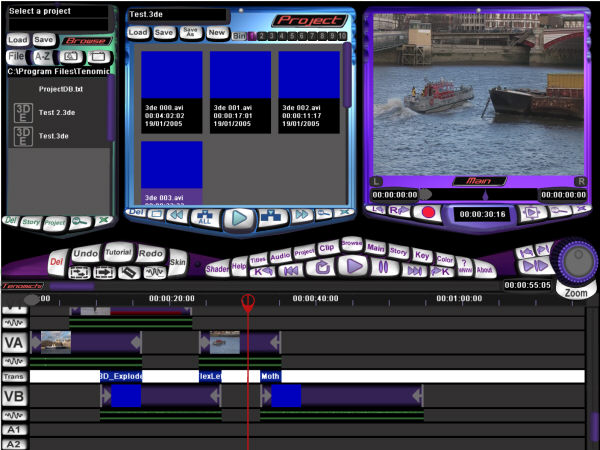 The entire interface of 3D Edit is rendered in Direct3D, and all its video effects
are powered by DirectX 9 Shaders



The underlying workings of 3D Edit mean that it is picky what platform it runs on. There's a long list of compatible graphics cards on Tenomichi's website at http://www.tenomichi.com/Compatible.htm. Essentially, a DirectX 9 adapter is required, which currently doesn't include any of Matrox's graphics cards. An ATI Radeon 9550 or Nvidia GeForce FX 5700 is the bare minimum. The software is best used with Windows XP Service Pack 2, although Windows 2000 is supported. However, DirectX9.0c is also required for 3D Edit to function correctly. Tenomichi suggest a wheel mouse, too. This can be used to scrub along the timeline or adjust Shader parameter values.