Introduction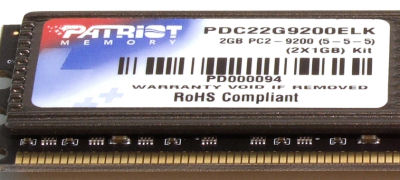 HEXUS recently took a look at five high-speed DDR2 matched-memory packs and surmised that now, whilst DRAM prices were low, was an opportune time to fill up on high-quality memory.

We noted that whilst DDR3 was making all the headlines, speedy DDR2 was relatively cheap and widely available from all and sundry.

Another name to enter the enthusiast segment of the market in recent times has been Patriot Memory. It lists a number of modules with impressive specifications and we were only too keen to take a closer look.

That is - in a roundabout sort of way - why we have some lovely-named PDC22G9200ELK in for review today. Read on to see if it can give established players a run for their memory.