Introduction
DDR4 is DDR4 is DDR4, right? Our benchmarks of previous memory paints this picture because the latest Intel processors hold so much clever cache as to render faster system memory almost redundant.
Yet while the JEDEC official standard remains a paltry 2,133MHz for the latest Intel Skylake, constituting a perfectly serviceable speed in most scenarios, the evolution in DDR4 manufacturing now means that 2,800-3,000MHz memory is barely any more expensive to produce. That being the case, it's no wonder that we're seeing a plethora of those kits flood the marketplace.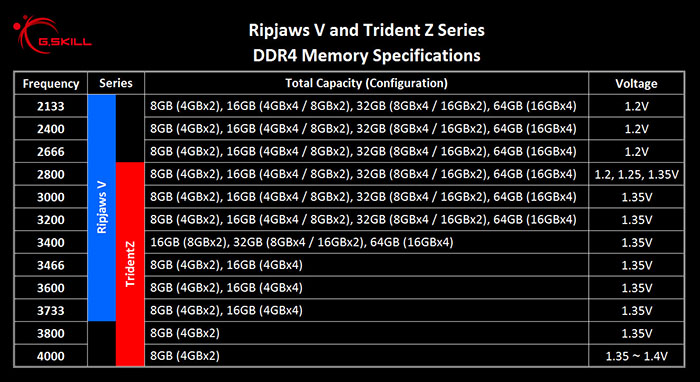 G.Skill has a number of kits that span various DDR4 speeds, headlined by the Ripjaws V and Trident Z lines. There's significant overlap between the two on what the Taiwanese company now considers to be premium speeds - 2,800-3,733MHz - but the very best modules are reserved for the aesthetically pleasing Trident Z line.
Just recently, G.Skill demonstrated select Trident Z modules operating at a lofty 4,266MHz representing a harbinger of frequencies to come, yet the innate problem with any 3,600MHz-plus kit is the exorbitant cost that doesn't translate into meaningful real-world gains - those kits are useful for folk looking to break world records alone. What makes more sense for the consumer heading for either the Skylake or Haswell-E platforms is some 3,000MHz stuff.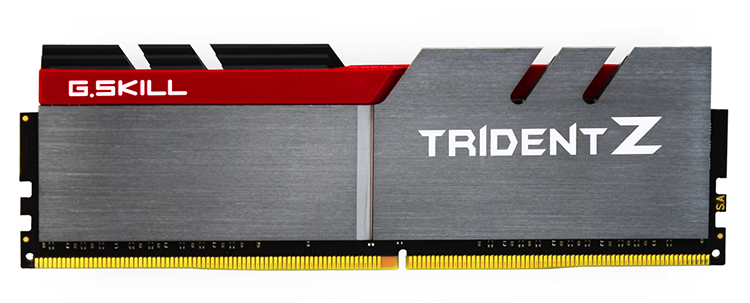 And that's exactly what G.Skill is serving up today. The review modules go by the lovely name of F4-3000C15D-16GTZ and are supplied as a 16GB (2x8GB) pack costing approximately £150.
If awards were doled out for appearance alone then G.Skill would be at the top of the list. Trident Z is a lovely-looking module, with sharp angles and a premium, high-quality finish. Plenty of thought has gone into the heatspreader design that separates it from almost all other high-end modules. Aesthetics are important in this segment of the market, too, as there's little to differentiate one company's PCB and Samsung-manufactured chips from another.
The entire Trident Z range shares the same outward livery and it understandably looks the business on recent motherboards that share the red-and-black colour scheme. Angled in certain sections, each module measures 40mm high, so whilst not the smallest, we had no problem in mounting them below a Noctua NH-D15 cooler. The edges are sharp, as our fingertips can attest to, so do be aware when placing them in the DIMM slots with force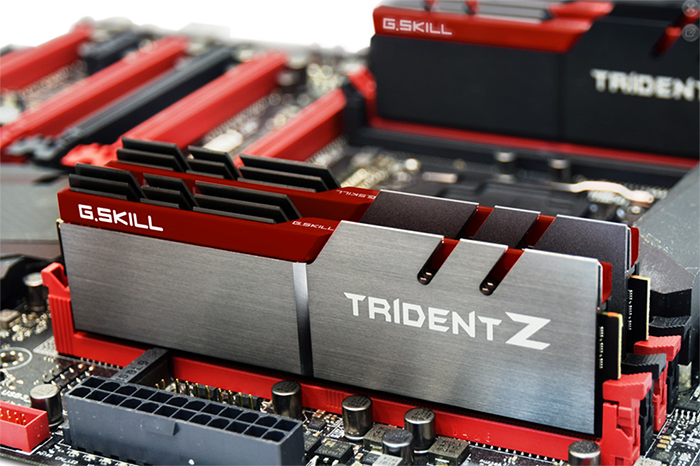 The red bar is customisable for system builders
Trident Z reduces latencies as we climb the frequency ladder. The 3,000MHz kit, available in both 8GB and 16GB capacities, ships with auto-configuring XMP 2.0 installed with 15-15-15-35-2T timings, albeit at 1.35V rather than the JEDEC-approved 1.2V. We have no problems with G.Skill jacking the voltage by over 10 per cent, like much of the competition, but any more may cause long-term problems with the integrated memory controller on Skylake and Haswell-E processors.
XMP 2.0 configuration doesn't quite match what's advertised, according to CPU-Z, but it's close enough not to make a difference. Backed by a lifetime warranty and sold on looks as much as performance, let's see how it performs on our Skylake platform.