Beastly Modules
The next evolution with respect to PC system memory will happen when DDR4 replaces incumbent DDR3 in servers, client PCs and laptops. Though the specifications were announced mid-way through 2012, DDR4 isn't expected to become mainstream for at least 18 months, possibly two years, based on findings from meetings we had over at the Consumer Electronics Show (CES) earlier this month.
DDR3 is to dominate the memory market for the foreseeable future, and 2013 is likely to see incrementally higher speeds and larger per-DIMM capacities. Playing on both these fronts is the enthusiast division of memory giant Kingston. The firm's HyperX range has been around for 10 years, and, from the memory side, has been further sub-divided into 'Blu,' 'Genesis' and 'Predator' categories.
Perhaps making the choice of enthusiast memory that much more nebulous, the high-end Predator line is itself divided into regular Predator, Beast, and H2O modules. The newest of the air-cooled lot is the Beast, which touts 'viciously aggressive performance,' and is available in 8GB, 16GB, 32GB and 64GB kits. Designed to work with the latest Intel and AMD chipsets, Kingston has a base 16GB pack of DDR3-2,400 memory, composed of two 8GB sticks, and simply increases capacity by doubling-up on the modules for the 32GB (four sticks) and 64GB (eight sticks) packs, though the largest capacity reduces the speed to 2,133MHz. Got all that?
Model

Pack size

Modules

Speed

Latencies

Voltage

Price

KHX24C11T3K2/16X

16GB

2

2,400MHz
2,133MHz

11-13-13
11-13-13

1.65V
1.60V

£125

KHX24C11T3K4/32X

32GB

4

2,400MHz
2,133MHz

11-13-13
11-13-13

1.65V
1.60V

£240

KHX21C11T3FK8/64X

64GB

8

2,133MHz

11-12-11

1.65V

£430
Take a look at the characteristics - timings, speed and voltage - and this so-called 'viciously aggressive performance' appears to be a misnomer. Any modules that require a toasty 1.65V for operation at 2,400MHz CL11 are pretty average, and Kingston imbues them with a slower speed and lower-voltage XMP setting, as well.
Pricing does appear to be high on first glance, but it is competitive against other companies' modules that are based on 8GB sticks. Do be aware, however, that looking at the market as a whole and dropping the speed down to DDR3-1,600, which is perfectly fine for most PC applications, cuts the price in half. This fact underscores the significant premium that still exists for 2,000MHz-plus RAM.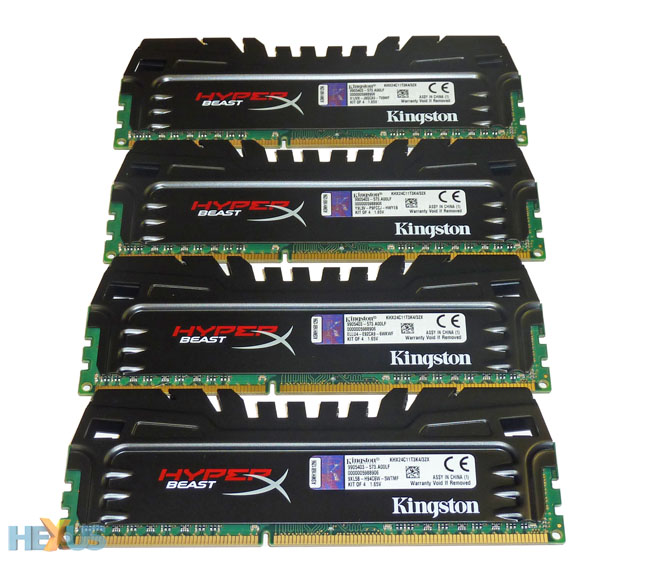 Leading on from the the above, we have the £240 Kingston 32GB (4x8GB) DDR3-2,400 pack in for review today. Four identical 8GB modules are shipped in blister packs each containing two sticks. The aluminium heatspreader design is elegant and unobtrusive, standing around 47mm high on the edges and tapering down to 42mm in the middle.
A four-module kit and high capacities suggest that the target market is the enthusiast who uses Intel's X79 chipset-based platform - one that uses a quad-channel memory controller as standard. Click on the picture for a bigger version, and the middle-of-the-road 11-13-13 latencies come into view.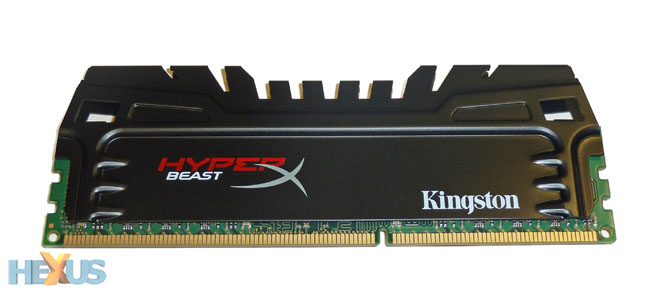 The rear is identical to the front, save for the lack of a sticker, and our only criticism is that the PCB should be a matching black; the green colour is at odds with the otherwise cool aesthetic. We took the liberty of voiding the limited-lifetime warranty by removing a heatspreader to find that, on this pack, the actual chips are manufactured by Hynix - H5TC4G83MFR-H9A - that's also common on a bunch of high-speed modules we've had through the labs in recent times.

Module width shouldn't be a problem, as you can see. One aluminium piece fits nicely against the other; there are no squeaks and build quality is top notch. Reasonable on latency, big on capacity and with a hefty price tag in tow, let's put the Beasts into our high-end system and see how they fare.