Lots of choice
Memory manufacturer Kingston recently launched its best-ever DDR3 RAM in the form of an 11-set line-up dubbed HyperX Predator. Imbued with a suitably grandiose-sounding name and available in speeds from 1,600MHz through to a bleeding-edge 2,666MHz, the firm believes it has a dual-channel pack for every enthusiasts' needs. And boy, does Kingston make it a little complicated to find the kit perfect for your needs.
Table time
| Model | Pack sizes | Modules | Speed | Latencies | Voltage |
| --- | --- | --- | --- | --- | --- |
| KHX16C9T2K2/8(X) | 8GB | 2 | 1,600MHz | 9-9-9 | 1.65V |
| KHX16C9T2K4/32(X) | 32GB | 4 | 1,600MHz | 9-9-9 | 1.50V |
| KHX18C9T2K2/8X | 8GB | 2 | 1,866MHz | 9-11-9 | 1.65V |
| KHX18C9T2K4/16X | 16GB | 4 | 1,866MHz | 9-11-9 | 1.65V |
| KHX18C9T2K2/16X | 16GB | 2 | 1,866MHz | 9-10-9 | 1.50V |
| KHX21C11T2K2/8X | 8GB | 2 | 2,133MHz | 11-12-11 | 1.60V |
| KHX21C11T2K2/16X | 16GB | 2 | 2,133MHz | 11-12-11 | 1.60V |
| KHX24C11T2K2/8X | 8GB | 2 | 2,400MHz | 11-13-13 | 1.65V |
| KHX26C11T2K2/8X | 8GB | 2 | 2,666MHz | 11-13-13 | 1.65V |
The table shows the various options open in the HyperX Predator line. One can purchase either dual-module 8GB or quad-module 32GB pack at 1,600MHz speeds, though, strangely, there's no 16GB (2x8GB) option. We'd like to see Kingston drop the operating voltage down to 1.50V on the 8GB duo, frankly. 1,600MHz-rated kits are available with and without Intel's XMP auto-configuration settings baked in, and XMP-ready kits are identified with the 'X' suffix.
Jump up to 1,866MHz and three kits are available. The two 16GB packs are made up of either two or four modules, with the former specified with 1.50V. Latencies loosen considerably as the Predator line hits 2,133MHz speeds and you have a choice of dual-module 8GB or 16GB packs, both using 1.60V.
The real enthusiast memory starts at 2,400MHz. Only available in 8GB (2x4GB) packs and using the maximum 1.65V to hit up to 2,666MHz speeds, it's about as high as DDR3 can stably go.
We perused Kingston's number-heavy catalogue and opted to take the mid-range KHX18C9T2K2/16X - that's two 8GB modules with n 1,866MHz rating - for a review spin. The large capacity, reasonable timings and 1.50V operating voltage appeal to a broad range enthusiasts.
Bulletproof construction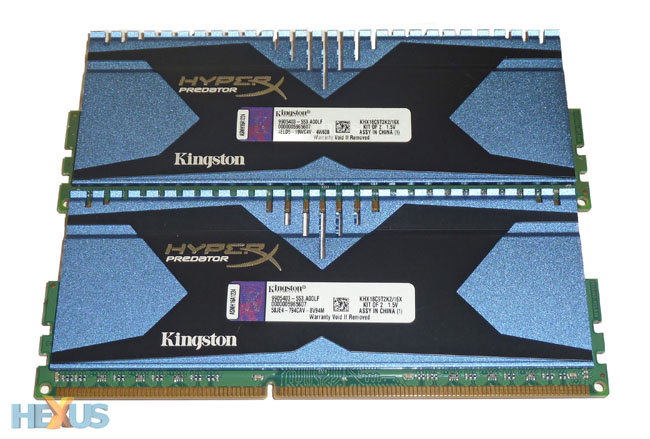 Kingston presents all the modules in the same HyperX Predator design. Remove the sticks from the packaging and the modules' heft encourages a feeling of quality from the get-go. The Predator sticks stand 53.9mm tall and tip the scales at a combined 170g, compared with the 75g weight and 40mm-tall height used by other premium brands.
Build quality is simply excellent on our sample and the twin-sided heatspreaders attach to one another perfectly. These are, without a doubt, the best-built sticks we've come across. Kingston believes that using thicker, taller aluminium heatspreaders enables better transfer of heat from the underlying chips.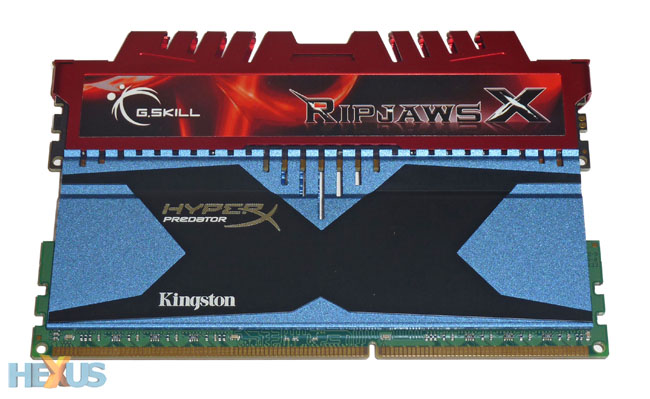 See, told you they were big. Prosaically, an obvious impediment of using tall heatspreaders is the potential to inhibit the installation of larger coolers whose fans tend to hang over the sides.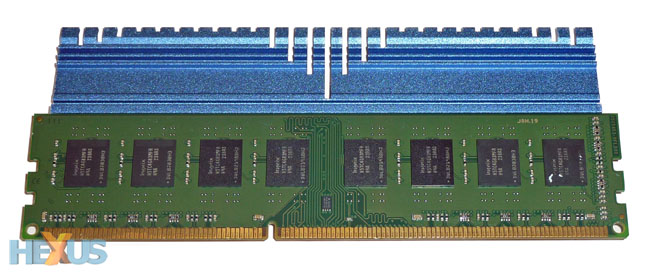 Prize away one heatsink and, underneath, Kingston plays it very safe, as these 1,866MHz-rated sticks use the same Hynix memory we've seen on a plethora of other mainstream DDR3 kits. Appreciating the effort Kingston has put into the 'spreaders, a black PCB would have gone down a treat.
There's always a premium to be paid when opting for 8GB DDR3 modules instead of commonly-available 4GB. This 16GB (2x8GB) set currently retails for a wallet-unfriendly £110, including VAT, and it represents a significant premium over the cheapest kits with the same basic characteristics. That kind of extra outlay is hard to swallow, so let's take a look at performance before passing final judgement.