Introduction
Remember when memory played a pivotal part in increasing overall system performance? I can recall (though I try not to) spending hundreds of pounds on high-speed modules back when matched dual-channel kits were all the rage and DDR3 came of age.
But how times have changed. The evolution of Intel processors and chipsets hasn't been kind to system RAM, and with modern-day CPUs carrying a good chunk of on-chip cache that's tightly integrated with the rest of the system, the benefits of high-speed modules have abruptly diminished.
And on a similar note, quantity appears to have hit a ceiling, too. We've shown in recent reviews that most consumers wouldn't see the benefits of memory capacities beyond the 6GB mark on a high-end Intel X58 platform.
But what's the situation like with Intel's latest Sandy Bridge processors? Given that second-generation Core processors come equipped with up to 8MB of L3 cache hooked up to a bandwidth-boosting and latency-lowering ring-based interconnect, we wouldn't expect to see premium memory have a significant impact on performance.
There's only one way to know for certain, though, so we've got our hands on a pick-and-mix assortment of Sandy Bridge memory kits from Corsair, Crucial, G.Skill and Kingston.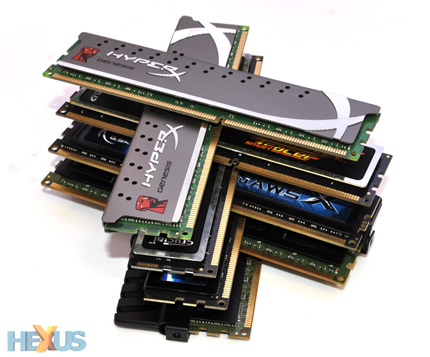 Between the quartet of kits, capacities range from 4GB to 8GB, speeds vary from 1,600MHz to 2,133MHz and pricing is spread from £70 to £110.
There's no shortage of choice, but do the premium high-speed kits warrant the additional outlay? We'll find out from a bevy of benchmarks shortly, but first a look at the four contenders.
Corsair Vengeance 8GB (CMZ8GX3M2A1600C9)
Corsair continues to serve enthusiasts with its extreme Dominator modules, but the manufacturer has responded to the changing landscape of DDR3 memory by introducing Vengeance - a line of high-performance modules at an "attractive low price".
The kit we're taking a look at is the 8GB CMZ8GX3M2A1600C9, and it consists of two 4GB XMP modules set to run at a modest 1,600MHz with 9-9-9-24 latencies at 1.5V.
Pretty basic stuff, but the Vengeance kit appears to tick many of the right boxes - it offers high capacity, decent speeds, low-voltage operation and a meaty-looking aluminium heatspreader. More importantly, at around £85 at retail, it's the cheapest solution in our shoot out on a per-GB basis.
G.Skill Ripjaws-X 8GB (F3-12800CL7D-8GBXH)
Our second 8GB kit comes from G.Skill in the form of the 1,600MHz Ripjaws-X. That's the same speed and capacity as Corsair's Vengeance, but G.Skill's modules have the edge with tighter 7-8-7-24 latencies. On paper, G.Skill's memory has a slight performance advantage, but there's a trade off - these Ripjaw-X modules are configured to run at an increased 1.6V.
If you need room around your CPU for elaborate cooling solutions, G.Skill's kit does utilise shorter aluminium heatspreaders than the Vengeance. But with a price tag of £110 (£13.75 per GB), it's also a fair bit more expensive.
Crucial Ballistix Smart Tracer 4GB (BL2KIT25664ST1608RG)
Moving down in capacity, we've got a 4GB set of Crucial Ballistix Smart Tracers. Clocked in at a standard 1,600MHz with 8-8-8-24 latencies, this kit is shipped to run with voltage set at 1.65V. That's a fraction above Intel's recommended limit of 1.58V on Sandy Bridge boards, but we've had no issues running memory at 1.65V on any of the P67 or H67 boards in our labs.
As shown in the above action shot, what sets the £70 Crucial modules apart is a series of LED lights that twinkle in unison with RAM activity. It's a cool effect if you're into that sort of thing, but terribly gaudy if you're not.
Kingston HyperX Genesis 4GB (KHX2133C9AD3X2K2/4GX)
Last but not least is a high-speed alternative from Kingston. The 4GB HyperX Genesis kit operates at a blazing 2,133MHz with loosened 9-11-9-27 latencies at 1.65V. Like the Crucial Ballistix, Kingston's performance memory is rated to run at the upper limits of acceptable Sandy Bridge voltage but in terms of raw speed, it's the quickest kit on show.
Kingston's grey/silver heatsinks look particularly smart, but this sort of heightened out-the-box performance doesn't come cheap. Priced at £80 (£20-per-GB), the high-end HyperX carry a significant premium for a 4GB kit.
So what's more important? Capacity, operating speeds, latencies, or none of the above? That's what we're here to find out.