Introduction
You might think that Corsair already has the high-end memory market sewn up with its award-winning selection of Dominator and XMS modules, but there's quite a gulf between the two. The Dominator series continues to attract hardened enthusiasts with money to burn, whilst the XMS fulfils the more modest demands of everybody else.
There has always been room between the two for a high-performance, overclocker-friendly range that doesn't break the bank, and Corsair's plugging the hole with Vengeance. The new kits, introduced with the tagline "Great Looking, Great Overclocking Memory at a Great Price", have been made available in a wide range of capacities - from 4GB to 16GB - and a choice of dual- or triple-channel configurations.
Touting aluminium heat spreaders, overclocking potential, low-voltage operation, good out-the-box performance and a new-look design, Vengeance memory seems to hit the nail on the head. Worthy of consideration for your next build/upgrade? To find out, we're taking a look at a tri-channel 12GB kit, the CMZ12GX3M3A1600C9.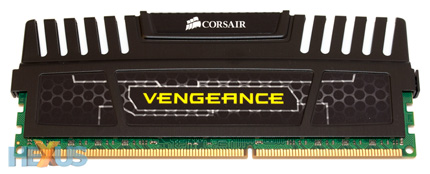 Three matched DDR3 modules make up the kit, and each is equipped with a rugged-looking aluminium heatsink. The design itself is eye-catching and it's a welcome change to the long-running Dominator line. We like it, but it isn't quite perfect. The PCB hiding beneath the heatsinks is standard green - we'd have preferred matching black - and though the modules are cheaper than Corsair's own Dominators, they feel it, too.
A 2GB stick of Dominator memory, covered with its trademark chunky heatsink, tips the scales at around 79g. The 4GB stick of Vengeance, pictured above, weighs just 46g. Both are practically identical in height at just over two inches - make sure there's plenty of room around your DIMM slots - but the Vengeance heatsink is made of notably thinner aluminium.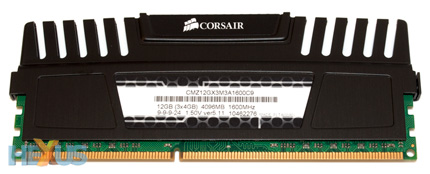 On the back of the module, a sticker lets you know that this 12GB kit (3x4GB) runs at 1,600MHz with 9-9-9-24 timings at 1.50V. That's a tight mix of speed, reasonable latencies and low-voltage operation. Corsair's using 44nm Hynix H5TQ2G83BFR-H9C memory chips to get the job done, and a bank of eight 256MB chips run along each side of the PCB.
Installation is made easy through the implementation of an Extreme Memory Profile (XMP) that'll configure the modules to run at the advertised speed, and the kit certainly looks tasty in our spacious test rig: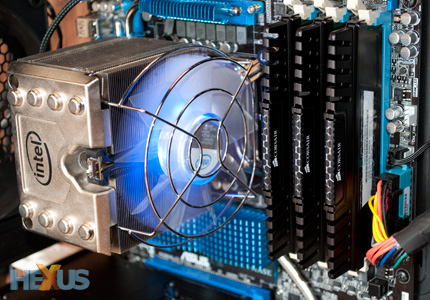 But here's the question: is 12GB of high-performance RAM worth the outlay? Corsair's doing its best to sweeten the deal - the 12GB Vengeance kit retails at £154. That's just £14 more than a 12GB XMS3 kit and £28 less than an equivalent set of Dominators. Let's see how it performs in a high-end system.