Introduction
Price reductions for DDR4 ICs, and memory in general, have been welcome news for the industry. Looking at system RAM in particular, it's now possible to buy 16GB of DDR4-3,000 memory for £65, which is about half the cost as at the turn of the year.
Such pricing puts those companies interested in producing RGB-laden RAM into something of a quandary; they cannot charge too much more for the light-infused technology when the base cost is so low. It's to this backdrop that Team Group intros the XCalibur Phantom Gaming modules.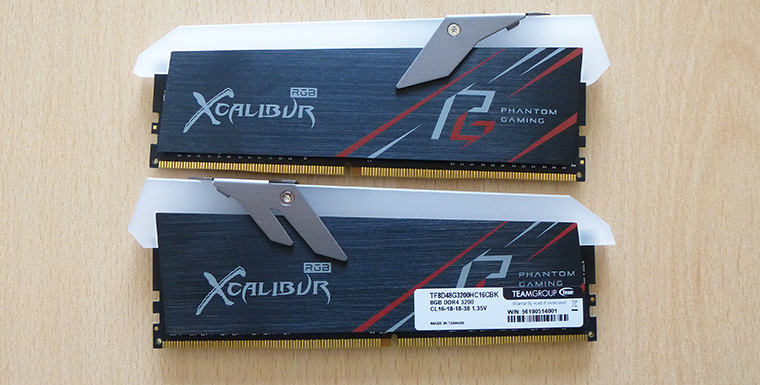 Module construction is a known quantity as Team Group has been using odd-shaped heatspreaders, where one side is taller than the other. Like before, the heatspreader slopes from 30mm to 40mm in height, and the knock-on effect is that total module height, including diffuser, is 48mm - so be warned if you have a tight fit underneath a cooler.
The other idiosyncrasy is the clasp that secures the diffuser to the PCB. It provides a really firm fit but doesn't feel necessary for any other reason than to have some clever T-Force branding on the top. It's an acquired taste, and we would prefer to not have it there.
A key difference for these modules, compared to what is already in the market, is two-fold: firstly, they are available in a slower speed, running at 3,200MHz, which we have in for review today, whilst also matching the 3,600MHz and 4.000MHz speeds of the regular XCalibur. The other aspect, as is clear from the appearance, is that Team Group has paired up with ASRock and built these modules for its nascent Phantom Gaming line of motherboards.
Though naturally fitting in great with those boards due to a matching aesthetic, the dark-grey heatspreaders work well with boards from other manufacturers, too. They look the part on MSI's Carbon range, for example, and the red-and-black colour scheme also fits in with a range of Asus offerings.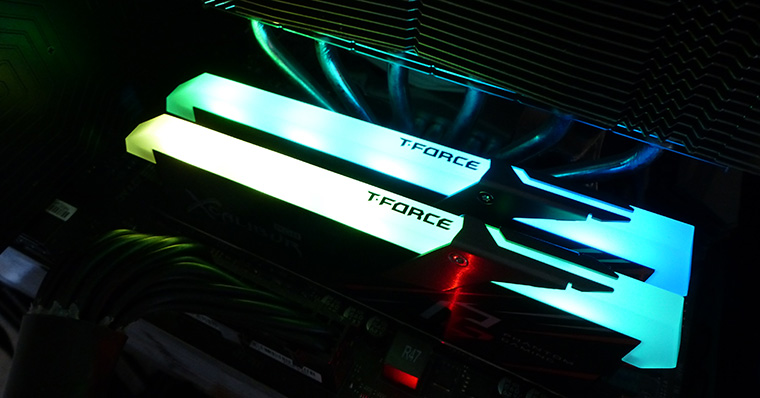 By default, the memory runs through the typical rainbow effect, and you need to install further software for tweaking. Team Group has its own utility that is known as Blitz, yet it appears to be a carbon copy of the options present in Asus' Aura app. Of course, being cosy with ASRock also means that Polychrome Sync is supported, as well.
The wide diffuser bar provides decent, even light across the entire section, though that clasp does indeed get in the way somewhat. The company claims that 'high quality original IC chips (are) selected and having undergone the most stringent of tests'. That usually means either Samsung or Hynix, though these modules' ICs are stamped with the Team Group logo and carry T4D10248HT-32 model markings. These are actually SK hynix chips rebranded specifically for the firm's enthusiast-class memory, also available on other ranges such as the Vulcan.
Team Group's entry-level pack offers 16GB capacity (2x8GB) at the DDR4-3200 speeds with standard 16-18-18-38-2T latencies. That's good enough for most builds, and pricing is reasonably competitive at around £130, representing a 30 per cent markup over non-RGB memory. You can also purchase 3,600MHz (18-20-20-44) and 4,000MHz (18-20-20-44) kits in matching 16GB and 32GB packs. There's something for most users. The trio of kits use an enthusiast 1.35V juice.
Let's now see if running at 3,200MHz produces much of a disadvantage compared to higher-speed memory.