Introduction
RGB lighting: do you love or loathe it? Whatever your inclination, everyone seems to be wanting a piece of this lighting pie. We've seen coolers, motherboards and graphics cards all go under the RGB umbrella so it was only a matter of time until memory was also suitably laden.
Guess what? RGB RAM is coming thick and fast. Corsair has updated its Vengeance series with multi-colour lighting, Kingston already has some out on the market, so it's now the turn of DRAM veteran G.Skill to have a go.
Building on its premium Trident Z line, G.Skill has released no fewer than 25 RGB-equipped kits into the wild. Capacities range from 16GB to 64GB - though 128GB is available as two packs of four modules - and speeds run from 2,400MHz to a lofty 4,266MHz.
You're looking at shelling out about £150 for a 16GB (2x8GB) kit of DDR4-3000 memory while £300-£350 covers 32GB. The price premium over non-RGB memory of the same speed is around 10-15 per cent.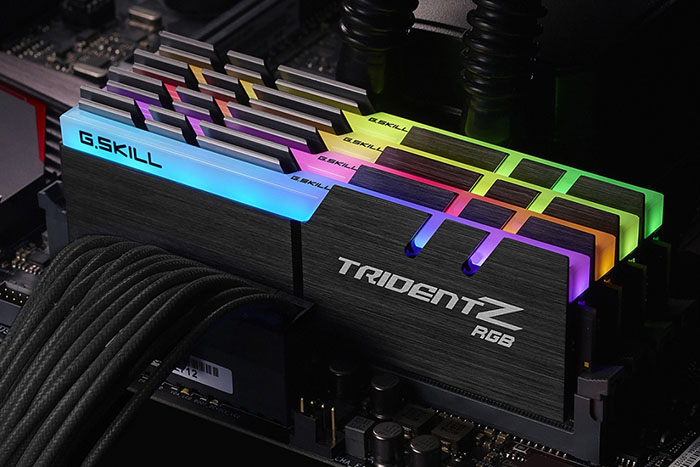 There's obvious similarity to the standard Trident Z modules that have been available for some time. Both stand 44mm tall, have XMP 2.0 profiles built in, and feature the same type of bar across the top.
The biggest difference here, of course, is that the standard plastic bar has been replaced by an RGB-equipped lightbar that, like the regular module, spans the entire width.
A G.Skill-provided shot shows a four-module pack in the standard rainbow scheme where each stick cycles through predefined colours. This is how the modules light up when they're plugged into any motherboard.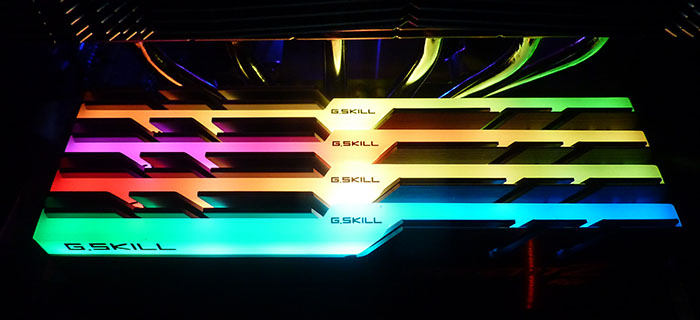 Here is a 32GB kit of DDR4-3,200 memory installed in one of our Z270 test systems. The lighting effect is more pronounced in reality, particularly in a darker environment, and we reckon G.Skill's RGB interpretation feels a little brighter than Corsair, whose regular clip gets more in the way. You could argue the Trident Z modules were made for RGB usage.
Each module carries five evenly-spaced LEDs across the width of the bar, and the lighting effect is nice and even as you look across. Without any additional software, there is no brightness or speed control, so what you see is what you get. To get the most out of the modules you need to either download a motherboard manufacturer's utility; we ran with multi-platform Asus Aura on a Z270F motherboard, or download the beta G.Skill control utility that currently only fully works on the Intel 200-series chipset. G.Skill says that Intel 100-series and AMD X370 chipsets have partial support, while X99 isn't supported at all. This is one area where Corsair does better with its Link integration.
Asus Aura is able to synchronise the colours and effects between the modules and the RGB lighting already on the motherboard. G.Skill uses very similar LEDs to Asus as setting the board and RAM's lighting results in indistinguishable colours, and it's kind of eerie to see both sets of lighting breathe the same patterns.
The Asus utility can define the speed of effects but not the brightness, yet it is possible to light each zone on each module, if you have the patience.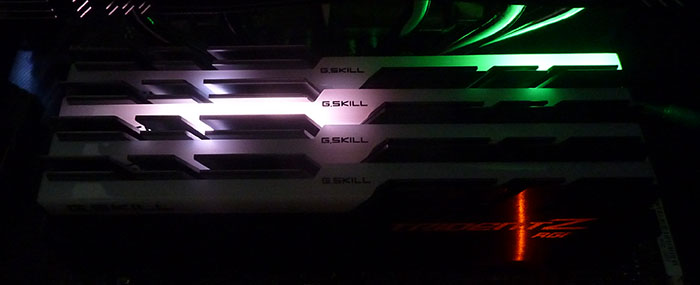 Here, for example, is the top module's right-hand LED in green and the middle one's left-most LED is light pink. You can play around at leisure and tinker enough to get the effect you want, though we actually liked the default wave pattern when synchronised to the motherboard's lighting. Tieing it all up, for Asus at least, the use of a Strix card would extend the lighting to at least three sections of the PC's interior.
It won't take a degree from MIT to work out that G.Skill's own utility, available since the start of this month, is a reskinned version of the Asus Aura, likely under license. The benefit here is that you won't need an Asus motherboard for the effects to work, and G.Skill adds a couple of extra options for good measure.
Faster Trident Z RGB packs, like this one, require 1.35V to work, and we had zero problems when inputting XMP timings - the sample pack booted first time and caused no stability issues. On to some benchmarks.