Corsair HX620W
Corsair HX620W
Rated output power
620W
Power specification
ATX 2.2
Power switch?
Yes
Input voltage (AC)
Universal mains
Fan(s)
1 x 120mm
Cable runs
Modular
24-pin EATX with split (fixed)
EPS + P4 (fixed)
3 x 4-pin Molex
3 x 4-pin Molex
3 x 4-pin Molex
2 x 4-pin Molex
2 x 4-pin Molex 1 x PEG
1 x PEG
3 x SATA
3 x SATA
2 x SATA
1 x 4-pin Molex to 2x FDD Y-splitter
1 x 4-pin Molex to 2x 12V-only 4-pin Molex Y-splitter, fan use only

Limited to 2 x PEG + 5 other runs.
Max. currents
+3.3V: 24A
+5V: 30A
+12V: 18A, 18A, 18A
-12V: 0.8A
+5vSB: 3A
Max combined 3.3V & 5V output
170W

Cutting and pasting a bit, the Corsair HX620W is a triple-rail (+12V) PSU that supports SLI and CrossFire via dual 6-pin PEG connectors, just like the Cooler Master, and has support for mainboards with EPS connectors (most commonly required for high-end consumer and workstation board, and servers), again just like the Cooler Master. We see a split EATX connector again, and all main +12V rails are generously specified in terms of current draw.

Being modular means you can get the most out of the cable runs, suited to how you've setup the PC you want the HX620 to power. The unit supports enough current draw on the PEG rails for the next gen of graphics boards and the universal input voltage means you don't have to worry about buying a particular variant for the country you live in. Sweet.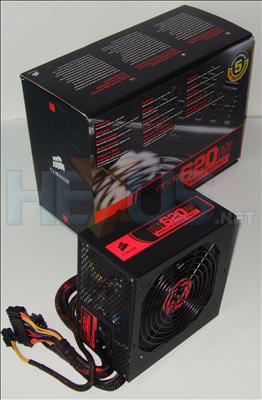 A single 120mm fan takes care of the heat from the unit, and the fungible cable runs are completely braided from end-to-end. Corsair claims the unit will do its rated output power at 50°C, and it make specific mention of industrial -grade capacitors for the PSU core that are rated to 105°C, whereas most PSUs will use caps. rated to a max of 85°C. Connectors are all gold plated for low electrical resistance and inability to oxidise (at PSU operating temperatures at least!).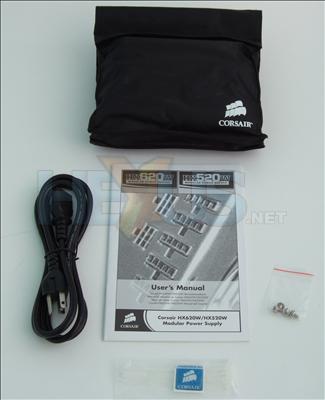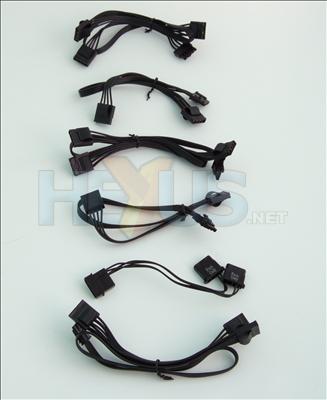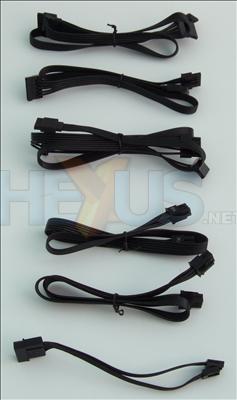 You get a bag for your unused cables, a Corsair sticker (whee!), power cord (hopefully tailored to sales region) and some screws to hold it in place (always a good thing!). Sweet on paper and just out of the box, we reckon.