Ticking all the boxes
We're staunch supporters of having the correct hardware for a particular PC build. Folk looking at constructing a £500 base unit would be remiss in spending £300 on a CPU. Likewise, there's little reason to lay down £200 on a high-capacity PSU that certainly won't be pushed to anywhere near its limit. A good rule of thumb is to allocate 10-15 per cent of a base unit's budget to the supply, translating to a £50-£75 spend for a mainstream computer.
Yet competition amongst PSU manufacturers is such that there's every reason to expect a good supply for around £50. You'll lose out on ultimate efficiency, huge capacity and hybrid-fan modes that are the hallmarks of premium supplies, but we suspect would-be buyers won't care. What they do care about is a PSU that delivers smooth, clean power without making a racket.
German manufacturer be quiet!'s Pure Power supplies are built with affordability in mind. The current L8 range, backed by a three-year warranty, encompasses 10 supplies, of which four use modular cable management. Ranging from 300W to 700W, thereby catering for the mainstream, we're taking a look at the mid-pack 500W model, currently retailing at around £55.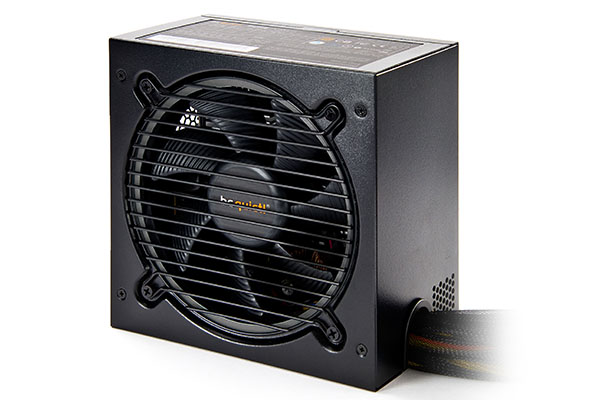 be quiet! PSUs tend to look and feel a cut above the rest, and the Pure Power 500W is no exception. It's very well-built with no obvious cost-cutting measures employed to hit the target price. We like the way in which the grille cuts across the 120mm fan. Our only reservation is that the finish isn't of the matte variety that's found on the higher-specified Dark Power range; this one is a veritable fingerprint magnet.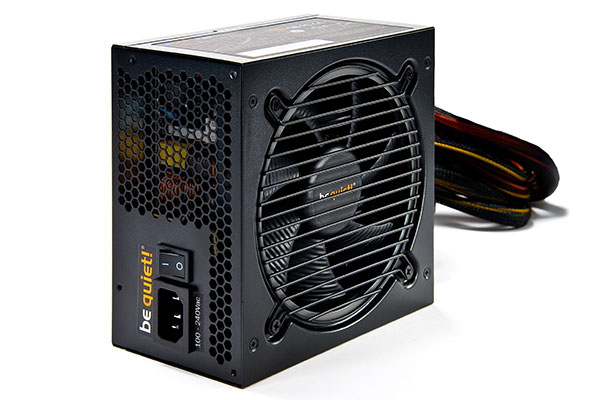 The range of Pure Power supplies measure a standard 150mm x 150mm x 86mm (WxDxH) and feature the same industrial design. There's an on/off switch on the back, next to a honeycombed section required for good through-the-PSU airflow. Seven fully-sleeved wires snake off from the supply and provide connectivity as follows:
Cables
Cables, type, length, plugs on cable
Main
20+4-pin (45cm) x1 cable
ATX/EPS
4+4-pin (55cm) x1 cable
PCIe
6+2-pin (50cm) x1 cable
6+2-pin (50cm) x1 cable
Peripheral 1
3x SATA (45-75cm) x1 cable
Peripheral 2
2x SATA (45-60cm) 1x Molex (75cm) and 1x FDD (90cm) x1 cable
Peripheral 3
3x Molex (45-75cm) x1 cable
The 600W and 700W models are certified for multi-GPU usage and both feature two 6+2-pin PCIe graphics-card connectors on each cable, though taking the reduced capacity into account, the 500W variant ships with just a single connector on each run. This fact means that while it's possible to run two mid-range graphics boards in tandem, they'll be limited to those Radeons and GeForces that source external power from a solitary connector. On the flipside, the supply can run a GeForce GTX Titan or Radeon HD 7970 GHz Edition without issue.
There are enough SATA and Molex connectors to service bountiful storage, though we'd like to see slightly longer cables all-round. Here's how the wattage of the supply is split into separate lines:
Amps/watts and voltage
3.3V
5V
12V1
12V2
-12V
-5VSB
Rail amps

24A

15A

28A

20A

0.3A

3A

Maximum rating

120W

456W

3.6W

15W

Maximum rating continuous

500W @ 40°C
The wattage-hungry CPU and graphics cards can pull a combined 456W (91.2 per cent of total continuous capacity) and be quiet! splits the load between two 12V lines. The supply uses a DC-to-DC conversion, meaning all voltage rails are derived from 12V's. Specifically, the 12V1 powers the 24-pin CPU, SATA, Molex, floppy and primary PCIe cable, while the second takes care of the 4+4-pin CPU and remaining PCIe. It's also good to see that be quiet! promises continuous power at a reasonable 40°C ambient temperature.
A peek inside highlights that, just like the Pure Power 630 CM, HEC/Compucase is the OEM manufacturer. Teapo provides the main hold-up capacitor, rated at 400V, 390uF, 85°C, and is also charged with providing the secondary caps that you see nearer the cabling. This PSU is simpler in design because there's no need to supply modular connectivity for the cables. A 12cm be quiet! SilentWings fan, model number BQT T12025-MS-16, is tasked with keeping the innards cool while not making too much noise. A loud be quiet! product just wouldn't do, would it?
We've deliberately left mention of the supply's efficiency rating until last, solely because we want readers to evaluate the PSU as a whole, and not merely on an 80 PLUS metric. As it is, the be quiet Pure Power L8 500W is a Bronze-rated PSU, which means it should be at least 80 per cent efficient across a wide range of loads.