Introduction
Most computer buffs are now well aware of the case modding phenomena that has taken hold over the last couple of years. More and more manufacturers are taking note and producing more products. The pre modified case is now a common site, usually they consist of a normal ATX case with a perspex window and possibly some kind of lighting system. Naya have taken this one giant step further with the crist0 classic mid atx case. It combines aluminium and perspex to create a spectacular looking case.
What are the specs of the case?
5.25" Bays (Exposed) x 3
3.5" Bays (Exposed) x 1
3.5" Bays (Internal) x 4
Form Factor: - ATX Mid-Tower
Material: - Aluminium/Perspex
Case :10.0 Kg
Dimensions(WxHxD): 190 x 450 x 470 mm
One 80 mm x 80 mm x 25 mm Fan attached back panel.(intake)
One 120 mm x 120 mm x 25 mm Fan attached top panel.(outake)
Removable Side Panel
Optional Space for another 120mm fan
Packaging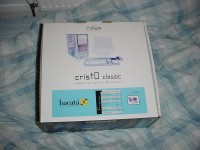 I wasnt actually expecting a parcel when I got ring at the door with a parcel this cold wet morning but I was really intrigued as to who had sent me what. I guessed it was a case from the size and remembered about the Naya case. The case came in a big brown box , in which I was expecting the case to be packaged inside, this wasnt the case. In fact there was another box inside with supports to keep it central inside the bigger brown box. The second box is a retail design box with some nice packing to keep the case nice and safe from the courier from hell. Box Pic 1, Box Pic 2.