Different looks
Stepping on more familiar ground after taking a look at the 'HEXUS-inspired' XFrame chassis, In Win recently launched a trio of power-supply units (PSUs) under the 'Green Me' eco-friendly line. Promising to donate $1 to the World Wildlife Fund (WWF) for every PSU sold and presented in eco packaging, we're examining the 750W today.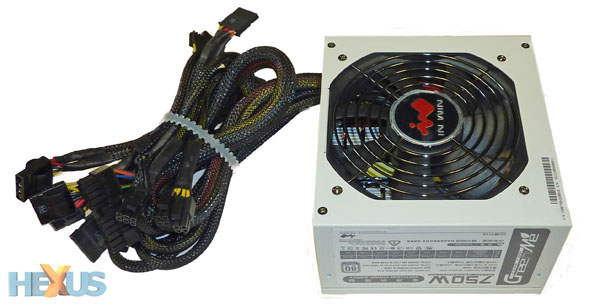 The GreenMe range also has two lower-wattage models, 550W and 650W, and all three share the same look. Portrayed a little too darkly in the above picture, the 750W PSU's casing is just off-white, contrasting nicely against the plethora of black PSUs we have in the labs. GreenMe is also refreshingly compact, measuring 150mm x 140mm x 86mm (WxLxH). Build quality is sufficient, if not bulletproof, and the single 120mm exhaust fan dominates the top.
Designed as a mainstream PSU, the 750W meets the 80 PLUS Bronze efficiency metric, meaning it's at least 85 per cent efficient at 50 per cent load, falling to at least 81 per cent at 20 per cent and 100 per cent loads, respectively. Here's the rub: increasing the efficiency by even seven per cent, to Platinum, requires a grounds-up design and significant extra cost - this 750W PSU is available for £65, compared to at least £150 for a Platinum-rated supply of this capacity. In Win doesn't skimp on the usual extras, either, as a power cable; screws; manual; and cable-ties are all included in the box. The unit is also backed by a limited three-year warranty.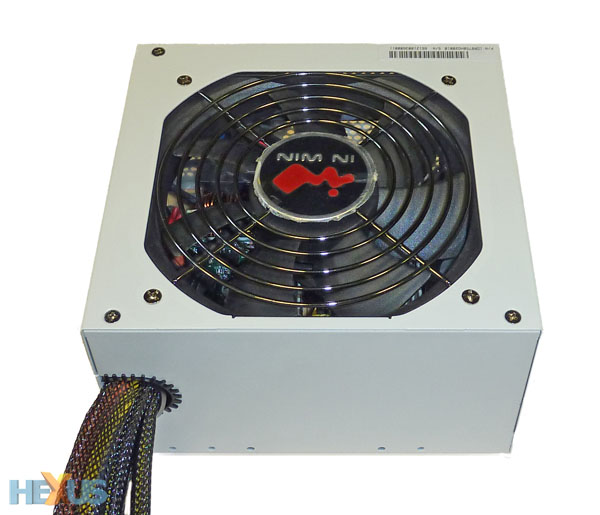 Keeping costs in check translates to a non-modular design; every single cable is pre-attached to the PSU.

| | |
| --- | --- |
| Cables | Cables, type, length, plugs on cable |
| Main | 20+4-pin (45cm) |
| ATX/EPS | P4+P4 (50cm) |
| PCIe 1 | 6+2 (50cm) |
| PCIe 2 | 6+2 (50cm) |
| Peripheral 2 | x3 SATA (50-80cm) |
| Peripheral 3 | x3 Molex and x1 FDD (50-95cm) |
Cable selection is perfunctory rather than luxurious, but In Win has most of the bases covered. Two 6+2-pin PCIe cables are enough for one high-end card or two mid-range, but providing four connectors would be welcomed, especially when running the latest generation of energy-efficient cards from NVIDIA and AMD. Six SATA and three Molex cables are verging on the least we'd expect to see for this type of PSU, too. We'd also like to see longer cable lengths, because users with large chassis may not be able to connect peripherals located at the opposite end of the case.
Amps/watts and voltage

3.3V

5V

12V1

12V2

12V3

12V4

-12V

-5VSB

Rail amps

20A

20A

25A

25A

25A

25A

0.3A

3A

Maximum rating

120W

744W

3.6W

15W

Maximum rating continuous

750W
In Win makes no mention of multi-GPU usage in its literature, but going by the per-rail information above, it is sensible to assume that potential purchasers can allocate at least 500W to the graphics subsystem. Providing some real-world advice, the PSU has enough oomph, but not enough native cabling, to power a couple of GeForce GTX 680 cards and a top-line Intel Ivy Bridge chip, for example.
Though it matters not one jot to the end-user, gaining access to the innards is wonderfully simple on this model; simply undo six screws and the cover comes away. Bear in mind that indulging in such internal ogling automatically voids the warranty. In Win uses a 120mm ball-bearing ADDA fan that, at maximum, is rated to produce 72CFM of airflow at 1,800RPM.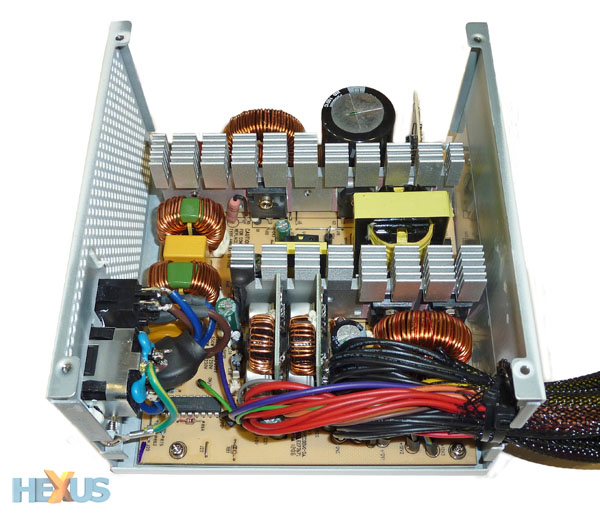 Slipping inside shows the tidy, compact nature of the PSU. In Win adopts a half-bridge topology - two MOSFETs - and keeps specifications bang up-to-date with rectifiers for converting between AC and DC, an active Power Factor Correction (PFC) circuit to whip the AC waveform into shape, and, once this feed has been boosted, a Panasonic filtering capacitor rated at 470uF and 450V keeps the juice ready for the rest of the supply. The design is simple and well-established.
Looking at the supply once the incoming AC feed has been brought down to 12V, a couple further 'mini-PSUs' then break the voltage down for the 5V and 3.3V lines, and you'll commonly hear this referred to as DC-DC converting. Soldering is tidy and, much like the external appearance, the internal and electronics are solid, if not super-exciting.