So what's good about it?
Specifications
Name
Enermax MODU82+ 625W
Rated output power
625W @ up to 40°C
Power specification
ATX 2.3
Power switch
Yes
Input voltage (AC)
Autoranging 100-240V AC, 50Hz-60Hz
Fan(s)
1 x 120mm
Operating temperature range
0-40°C
Cable runs
24-pin EATX
EPS 8-pin
4-pin CPU 
Fan RPM

2 x PEG PCIe 2.0 (6+2, modular)
2 x PEG PCIe 2.0 (6+2, modular)

3 x 4-pin Molex, (modular)
3 x 4-pin Molex, 1 x floppy (modular)
3 x SATA (modular)
3 x SATA (modular)
3 x SATA (modular)

Max. currents

+3.3V: 24A
+5V: 24A
+12V: 50A (made up of 25+25+25)
-12V: 0.6A
+5vSB: 3A

Max combined 3.3V & 5V output
N/A
Dimension (W x H x L)
150mm x 85mm x 140mm
Warranty
3-year, limited
Price
£99.28


The Enermax MODU82+ ships with an Intel ATX v2.3 standard, which brings with it a few new considerations that centre around general PSU efficiency and, in particular, minimum load requirements for the 12V lines.

A single 120mm fan uses a combination of Enermax technologies under the banners of AirGuard and SpeedGuard. The former, Enermax says, is a newly-designed grille and chassis to optimise airflow, and SpeedGuard provides speed regulation, right down to just 450rpm, when the PSU is subject to sub-50 per cent load at ambient temperatures below 25°C. Our testing did find it to be whisper-quiet during half-load running, lending credence to Enermax's claims.

Speaking of temperatures, the MODU82+ is rated to 625W at an ambient temperature of 40°C - higher than the usual 25°C bandied around by most manufacturers.

Intimated by the name, Enermax is pushing efficiency as one of the key selling points, claiming between 82%-88% efficiency at 20%-100% load. The higher figure is quoted for the 230V AC supplies, however.

What's interesting is that Enermax has created a pseudo standard, 82PLUS, to market the supply, rather than follow the industry practice of quoting the 80 PLUS programme.

Looking closer at the specifications, the MODU82+ receives the 80 PLUS Bronze certification. Silver, where 85 per cent efficiency, over an average load and from a 115V AC supply, is required, is just out of reach, although two Enermax PSUs, part of the Revolution series, have been certified as such. Putting this into perspective, Dell will be releasing server-oriented PSUs with 92 per cent efficiency, achieving the Gold standard.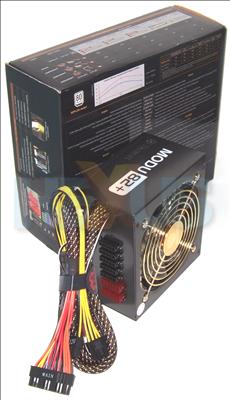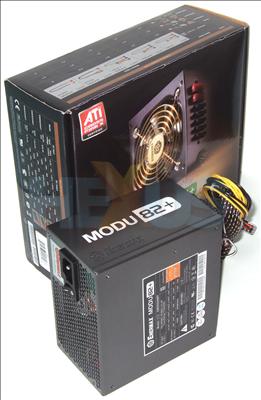 The modular PSU measures 150mm x 85mm x 140mm (W x H x L), making it look 'squarer' than many higher-wattage PSUs that ship with deeper chassis. You won't have any trouble in fitting the MODU82+ into any regular cases that accept ATX-sized motherboards.

The design of the PSU is more functional than stylish, but if you start to worry about just how your supply looks, we'd suggest removing the anorak and putting away the train timetables.

The MODU82+ has official ATI CrossFireX support, but we see no reason why it can't power a couple of GeForce GTX 260s along with other high-end components. Support for SLI has been validated internally, according to Enermax, but will be ratified by NVIDIA soon enough.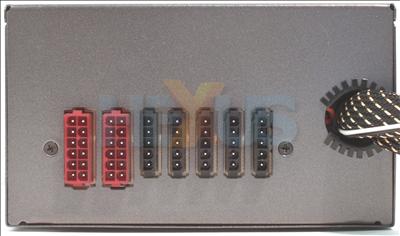 Being modular, the MODU82+ still ships with the usual bunched cabling, including 24-pin EATX, 8-pin EPS, and a fan-speed cable for monitoring, well, the rpm. All others are, indeed, modular, but what's interesting is the connector provision by Enermax.

The right-hand quartet, black-coloured, let you run various combinations of SATA and Molex cabling, but the red-coloured duo, to the left, are reserved for powering the graphics subsystem.

We'd normally expect to see 8-pin connectors here, for high-end cards, but Enermax has included a pair of 12-pin jobbies. The premise here is to be as future-proof as possible, we suppose, noting the escalating power requirements will inexorably lead to the use of 10- and 12-pin connectors in the not-too-distant future. Yes, sure, you can dual-harness present connectors to do the same job, but the provision is elegant.