Introduction
Cooling and chassis specialist be quiet! has its provenance in power-supply units (PSUs). The current range is split into seven categories - Dark Power Pro, Straight Power, Power Zone, Pure Power, System Power, SFX Power, and TFX Power - and there's reasonable features overlap between them, especially over the first five which are all based on the standard ATX form factor.
Choosing the right PSU for that DIY rig is no easy matter, but if value and solid performance are most important, the Pure Power range, spanning 400W to 700W, and offering 80 PLUS Silver efficiency certification is a good shout. Today, the German cooling company announces a range-wide update from model 9 to model 10.
Pure Power 10 continues to be available in two flavours: fixed cable and semi modular, offered in 300W-700W and 400W-700W, respectively, and here is how the range stacks up in relation to pricing: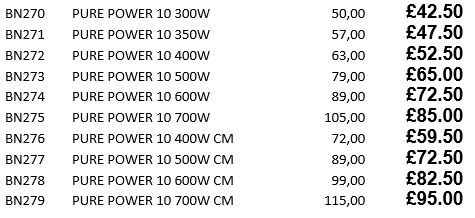 Looking across the board, pricing is about 15 per cent higher than the outgoing Pure Power 9 model. The UK asking fees are comfortably lower than the euro/dollar on a pure number basis. On the face of it, not much appears to have changed from high-level specs, but as always, the devil is in the details. We have the 600W semi-modular (BN278) - or CM in be quiet! language - in for review today. For what it's worth, the 300W and 350W fixed-cable models have 80 PLUS Bronze efficiency, not Silver.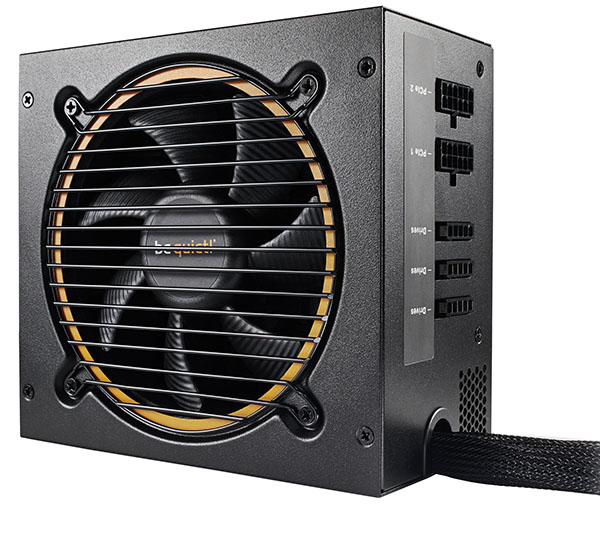 Outwardly, nothing of note has changed between model transitions. This means housing a 120mm fan that pushes up to 52CFM at full chat. It doesn't switch off at low loads, presumably because whilst the 80 PLUS Silver efficiency is good, there's inevitably more heat build-up than on, say, a Platinum-rated design. Though it does remain quiet during normal use, spinning at no more than 500RPM at up to 300W of load. Putting that into context, our premium gaming rig, comprising an overclocked Core i7-6700K CPU and Titan X card, pulls less than that figure under full-on load.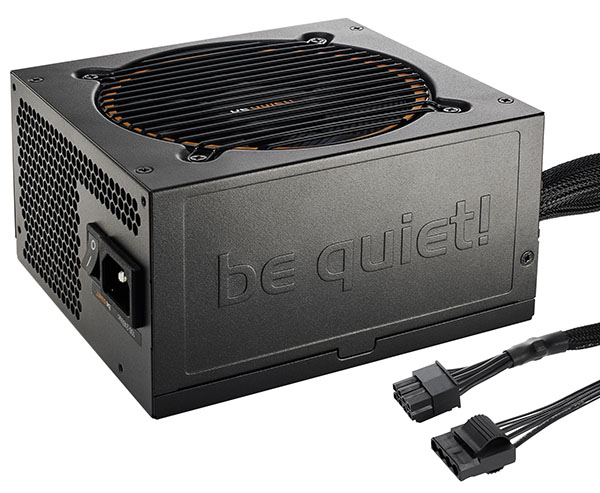 Styling is typically be quiet!, meaning a matte coating and orange-accented fan. Build quality is very solid, as one would expect going by recent series. The captive 12V P8 connector - or 2x P4 - is 600mm long while the main 24-pin ATX is 550mm - the lengths are better than the previous L8 generation, for example, and whilst not flat, the all-black aesthetic is certainly cleaner.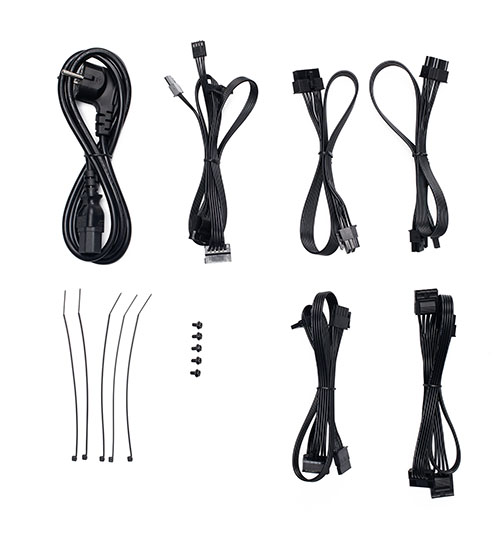 The remaining cables are flat and match the black of the sleeved power set. Two runs of dual 8-pin PCIe, 500mm long, enable multi-GPU support for both Nvidia and AMD graphics. Three extra runs, starting at 500mm, have six SATA, three Molex and a floppy between them. It's handy there's a single cable with a trio of SATA if you choose to go down the modern path with SSDs and mechanical drives alone.
You'll see the five cables match the ports present on the PSU, meaning you can use all cabling concurrently. be quiet! used to colour code a few of the ports for easy identification, though we feel as if that's not needed here.
Amps/watts and voltage

3.3V

5V

12V1

12V2

-12V

-5VSB

Rail amps

25A

18A

32A

28A

0.3A

3.0A

Maximum rating

140W

576W (48A)

3.6W

15W

Maximum rating continuous

600W @ 40°C ambient
The power output remains the same as Pure Power 9. The key changes are under the hood. Now, Pure Power 10, taking a leaf from the latest Straight Power and Dark Power Pro, uses a DC-to-DC (Switched Mode) topology. In simple speak, the effect is to raise overall efficiency and regulation, particularly cross-load, because the minor rails - 3.3V and 5V - are tapped directly off the 12V, rather than linear regulation commonly found on entry-level supplies. We'll test this facet specifically in our cross-load tests. The Pure Power range remains backed by a three-year warranty which we feel is a tad short in today's world.
Looking at the wider landscape, the 600W model will need to perform well to be worthy of recommendation; competitors are offering 650W 80 PLUS Gold, backed by longer warranties, for a similar outlay. On to the numbers, Tonto.