Introduction
I can't recall the last time I used a wired keyboard, and thinking about it, I don't believe I could ever go back. I've become accustomed to being free from the confines of the desk, and wireless connectivity sits near the top of my list of must-have keyboard features.
But there's one niggling issue that has troubled me over the years; battery life. My trusty-ol' Logitech MX3000 keyboard continues to serve me well - despite looking a bit worse for wear - but it tends to demand a new set of double AAs on a six-month basis. And though I know it's going to happen, the depleted batteries always manage to creep up and catch me unawares - resulting in an impromptu trip to the corner store from time to time.
It's a bit of a bugbear, and one that Logitech is hoping to eliminate once and for all with the Wireless Solar Keyboard K750.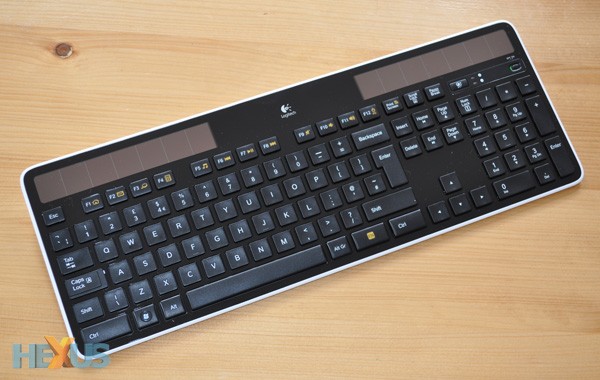 Introduced as the "next big innovation in keyboard technology", the K750 makes use of integrated solar panels that allow the keyboard to charge itself through natural sunlight or artificial indoor light.
Logitech suggests that the integrated battery is capable of staying charged for at least three months in total darkness, so you needn't worry about lighting conditions, and the manufacturer is so confident that it markets the K750 as the "wireless keyboard that makes battery hassles a thing of the past". All sounds rather good, but with a price tag of around £65, the K750 needs to be more than just convenient. Let's find out if it is.
Design and usability
Traditionally speaking, a higher-priced PC keyboard tends to deliver a range of additional features that can include everything from backlighting, to ergonomic curves and a medley of dedicated shortcut keys.
The K750 bucks that trend and opts for a minimalist approach that's in keeping with the keyboard's eco-friendly credentials. Everything from the PVC-free construction to the fully-recyclable box is designed to minimize the K750's footprint, and the end result is a streamlined keyboard that sells itself to eco-conscious consumers.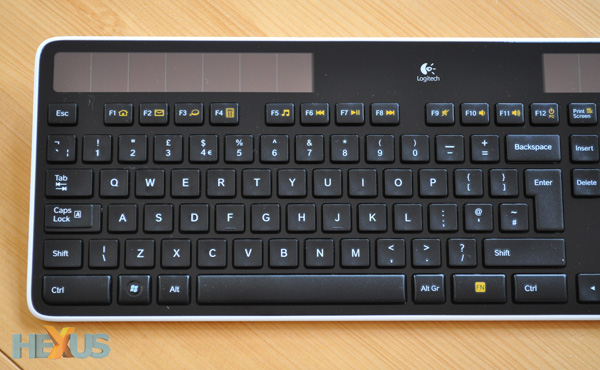 Behind the matte-black Incurve keys, Logitech makes use of a glossy-black tray with a white plastic surround and underside, giving the K750 a classy, modern look that's both PC and Mac neutral. Its 430mm x 160mm shape isn't too dissimilar to an Apple keyboard, and at under 8.5mm thick, it's one of the thinnest keyboards on the market.
The K750 is aesthetically very easy on the eye, and it expands on the convenience of being constantly charged and wire-free by bundling a tiny, unifying 2.4GHz USB receiver that can communicate not only with the keyboard but up to five additional wireless products from Logitech's unifying range. The receiver is pre-linked to the keyboard, resulting in a very straightforward plug-and-play setup that requires no additional software.
It's a very tidy package, but we've had mixed feelings with the keyboard beneath our fingertips. Users who are accustomed to typing on notebooks will feel right at home on the K750's chiclet-style keys, but coming from a large desktop keyboard like the MX3000 makes the svelte K750 feel comparatively small and restricted.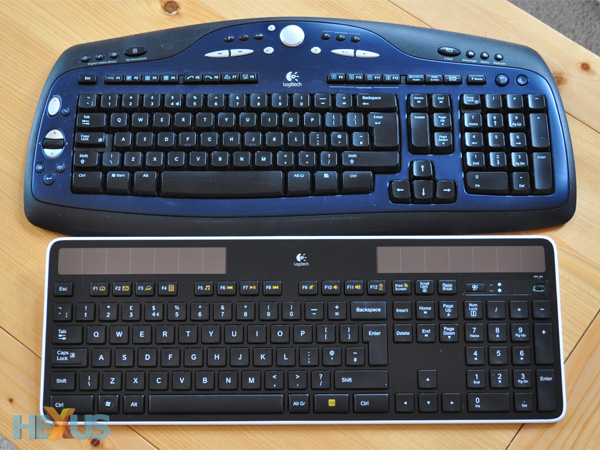 The keys themselves are nicely sized, and feel good to the touch with a satisfying amount of spring and very little noise. But after typing for long periods, the lack of a palm rest can make it slightly uncomfortable and there are a few other inconveniences.
Instead of offering a set of dedicated shortcut keys for common tasks such as volume control, the K750 provides shortcuts across the F1-F12 keys that are available in combination with an FN key that's unusually positioned to the right of the space bar. It takes some getting used to, but the default function of the F1-F12 keys can be changed using Logitech's optional SetPoint software, and with no physical status LEDs for num-lock and caps-lock, the same software suite is tasked with providing on-screen notifications.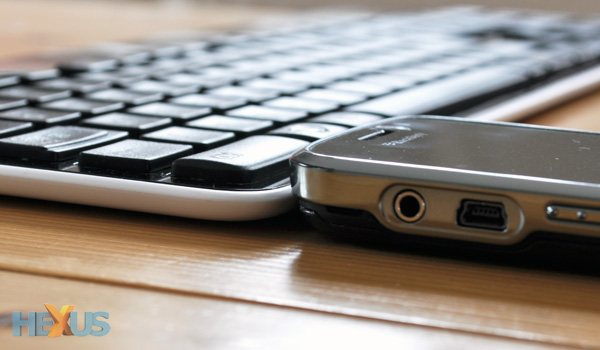 Though the casual typing experience is good, there's a sense that Logitech has favoured form over function, and that impression extends beyond the keys.
The glossy-black material surrounding each key is a magnet for fingerprints and dust (to the extent that Logitech felt the need to bundle a microfibre cloth) and the overall build quality is mixed. While the keyboard feels perfectly sturdy during everyday use, the ultra-thin plastic shell can't prevent the tray from flexing under excessive pressure, and the two flip-out plastic legs don't feel particularly strong.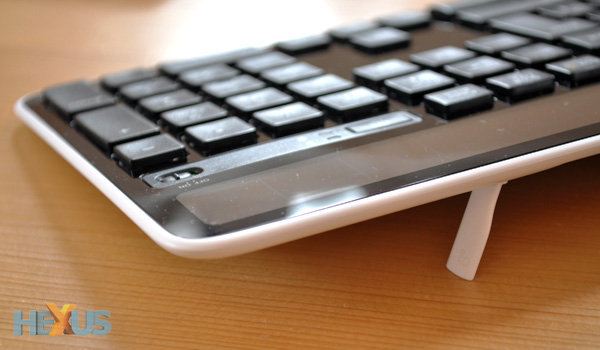 This clearly isn't the most comfortable keyboard that £65 could buy, but is it the most convenient?