Introduction
Having helped champion the mechanical gaming keyboard, Corsair is now upping the ante with a £180 flagship dubbed the K95 RGB Platinum. It's a staggering price tag but given that premium mechanical keyboards have been lapped-up in recent years, Corsair understandably wants to cement its position as king of the hill by offering a do-it-all solution aimed at "the hardcore gamer who doesn't settle for anything less than the best of the best."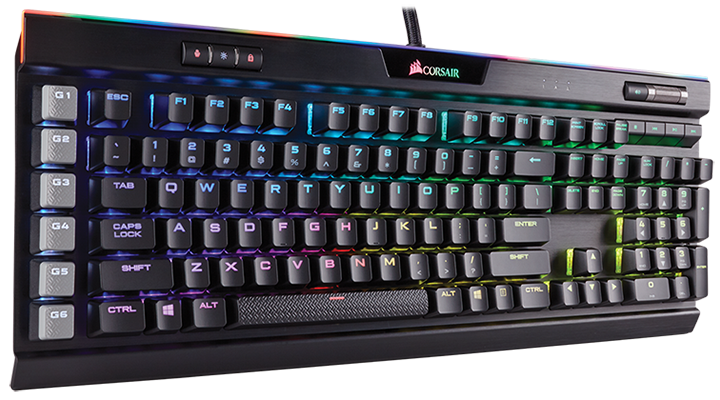 We're not sure we'll ever be entirely comfortable with £180 keyboards, at least not in this life, but perhaps we need to accept that technology isn't getting cheaper anytime soon. Heck, Asus has a keyboard fetching £200, and if you are willing to spend lofty amounts for a flagship solution, the K95 RGB Platinum does tick a lot of boxes. Dimensions of 465mm x 171mm x 36mm make it a full-size unit that feels spacious without taking over the desk and a 1.31kg weight shouldn't prevent you from taking it to the next LAN party.
Corsair's strong track record suggests that not a lot needs to change, and fans of the firm's range will immediately appreciate a positive sense of familiarity. At its core, the keyboard employs a brushed aluminium plate atop a plastic underside that in keeping with the original K60 creates a rigid profile that looks and feels luxurious. Technically, Corsair reckons the aluminium is 'aircraft-grade' and "built to withstand a lifetime of gaming", yet while it feels rock solid and should last many years, it's worth pointing out that the keyboard is still backed by a regular two-year warranty.
This time around there's a choice of key switches right out of the gate; Cherry MX Speed; or Cherry MX Brown. Both are of the RGB variety and require a 45g actuation force, but while the Brown has a 2.0mm actuation point, the Speed switch gets its name courtesy of a shorter, 1.2mm distance. It feels suitably quick on our review sample, but only truly elite gamers are likely to feel the minor variations between key switches.

Look past the marketing and there's plenty on offer in terms of both form and functionality. A column of six programmable G-keys on the left side offer quick access to macros and shortcuts, and these keys are contoured and textured to make them easier to find during hectic action. The Windows Lock sits above the function keys, alongside shortcuts for brightness and profiles. Creating multiple profiles is easy via the accompanying Cue software utility - more on that later - and 8MB of onboard storage allow you to take your settings with you.
Multimedia has always been a strong point on Corsair keyboards, and that continues with a slightly larger and smoother volume dial, as well as the customary row of multimedia keys above the numpad. The latter are now raised for better visibility, but if we're being ultra-critical, the multimedia keys do feel a tad spongy compared to the rest of the board.
Surprisingly, one of our favourite features is the detachable, two-part wrist rest. It attaches to the keyboard in familiar fashion - a pair of pronged arms clip it into place - but what's clever is that the rubberised grip is independently sat inside the underlying tray. Said grip is magnetically secured so there's no unwanted movement, and it's two-sided with a coarse grip on one side and a smooth grip on the other.

Lighting, naturally, is a big part of the product's appeal. Each mechanical key is individually lit and programmable in your choice of colour, and there are dazzling effects that, at the very least, may distract rival gamers. Supplementing the backlit keys is 'LightEdge' - a slim band lining the top of the keyboard with 19 additional LEDs. Adding more RGB lights to everything isn't usually high on my list of priorities, but I've only just caught up on Stranger Things and it must have put me in the mood for some '80s-style neon. Whatever the case, LightEdge has promise. There is a small visible gap between the LEDs, so the illumination isn't seamless, but the effects are impressive and we like that the Corsair logo is part of the show.
Perfect illumination is, however, easier said than done, and even latest-generation products leave room for improvement. Though the underlying keycaps are translucent, the individual LEDs are still positioned above the centre of each key, so keycaps with two rows of text are naturally brighter on the top half. The offset isn't huge, and it's by no means a deal-breaker, but at £180 you could be forgiven for expecting two LEDs per key.
There's also the typeface to consider. Corsair has reverted to a larger font for its newest keyboard models, giving the backlight as much prominence as possible. It works, from a lighting point of view, but subjectively speaking, the font itself isn't the easiest on the eye. Bold, oversized and extra-wide lettering takes away a certain amount of elegance, and personally I preferred the typeface on some of Corsair's older models.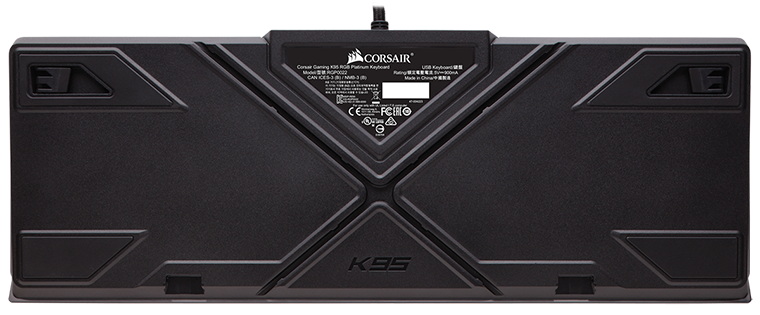 Flipping the unit over reveals rubberised contact points that help keep the unit planted, as well as two pop-out stands that help create a comfortable angle. The keyboard itself connects to the client PC via a braided cable that splits into two USB connectors and, as expected, there's a USB pass-through port on the back for attaching, say, a mouse or headset. In case of the latter, cable-routing paths on the underside form an X to make it easy to pass headset cables beneath the keyboard with little interference.
It's a neat-and-tidy package, though, in 2017, we had hoped for an integrated USB 3.0 hub. It would certainly be handy to be able to attach a storage device without having to reach for the PC, and we reckon Corsair has missed a trick by not bringing the K95's connectivity up to date. Still, this is a gaming peripheral first and foremost, and whether you're an FPS or MOBA gamer, you'll find contoured keycap sets included in the bundle for either usage scenario, as well as a handy keycap removal tool.