Performance
We begin our test with a simple measure of throughput between a server and two test clients. Each client is specified with an Intel Core i7-6700K processor, 32GB of DDR4 memory, Nvidia GeForce GTX 980 Ti graphics and a Samsung 950 Pro SSD.
Setting the clients apart is the choice of motherboard. The first is an Asus Z170 Pro outfitted with an Intel I219-V Ethernet connection, while the second uses the MSI Z170A Gaming M6 with onboard Killer E2500. We use Netperf to gauge throughput between each client and an Intel I217-V-based server, all of which are wired to a TP-Link Archer VR900 router via a TP-Link TL-SG1024 Gigabit switch.

A network controller can be challenging to market for obvious reasons; simple metrics don't reveal one to be faster than another. Using the common TCP protocol, both the Killer and Intel solutions saturate the Gigabit connection.

And we see no noteworthy shift when switching to the UDP protocol most commonly associated with multimedia streaming. Gigabit Ethernet just works, irrespective of the brand.

For the next stage of benchmarks we've moved to a real-world file transfer, where we copy a 7GB folder of photos from the client to a Synology NAS. Yep, you guessed it, the transfer rate is identical between controllers. In the past the Killer-based system has shown signs of slightly higher CPU usage (to the tune of 1-2 per cent), but on our Core i7-6700K test platform we noticed no meaningful overhead when using the E2500 as opposed to the Intel I219-V.

Our second file transfer consists of two large 4K videos weighing in at 9GB. Once again, performance between controllers is practically identical. The question that arises is an obvious one; what advantage, if any, does the Killer E2500 bring to the table?
Rivet Networks likes to employ round-robin tests highlighting the E2500's ability to keep latency lower the competition when sending small packets of data to and fro devices, yet measuring performance over the first hop tells us little as any perceived advantage is likely to be negated when the data moves to outside servers.
The best-case scenario for the Killer E2500 is to showcase Advance Stream Detect's ability to prioritise data and applications that matter. It's an example we've used before and it highlights the benefit of efficient traffic management.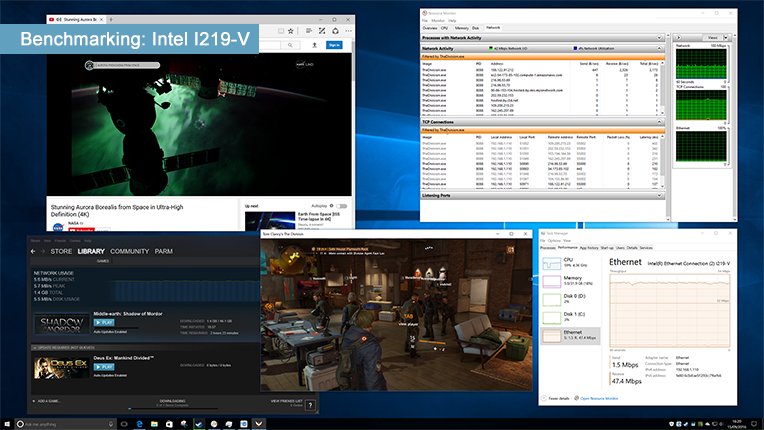 The above screenshot might not be considered real-world - who watches a 4K YouTube video while downloading full games on Steam and playing The Division online? This is, however, just an example, and it isn't far fetched to consider a scenario in which you're playing a game and other downloads start eating up bandwidth in the background.
What we're showing is that the Intel I219-V treats all data the same, resulting in an unwanted traffic jam. The YouTube video succumbs to buffering, and with the Steam download hammering the connection, latency in The Division rises to over well over 200ms.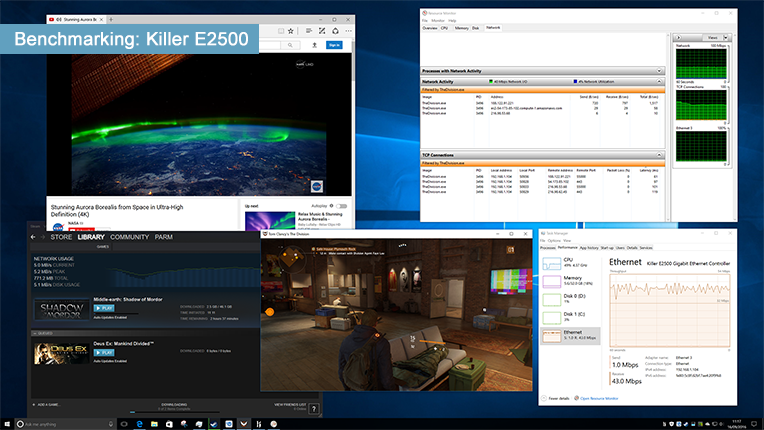 Run the exact same test via the Killer E2500 and the experience is undoubtedly superior. Advance Stream Detect recognises which data is latency sensitive, resulting in hardly any in-game lag and smooth playback of the YouTube video.
The obvious reaction from gamers will be that large downloads should be paused when you're playing an online title. That's true, but there's no harm in having traffic automatically prioritised and Rivet Networks' renewed focus on the software side of things results in a positive user experience. The days of dodgy Killer drivers appear to be long gone, and having spent the past week testing and using the E2500, we feel confident in stating that this is a NIC that not only works, but works intelligently.