Introduction
When you think of Internet routers, ASRock isn't the first name that springs to mind. The Taiwanese manufacturer is best known for producing high-performance motherboards but surprised us all at Computex 2015 by unveiling its first networking solution, the G10 gaming router.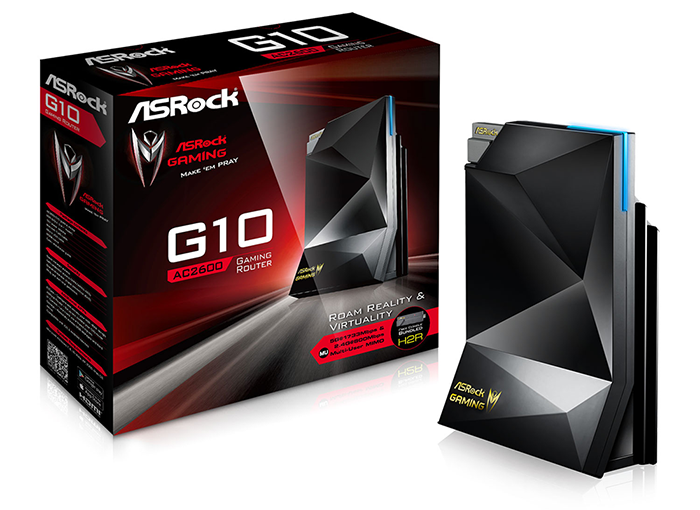 Now available from various retailers priced at around £190, the G10 targets the premium end of the market and focuses specifically on enthusiast gamers craving the latest in WiFi technology. As is often the case with cutting-edge routers, the advertised features are forward-looking in nature and any potential performance gains can be tricky to realise using today's mobile devices.
Take, for example, the G10's implementation of multi-user MIMO - an updated variation of the 802.11ac standard that allows an access point to communicate with up to four wireless clients simultaneously. The tech makes perfect sense and should prove useful in the long run, however clients also need to support multi-user MIMO in order for it to function and such devices are currently few and far between.
You could say the G10 is an investment for the future, and in that sense ASRock ticks many of the right boxes. The 267mm x 184mm x 82 mm box is about as eye-catching as networking devices get, and if you happen to be a keen gamer, it won't have escaped your attention that the angular black chassis looks somewhat similar to a PlayStation.
G10 is a reasonably good-looking thing, however it's also surprisingly lightweight. We'd have liked a bit more heft about the base to give it a sturdier feel, and if we're nitpicking the glossy plastic shell is a magnet for fingerprints while the top status LED is a tad too bright.
Aesthetics are par for the course - we don't anticipate the router being a centrepiece in our homes - however the G10's attractive feature set offers genuine appeal. The dual-band design promises maximum theoretical speeds of up to 1,733Mbps on the 5GHz band and 800Mbps on the 2.4GHz, and with a dual-core 1.4GHz ARM processor at the helm the entire unit should run smoothly at all times.
ASRock's decision to utilise eight internal antennas keeps the exterior free of clutter, however there's no built-in DSL modem, so users are required to connect their own modem via the indicated WAN port. Rounding out the connectivity options are four Gigabit Ethernet ports, two USB 3.0 ports for printer or storage sharing, an on/off switch and a connector for the mains power adapter.

Just about everything you'd expect from a high-performance router is present and accounted for, but ASRock has a couple of unexpected tricks up its sleeves. Eagle-eyed readers may have noticed the IR receivers baked into the sides of the device. These can be used to learn commands from your various IR remote controls, all of which can then be played back from a mobile device using the ASRock Router app.
A neat little trick, but there is a large caveat in that the router needs to be in view of the IR-controlled appliance for the feature to work. An unusual addition, we feel, and what's seemingly more useful is the curious-looking dongle that's stowed near the top of the box. Dubbed H2R, this bundled 115mm x 35mm x 17.3mm accessory is a two-in-one device that can function either as a portable access point or a HDMI streaming device.
In the former mode, an Ethernet connection can be shared to wireless devices at speeds of up to 300Mbps on the 2.4GHz band, and in the latter a HDMI connection coupled with USB power can be used to cast multimedia content from your smartphone or tablet to your big-screen TV.
The H2R should be a genuine value add and help soften the £190 blow, however ASRock's implementation isn't as refined as, say, a dedicated Google Chromecast and is instead a re-skinned EZCast. Mirroring your smartphone display is simple enough, but we experienced noticeable stutter when trying to play video and the system lacks support for premium content such as Netflix.