Introduction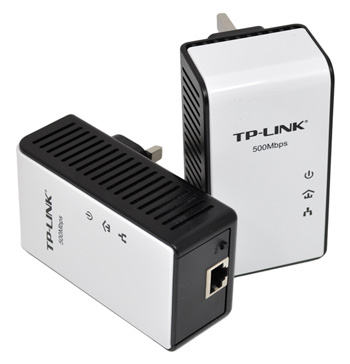 In the right environment, Powerline networking can be the perfect way to get Internet access to those awkward areas that wireless just won't reach.
We've seen in recent reviews that installation's a cinch, performance is good and, if running cables throughout your home/office isn't an option, there's arguably no tidier alternative.
But products based on Powerline networking technology do carry one proviso; they rely heavily on the quality of a building's mains electric cabling, which is used to transmit data from one room to another. In a modern building, this shouldn't present a problem, but for newcomers to Powerline products there is a bit of uncertainty - you never quite know how well they'll perform in your unique scenario until you've tried them.
Buying a good product, however, is always one way to try and circumvent any such problems. Power Ethernet Sockets have proven to be one of the most stylish options on the market, and if it's optimum performance you're after, Netgear's Powerline Nano 500 Set delivers good speed in a compact and tidy-looking package.
Trouble is, the aforementioned are priced at £195 and £80, respectively, which could be considered a bit too much for a technology that's designed to be as cheap as it is cheerful. So what about all the lower-priced alternatives that are now available? Are they just as good? To find out, we're taking a look at the TP-Link AV500 Gigabit Powerline Adapter Starter Kit, model number TL-PA511KIT.
Priced at just £50, the TP-Link Starter Kit has obvious appeal. It isn't too expensive, it promises high-performance speeds of up to 500Mbps, and everything you need to get up and running is included in the box. Like most Powerline networking kits, the principle is the same; plug one AV500 adapter into a wall socket by your router and attach a single Cat 5 cable, then take the second adapter and plug it in near the device that requires a web connection.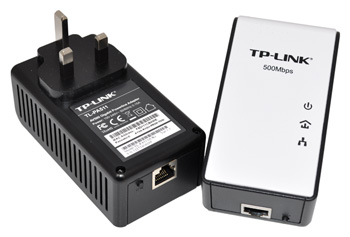 The two will automatically create a 128-bit AES-encrypted network, and that's about all there is to it. A couple of LEDs are clearly visible on the front of each adapter to provide at-a-glance status information for power, Ethernet activity and network speed. The latter is particularly useful - it glows green when the data rate is more than 80Mbps, orange when the data rate is between 48Mbps and 80Mbps, and red when the data rate is less than 48Mbps - so you know straight away how suitable your environment is.
Like all good HomePlug manufacturers, TP-Link has included an automatic power-saving mode that kicks in after a period of five minutes without any network activity, but other than these expected basics, the feature set has been kept minimal and to-the-point. There's only a single Gigabit Ethernet connection, so you'll need to invest in an external switch if you need to provide web access to multiple devices, and the adapters aren't the most visually attractive. They're a fair bit bigger than some of the premium options on the market and the white-on-black colour scheme looks cheap, but then again, how often do you look at your wall sockets worrying about aesthetics?
What's more important is the lack of passthrough functionality - a feature that's becoming increasingly popular on HomePlug products. By providing an integrated power socket, passthrough adapters ensure that users need not sacrifice a socket when creating a network. It's a handy feature to have, and it's worth noting that TP-Link will soon be releasing an AV500 Kit with passthrough functionality - it'll arrive at stores under model number TL-PA551KIT, but expect it to carry a premium over the standard pack we're reviewing today.