Introduction
We came away pleasantly surprised when Aorus made its foray into the world of PC monitors with the award-winning AD27QD back in January. Hoping to build on that initial promise, the Gigabyte subsidiary has moved quickly to expand its portfolio with various new models aimed at specific gaming audiences.
Appreciating the fact that today's panel technologies each have something different to offer, Aorus is hedging its bets by attempting to cover all bases. The 24.5in KD25F, for example, employs a 1080p TN panel with a 0.5ms response time and ultra-fast 240Hz refresh rate that is well-suited to FPS gaming. For those who prefer IPS, the larger 27in FI27Q touts a 1440p IPS panel with a 1ms response and 165Hz refresh rate, and is now available for pre-order at a cost of £570.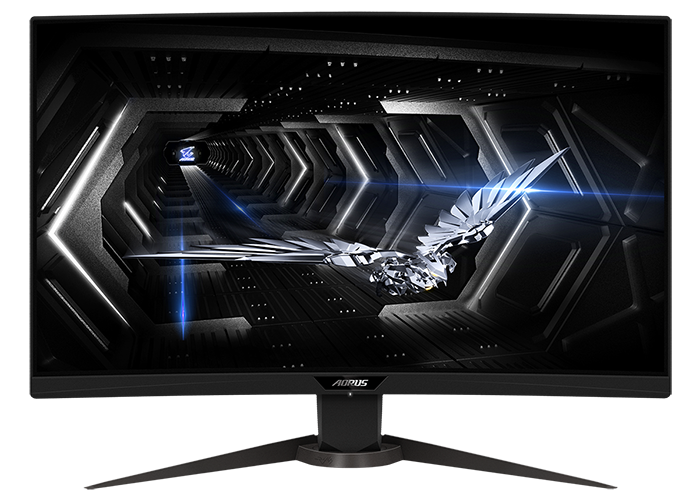 Adding a curve ball into the mix, there's also the 27in CV27Q, which makes use of VA technology to deliver similar 1ms, 165Hz, 1440p credentials, but with a 1500R curve that is intended to increase the feeling of immersion. Said panel will fetch £480 when it arrives at retail in a few weeks and we've had the opportunity to take it for an early spin.
Design and Specification
From the outside, the CV27Q is familiar with others in the Aorus range. The all-black colour scheme is tidy, display bezels on the top and sides are suitably thin, and the two-legged stand is solidly built, resulting in hardly any wobble. Dimensions of 614mm x 532mm x 260mm don't necessitate an extra-large desk, and there's decent versatility courtesy of -5° ~ +21° of tilt, 20° swivel in either direction, and height adjustment of up to 130mm. There's no option to pivot into portrait mode - as you would expect on a curved display - and if you do need more flexibility, the stand can be removed to reveal a regular VESA mount.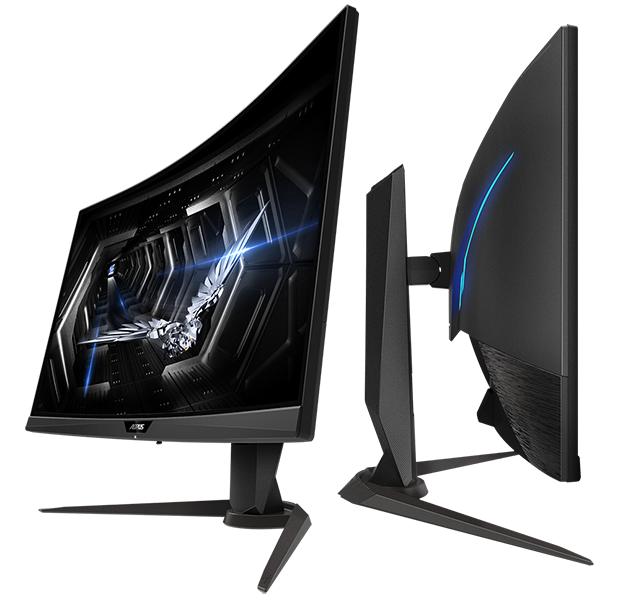 Overall construction is good, and as expected, Aorus continues to adorn the back of the panel with RGB lighting. This isn't bright enough to serve as a useful ambient light, but we suppose it could be deemed trendy if you're facing onlookers at a gaming event. There's not a whole lot to dislike from an aesthetic point of view - Aorus even integrates the power supply to help minimise clutter - however we do think the Aorus logo on the front could be sleeker. As it stands, the mirror-like inset is unnecessarily reflective, and the status LED, which thankfully can be disabled through the OSD, looks cheap compared to the rest of the panel.
Around back, a joystick provides easy navigation of the on-screen GUI and connectivity options are kept relatively straightforward. These include 3.5mm headphone and microphone jacks, two HDMI 2.0, DisplayPort 1.4, USB 3.0 upstream, two USB 3.0 Type-A and a standard three-pin power connector. We might have preferred the headphone jack and USB ports to be positioned on either side of the display for easier access, and do note that while the display can pass sound to a headset, it doesn't feature integrated speakers for general use.
The key point of consideration, inevitably, is the 1500R curve, and this is always going to be a personal preference. Some may appreciate the fact that the CV27Q takes a more rounded approach than the subtle 1800R curve more commonly found on monitors, but I'm not convinced. While I can appreciate the benefit of a curve on a large ultra-wide panel, the appeal on smaller, 16:9 panels is less obvious, and during regular work or gameplay, I struggle to see any meaningful advantage to the arc on a 27in screen such as this.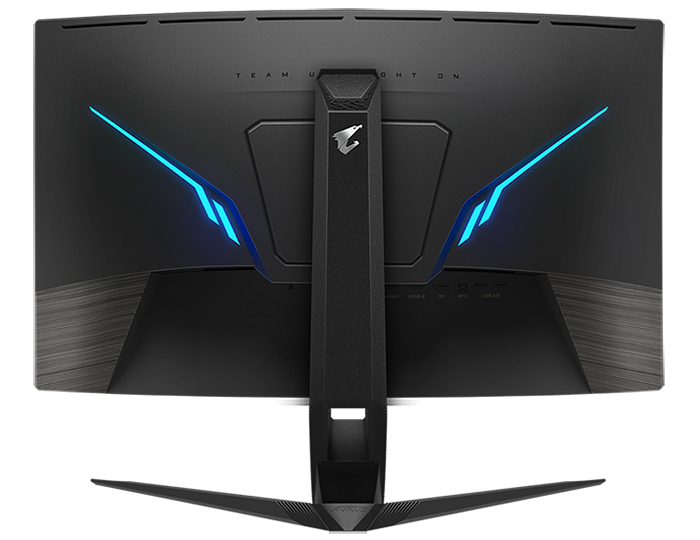 Aorus' 165Hz product stack currently presents users with one of two choices; a curved VA panel in the form of the CV27Q; or a flat IPS in the form of the FI27Q. The gap between the various display technologies is narrowing, and though there's no right or wrong, we wonder if most will shun the curve and greater contrast of the VA in favour of the wider viewing angles and typically superior colour reproduction available from the flat IPS.
Should you prefer to take the curved route, Aorus's edge-lit, 8-bit display promises a 2,560x1,440 resolution, 90 per cent DCI-P3 colour coverage, 400 nits max brightness, a 3,000:1 contrast ratio, a 1ms MPRT response time and a swift 165Hz refresh rate. Basic HDR credentials are identified by an entry-level DisplayHDR 400 certification, but the panel also qualifies for FreeSync 2 status, with adaptive sync in the 48-165Hz range and low-framerate compensation (LFC). We're told to expect official G-Sync Compatible status in the very near future, and having paired the panel to a GeForce graphics card, we can confirm that adaptive sync works very nicely indeed.
Gaming Enhancements
A QHD resolution at up to 165Hz might already sound like heaven to many PC enthusiasts, yet Aorus bolsters its panels with an array of additional features that are assumed to give gamers a competitive edge. It is always nice to see a manufacturer attempt to stand out from the crowd, yet the real-world usefulness of some CV27Q features remains questionable.
Aim Stabilizer, for example, purports to reduce motion blur to help soften the effects of in-game recoil, but the feature can only be enabled by switching off FreeSync, and turning it on results in a significant reduction in brightness. Then there's Black Equalizer 2.0, which vows to analyse 1,296 on-screen partitions and lighten dark areas to help gamers see what is lurking in the shadows. Sounds useful, yet with Black Equalizer enabled the image takes on a washed-out appearance that just doesn't look right.
We prefer to game with both of the aforementioned disabled, however there are some useful tools in the CV27Q arsenal. Aorus Dashboard, which shows real-time system metrics such as CPU or GPU temperature, is a neat overlay, the ability to trigger an on-screen timer can be useful in certain games, and as with most gaming monitors, there's an option to draw a crosshair. Plenty to play with, and our favourite value-add is the Sidekick desktop app (pictured below), which provides access to the monitor's various features from within Windows.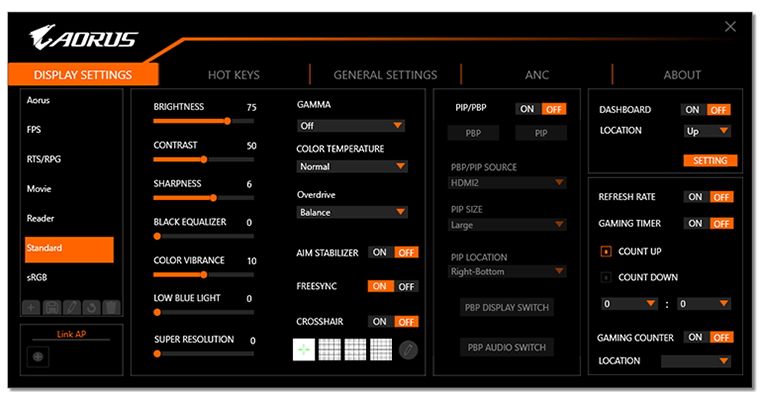 Rounding out the extras, the analogue microphone jack is supported by active noise cancellation. Using two built-in mics and a DSP processing chip, ANC does a surprisingly good job of cutting out background noise, but the feature is limited to 3.5mm and consequently won't function with USB headsets. The good news is that despite the addition of all of these gamer-centric tweaks, Aorus' pricing is competitive with other 27in 165Hz QHD panels on the market today. Is the CV27Q worth £480? Let's see what the benchmarks have to say.