Introduction
Taiwanese outfit ASRock is never one to shy away from doing the unexpected. If it's not loading motherboards with 18 SATA ports, or designing custom boards for Anniversary Edition CPUs, then it's something else.
The latest out-of-the-box thinking has resulted in ASRock creating a Mini-ITX motherboard based on the performance Intel X99 chipset - yup, you read that right, a pint-sized board for the most powerful consumer processor available.
The first question is why would a company go the extra mile and design a fully-custom board solely to comply with a small form factor? ASRock's answer is that it can and that's good enough for us.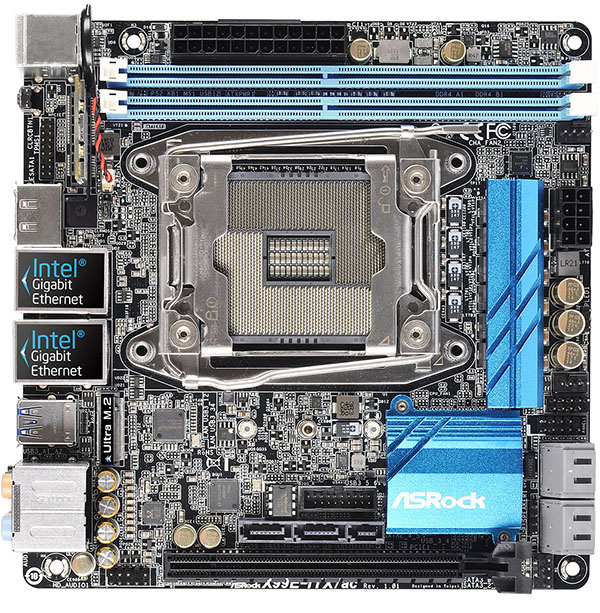 You can see why a Mini-ITX motherboard and the LGA2011-3 socket don't make for obvious bedfellows. The immediate compromise is the inclusion of just two DDR4 DIMM slots for dual-channel operation, compared to four or eight slots on regular motherboards presented in an ATX form factor. The upshot is that there will be substantially less bandwidth available to the Core i7 processors - half as much - though this may not be as big a problem on first glance because of the cache-rich nature of the chips' architecture.
We've previously seen that the LGA2011-3 processors do well with a lack of bandwidth so ASRock's decision may not be as crazy as you might expect. Interestingly, the board supports the latest 18-core Xeons, too, paving the way for a tiny render node in a server setup.
Speaking of servers, the lack of room around the socket precludes the use of regular coolers that can effectively wick away the heat from the 140W TDP chips, or more if they're overclocked. ASRock uses a server heatsink made by Dynatron. The R24 is designed for 2U chassis and uses a 60mm fan and is rated to a 160W TDP. The downside is that the fan does spin up quickly, running at 3,500RPM at 50 per cent load and a massive 7,000RPM at full tilt. Don't want an air cooler? The company also includes a watercooling plate that, at this time, is admittedly limited to a few coolers.
Moving around, other sacrifices on the X99E-ITX/ac include just six SATA ports, a lack of onboard buttons and, as you can clearly see, just a single PCIe x16 slot for graphics - there are no other expansion possibilities. Sensibly, the PCIe is right at the bottom, leaving ample room to connect headers and SATA devices without issue.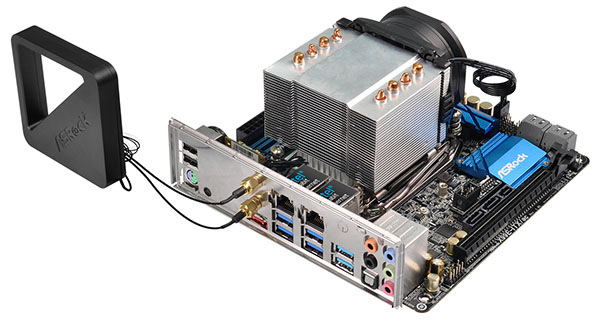 But there is goodness elsewhere. Looking closely at the board shows a SATA Express connection (shared with SATA ports 3,4 and 5) and, as is usual for ASRock, what it terms an 'Ultra' M.2 slot that can run SSDs at PCIe Gen 3 x4 speeds (32Gb/s). The slot is long enough to take all flavours of M.2, as well. There's also older eSATA, and ASRock does include space for a half-height combo card which offers both 802.11ac and Bluetooth 4.0 connectivity. The relevant antennas are provided in the package along with a specific IO plate.
Keeping the features ticking along is USB 3.1 and dual Gigabit Ethernet from Intel's latest controllers. Really, there isn't a whole heap more ASRock could have included on a board of this size.

The fastest USB ports are clear to see, while a vertically-mounted mini-PCIe card, used for the wireless connectivity, is positioned right by the two DIMM slots.
Adding the cooler and memory does stifle space but nothing is too cramped, testament to good engineering. Cabling won't be as tidy on larger boards, of course, due to spatial restrictions, but, given a bit of time and effort, the X99E-ITX/ac can be made to look decent in a small chassis.
It's scary to think that such a small box can house, potentially, an overclocked Core i7-5960X CPU and a GeForce GTX Titan X graphics card, thus enabling the most powerful small-form-factor system we can think of. ASRock's one-off engineering efforts are reflected in a street price of around £240, which while certainly not cheap, is approximately £50 more than we'd expect if this was a full-size ATX offering... and that's with a cooler in tow.
BIOS
A small board doesn't mean a curtailed BIOS. In fact, if you didn't know better, the BIOS is remarkably similar to the ones found on full-size ASRock boards. There's decent voltage regulation, memory boots at 2,800MHz speeds without issue, and the only indication this is a Mini-ITX board comes from the presence of the two DIMM slots.
A little care needs to be taken when setting the board up as the 'auto' configuration sets the CPU multiplier to a fixed 30x resulting in sub-par performance. The user needs to select the per-core CPU setup option that, in the main, applies the turbo bins correctly.
A stronger-than-expected point is the fan control available for the CPU fan and two additional four-pin headers. The fan speed can be set at a certain percentage at various temperature levels. ASRock makes it very granular, as well, because the temperature and fan-speed percentage are set in one degree/percentage increments (30°C-80°C, 20%-100%, respectively). If that's too complicated, fan control options of 'silent', 'standard', 'performance', or 'full' speed exist.
And there's also the usual full gamut of extras, from updating the BIOS via USB or the web to saving profiles and at-a-glance settings for installed components. Much like the board itself, the BIOS is simple and effective.