Introduction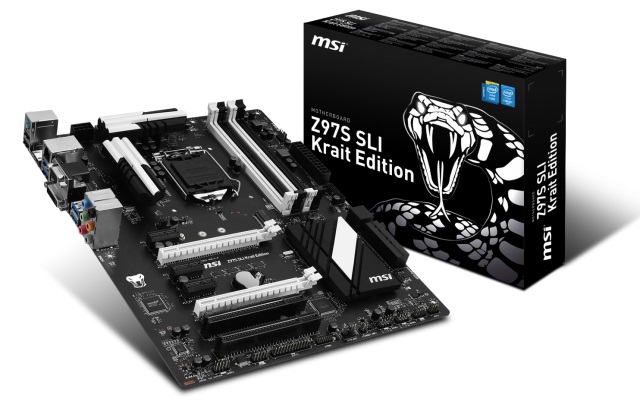 The striking similarity of Z97 motherboard performance between all vendors means that products must be differentiated in other ways in order to carve out an advantage in the marketplace. This performance trend among Intel motherboards, which was consolidated with the release of Ivy Bridge, has led to motherboard vendors fighting with features, rather than performance.
One of the features that plays a big role in the buying decision is aesthetics. Motherboard vendors have numerous product lines to cater to different target audiences but also buyers who prefer certain colour schemes. MSI has been at the forefront in that regard with its yellow Lightning Series boards, its red Gaming Series boards and its blue Classic Series boards.
The latest colour scheme to join the MSI ranks is black and white under the Krait Series moniker - the MSI Z97S SLI Krait Edition to be specific. At a fundamental level this motherboard is very similar to MSI's Classic Series boards appearing to be a hybrid of the Z97-G43 in terms of the rear I/O and the Z97 U3 Plus with respect to the PCI and heatsink layout. MSI officially classifies the Krait Edition motherboard as part of the Classic Series.
The attention-grabbing trait of the MSI Z97S SLI Krait Edition, unique colour scheme aside, is the modest price-point of just £90 ($125). While the price isn't unusual for a board of its core specification, it is unusual given the custom paint-job that's normally reserved for premium motherboard models.
The SLI in the name of the Krait Edition is an obvious hint at one of its core specifications - dual GPU support through two 16X PCIe lanes coloured white. The board, rather amusingly, sports two ancient legacy PCI connectors which we think would be better allocated to additional PCIe connectivity.
Storage connectivity covers the core permutations of the Intel Z97 Express chipset - six SATA III ports, a single M.2 connector and one SATA Express. No further storage connectivity is provided through third-party controllers since MSI didn't want to add additional cost to a board that wields price as a trump card.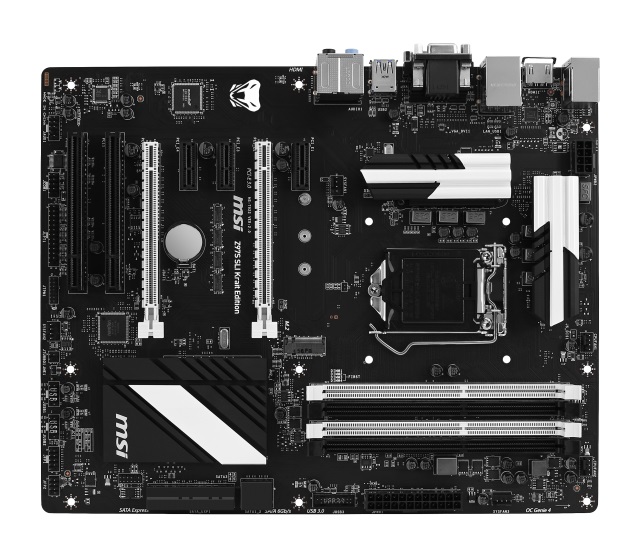 The rear I/O is a similar story as MSI hasn't added any further USB options above what is provided through the Z97 chipset. Four USB 3.0, two USB 2.0 and a PS/2 combo cover peripherals while there's a plentiful selection of display outputs for users without discrete graphics. 7.1 channel audio, supplied by the Realtek ALC892 codec, provides six audio jacks while Gigabit ethernet is on offer through the Realtek 8111G network controller.