Introduction
Gigabyte hit many of the right notes with the £200 X99 Gaming 5 motherboard released back in August. Sensible layout and a good choice of extras was only compromised by a BIOS that we felt was a little too clever for itself.
Intel's premium consumer PC platform is now being given the micro-ATX makeover by Gigabyte. The X99M Gaming 5 follows in the footsteps of its full-sized namesake but adds a few touches of its own.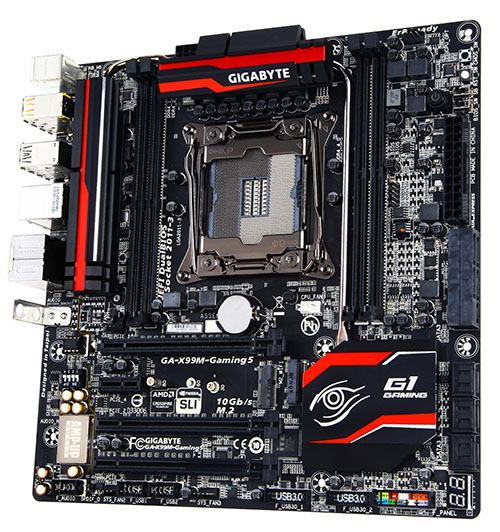 Board layout is crucial for a micro-ATX X99 motherboard because, clearly, the socket takes up so much space. Gigabyte is sensible in dropping the number of DIMM slots from eight to four, saving space on each side, and leaves enough room around the socket to mount aftermarket coolers easily and quickly - we had no problems in using a Noctua NH-D15.
The socket-surrounding heatsinks are very substantial and give the board an unnaturally weighty feel. A single heatpipe makes it way through to the heatsink-clad southbridge, and the overall fit and finish is first class. The 8-pin CPU connector, obscured by the upper heatsink, is ideally connected before the board is put into the chassis; it's hard to get the PSU cable in otherwise.
Almost the same
It is customary to cheapen a micro-ATX offering in a number of ways, but this £175 doesn't suffer much when compared to the full-ATX model. Power, reset and clear CMOS buttons are grouped top-right and the useful debug LED (not present on the full-ATX) and colour-coded pins line the bottom part of the PCB. Storage is also solid, with 10 SATA 6Gbps, dual M.2 (one for storage, one for WiFi/Bluetooth) and SATA Express all accounted for, matching what's on offer from the regular Gaming 5. As usual, an internal switch is used to toggle between M.2, SATA Express and 2 SATA 6Gbps ports - you can only use one of the three at any given time
Compromises have to be made with respect to graphics, due to size limitations, but there's support for two-way CrossFire or SLI, even though there are three x16 PCIe mechanical slots that all take their bandwidth from the CPU. The first slot is far enough down to facilitate easy installation of large graphics cards, and the single x1 PCIe slot provides the necessary gap for dual-card usage.
Using the same Killer E2201 LAN chip is sensible, but Gigabyte does cheapen the audio on this smaller board. Instead of the capable Creative Sound Core 3D chip that's backed by a high-quality Ti Burr Brown OPA2134 operational amplifier located by the primary PCIe x16 slot, the X99M has the standard ALC1150 codec instead, though the same upgradeable amplifier and gain switches are present.
And if you're into this sort of thing, the left-hand side of the board, between the audio and PCIe slots, lights up red when power is fed. It's a neat touch more for aesthetics than real purpose. Good thought has gone into overall layout, from rotated SATA ports, sensible location of five (four-pin) fan headers, and horizontal stacking of M.2.

Sensible choices
The I/O section houses four USB 3.0 that are all powered via an add-in Renesas controller. A further four chipset-driven USB 3.0 are available from board headers located at the bottom edge of the PCB, next to the front-panel pins.
There's little to criticise here considering the limited PCB real estate Gigabyte is working with. We'd have preferred the M version to retain the enhanced audio of its bigger brother, especially as the overall board isn't much cheaper, but that's about it for our list of grumbles. A well-overclocked Core i7-5820K and a couple of GeForce GTX 970s would make this a very potent base for a small-form-factor PC.